Inspiring the community through the creative arts is at the heart of the Fine Arts Center's mission, and this could not be achieved without the people involved with the FAC, whether through the museum, theatre or Bemis School of Arts. Members of the community make the FAC what it is, and the young people of Colorado Springs who inject their creativity, passion, and artistic flair into the FAC are what make it such a unique place.
The Youth Repertory Theatre program is one of the incredible ways that the FAC connects with young people in Colorado Springs. It is the only professional training program for student actors and design technicians in the Pikes Peak region, offering students interested in pursuing careers in performance and/or design & technical theatre a five- week intensive training program. Students work with qualified and professional teaching staff, choreographers, directors, and designers, to produce a professional play. This year, the Youth Rep's production of 'Thoroughly Modern Millie' was a roaring success, with sold out performances and standing ovations. I met Casey Fetters, who played the bespectacled, nasal, and utterly hilarious Miss Flannery, a part that Casey described as 'all the fun stuff with none of the stress.' You can catch her at the FAC in December, when she'll be in the ensemble for Shrek.
So, Casey, you're a senior right now. Tell me about your future plans.
I want to study theatre in college – it's something that I want to keep doing for the rest of my life. I don't know what form that will take yet – people ask whether I plan to do Broadway or TV. I don't know the answer, but I do know that I want to keep making theatre.
What got you into acting to begin with?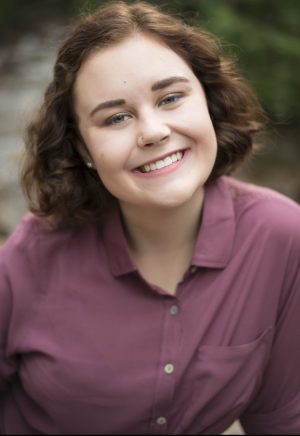 I've been taking classes here at the FAC since I was 6. My mom's friend was teaching here at the time, and she said you have to get Casey to do this one summer. I showed up and loved it and I've been here ever since! There were a few years that I didn't spend my summers here, maybe between when I was 8 and 10, but I was in music box theatre and the middle school and high school program – this year was actually my 4th time in the high school program. And a few of the kids have been with me since I was little so that's always cool. This year was about half and half returners and new kids – something rly cool about all the people is that even if kids don't come back we still all keep in touch and go see each other's shows.
Do you feel nostalgic coming back to the FAC now and having memories from your whole childhood here?
Oh yeah. In the past year I've been cast in the second stage shows, 'Tilly the Trixter', 'Ivy and Bean', and 'Elephant and Piggy'. That is the most special thing for me because the music room is where I was exposed to theatre and started doing it, and now I'm a grown person and I'm the one who's exposing the next generation to this awesome art form in this awesome place!
Tell me about the process of taking part in the Youth Rep.
Well the program was 8 hours a day, 5 days a week for 5 weeks. For the first three weeks we had classes in the morning and rehearsals in the afternoon. This year, almost all the classes were geared toward devising theatre and making our own work. None of us had ever done that kind of thing. I was terrified of it like I'm not creative I can't make my own work. But it was really cool because the more we did it the more excited I got about it. I started to learn that anything can happen when you sit down to devise some work, but something must happen. I found that super cool. At the end of those three weeks, we had a showcase. And what was amazing was that there just wasn't a bad one. They were all so truthful and so about us, and in different ways it was such a special thing to be a part of.
Devised theatre is, of course, a pretty new and progressive way of creating theatre. How did you find the contrast between that and producing a much more traditional musical at the end?
It was really cool. When Nathan announced that we were doing 'Thoroughly Modern Millie' we were all surprised that he'd picked something so traditional. It's not the kind of thing we usually do, and it's not really that in line with our personalities. But it was still incredibly cool to do this crazy thing and get to learn how to tap and stuff. The big challenge throughout was figuring out how we could still make it truthful – it's a crazy plotline, so how could we make it honest?
What do you feel that the program has taught you?
Every year it's different because it keeps getting better every year. The program really is Nathan's baby. I speak for everyone when I say that he is the most important mentor in our lives, and he is so wise. The best thing is that we go, and we are treated as adults, and as equals to our teachers. That's something we don't get for the other 11 months of the year. Nathan's directing and teaching style is all about us and the actors. He got into directing because he didn't have a voice as an actor so his priority with us is everyday to ask, what do we think? A lot of the time, especially in high school, directors can be very specific and prescriptive. Nathan's not like that – he asks us what we want to do. Being forced to be the creative one has helped me immensely.
What keeps you coming back? What are the highlights of the Youth Rep?
Honestly it's all about the process, and we talked about that – how important the process is – a lot when we did the devised work. If you're constantly worrying about how the show is going to look, it just doesn't work as well. The best conversations I've had are how do we tell this story? Those rehearsals and discussions where the focus is how do we tell this story? Those are the most special parts.
It must be really special to be surrounded by a group of young people who share this love of theatre, especially since that's often not the case with people of your age. Why do you think that is?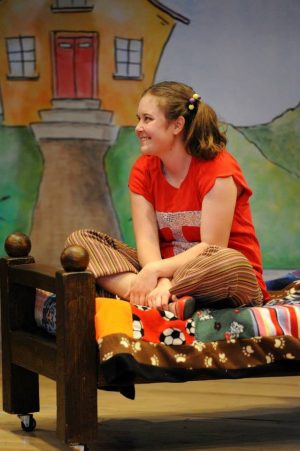 I think that we live in such an age of screens and social media and we have such short attention spans that people who haven't been to the theatre aren't interested in sitting and seeing a play for 2 hours. But on the other hand, it's cool because I drag my friends to our shows or to watch shows with me. And I've never talked to someone who has reacted like ugh I wish I didn't come. My golf team came to see it and I was most excited for them to see this side of me.
You've been acting here practically your whole life. How has acting shaped your personality?
I think that it has taught me to listen a lot. Nathan talks all the time with us about how if we want attention we have to be willing to listen. Has made me a much more open minded person – listening to the people around me and trying my best to understand other people's views and where they are coming from. I also think it's taught me a lot about honesty: if you aren't being truthful, you're just someone who wants to be clapped at. That's a big thing that has resonated with me throughout the years.
Will you be back next year?
Yes – and it's actually my last year before college – it's crazy.
If you could pick the play next year, what would it be?
We want to do something dramatic. All of my years have been funny plays, which is great and I've learnt a lot, but I really want to do something dramatic. I feel like that's the one type of show I haven't done with the Youth Rep.
*
The next Youth Repertory Program will run summer 2017 https://fac.coloradocollege.edu/theatre/theatre-school/youth-rep-ensemble/