January 24, 2020
FAC Curator of Southwest Art Polly Nordstrand (Hopi) received the Glenn Brooks Award for Innovation and Courage, one of the Colorado College president's annual Leadership Awards. The award recognizes those who exemplify the qualities of courage, risk-taking, and innovation in the approach to their work. Polly was nominated by Lyrae Williams, Colorado College AVP Institutional Planning & Effectiveness and Rebecca Tucker, FAC Museum Director.
In her two years working for the Fine Arts Center's museum, Polly has built relationships with local, regional, and national artists, source cultures, and institutions while championing Native and marginalized voices in the cultural life of CC.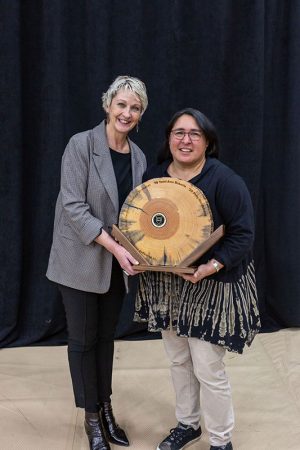 She has brought a world-class set of exhibitions to the FAC featuring indigenous and women artists. Her exhibition Pertenecer: Chicanx Artists on Belonging features important works from Latinx artists and examines notions of family, community, and identity in the Southwest. She has also been an active contributor to campus life, bringing artists, scholars, musicians, and performers such as Adrienne Chalepah (Kiowa/Comanche/Apache), and traditional dancers to campus for public events including First Mondays and Cornerstone Arts Week.
She recently received a grant from the prestigious Warhol Foundation to support the groundbreaking upcoming exhibition Queer Indigenous Visualities.
Her approach to her work focuses on connecting artists with communities to build possibilities for engagement, transformation, and understanding broadly. In fostering the work of Native artists and artists of color, providing opportunities for artists to work creatively and collaboratively realize their goals, and sharing knowledge of their work, she has created a unique space for Southwest art at CC, and has also raised the national stature of the college and the FAC in the arts.
In addition to her work in the museum, she was one of five staff and faculty who led the work on the proposal to reclaim and rename space on the Colorado College campus for indigenous peoples.  In a recent ceremony over homecoming weekend, Tava Quad was officially renamed and blessed by members of the Ute tribe and other representatives.  Polly has been a tireless supporter of students in NASU (Native American Student Union) and SOMOS (student organization that explores Latinx/Hispanic topics), and an engaged collaborator across campus.
About the Award
The Glenn Brooks Award for Innovation and Courage is named for Professor Emeritus Glenn Brooks, who arrived at Colorado College in 1960 as a member of the Political Science Department.
Later, he served as Dean of the College and Faculty, and then returned to the Political Science department to teach until he retired in 1996. He is known as one of the founders of the Colorado College Block Plan. In the late 1960s, as American higher education entered a period of profound upheaval, President Lou Worner encouraged Professor Brooks to lead an effort to bring about constructive change at the college without abandoning our commitment to the liberal arts.  Brooks, along with others with whom he shares credit, galvanized a broad constituency from across the college to work through an array of ideas and possibilities to develop a plan for a program of transformative learning and teaching.
In his honor, the Glenn Brooks Award recognizes those who exemplify the innovative qualities of courage, risk-taking, and innovation in the approach to their work. Awardees also provide encouragement of others to be innovative and courageous, and foster an environment for faculty and staff to take risks for the betterment of CC.