FAC Theatre Company 2010–2011 Season
Mainstage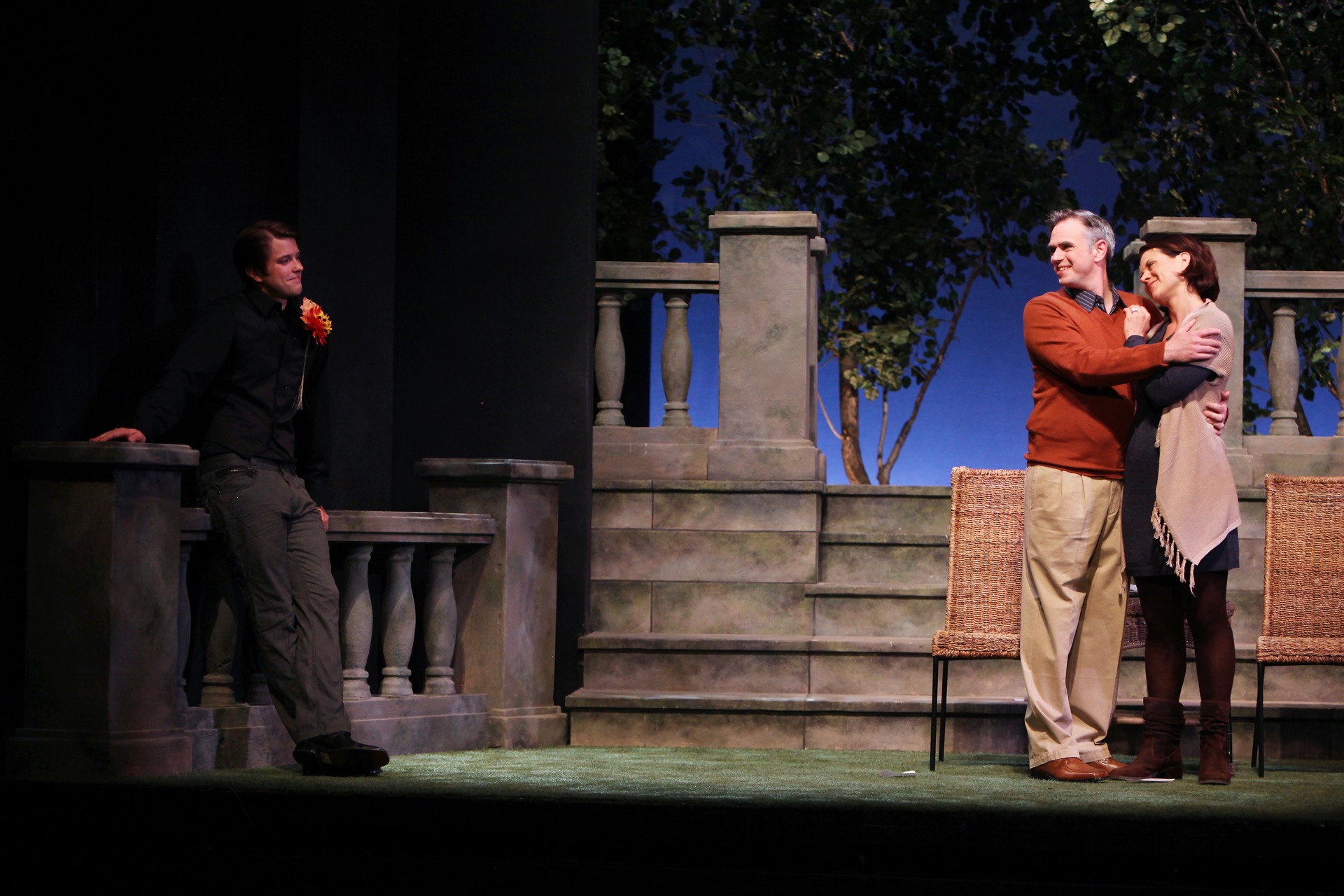 An Ideal Husband
Oct. 8–24, 2010
Written by Oscar Wilde
At a distinguished dinner party in Grosvenor Square, London, we meet Sir Robert Chiltern, a wealthy member of the House of Commons; his wife, Lady Chiltern; his sister, Mabel Chiltern; and Sir Robert's charming bachelor friend, Lord Arthur Goring. Suddenly, an unexpected — and unwelcome — guest arrives. Mrs. Cheveley is an old enemy of Lady Chiltern's from their school days, Lord Goring's ex-fiancé, and is on a mission to blackmail Sir Robert into supporting a fraudulent scheme to build a canal in Argentina.
Pictured: (left to right) Max Ferguson, Jeremy Joynt and Kara Carroll.
"An Ideal Husband was my first show with the Fine Arts Center Theatre Company. I had only recently moved back home from New York City, and I was eager to establish myself in the Colorado Springs Theatre Community. I have such fond memories of this production and its contemporary take on Oscar Wilde. It turned out that the young man who played Sir Chiltern opposite my Lord Goring, Jeremy Joynt, because one of my dearest friends. There is one thing, however, about this show stands out most prominently in retrospect. During rehearsals, I was asked to meet with a young reporter from the Independent who was interviewing the cast. Her name was Claire Swinford. I didn't know it at the time, it would be three years before we started dating, but just shy of six years later, I would make her my ideal wife." – Max Ferguson, Viscount Goring
Directed by Julian Bucknall
Scenic Design by Christopher L. Sheley
Lighting Design by Holly Anne Rawls
Costume Design by Leslie S. Aldridge
Sound Design by Breton Parks Christopherson
Stage Managed by Brantley Scott Haines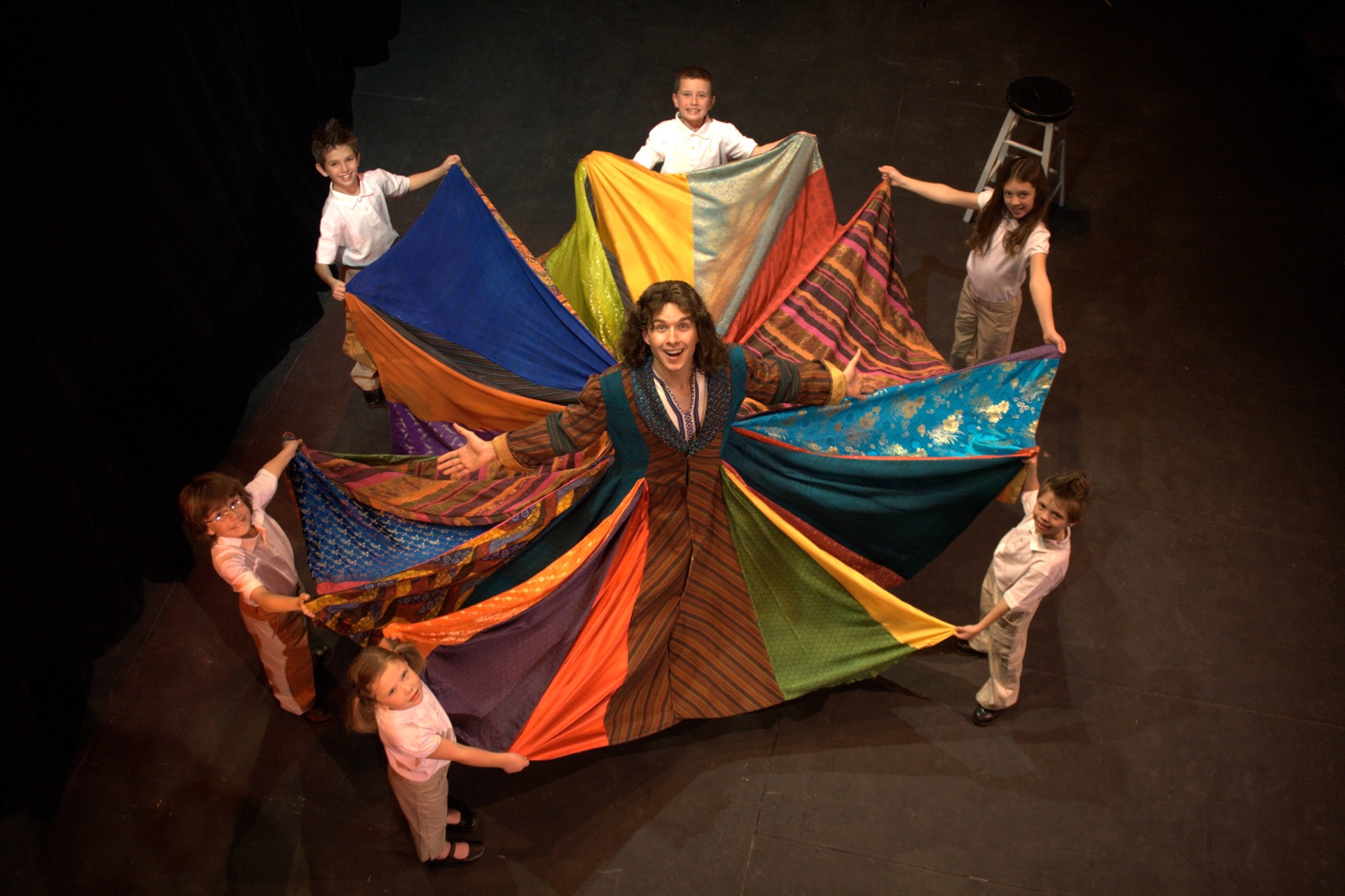 Joseph and the Amazing Technicolor Dreamcoat
Nov. 6–Dec. 19, 2010
Lyrics by Tim Rice
Music by Andrew Lloyd Webber
Told entirely through song with the help of a main character Narrator, the musical follows preferred son Joseph. After being sold into slavery by his brothers, he ingratiates himself with Egyptian noble Potiphar, but ends up in jail after refusing the amorous advances of Potiphar's wife. While imprisoned, Joseph discovers his ability to interpret dreams, and he soon finds himself in front of the mighty but troubled, Elvis-inspired, Pharaoh. Joseph's solution to Egypt's famine elevates him to Pharaoh's right-hand man and reunites him with his family.
Pictured: (clockwise from bottom left) Kate Lennon, Ryan Lennon, Liam Hybl, Evan Lennon, Mallory Hybl, Aidan Hybl, and Joe Milkolaj as Joseph in the center | Photo by Tom Kimmel
"I was in first grade when I was in Joseph. While there were many great memories, a couple stick out. The first was during the final dress rehearsal. I was leading the stage right line of kids walking down the big staircase… and as I started my walk, I tripped and fell all the way down the staircase, but the show must go on! I picked myself up and never missed a beat! During that same show, the kids all had a quick change into colored shirts. My six year old self was so proud I remembered to put on my shirt, and right away I realized, I put on the wrong shirt. I put on Aiden's shirt from the opposite end. But hey, a rainbow has lots of purple in a clump, right? Finally, during one of our tech rehearsals, I decided that I needed to use the restroom. So I took care of it myself, until I got locked in the bathroom! I called out as loud as I could and after 30 minutes the stage manager, Brantley, came to let me out. Anyone who's worked at the FAC knows the sticky bathroom lock situation! I used the other bathroom from then on. Those are just some amazing memories from an amazing, technicolor show!" –Kate Lennon, Child Ensemble
Directed by Cory Moosman
Musical Direction/Conducted by Roberta Jacyshyn
Choreography by Mary Ripper Baker
Scenic Design by Tom Hansen
Lighting Design by Christian Medovich
Sound Design by Breton Parks Christopherson
Costume Design by Leslie S. Aldridge
Stage Managed by Brantley Scott Haines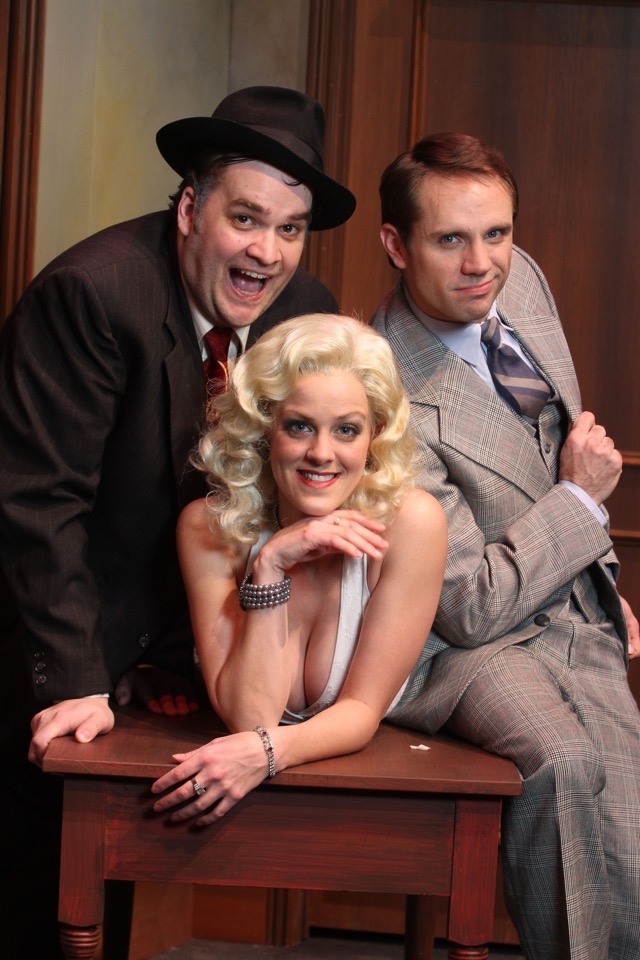 The Producers
Jan. 6–Feb. 20, 2011
Book by Mel Brooks and Thomas Meehan
Music and Lyrics by Mel Brooks
A down-on-his-luck Broadway producer and his mild-mannered accountant come up with a scheme to produce the most notorious flop in history, thereby bilking their backers (all "little old ladies") out of millions of dollars. Only one thing goes awry: the show is a smash hit! The antics of Max Bialystock and Leo Bloom as they maneuver their way fecklessly through finding a show (the gloriously offensive "Springtime for Hitler"), hiring a director, raising the money and finally going to prison for their misdeeds is a lesson in broad comic construction. At the core of the insanely funny adventure is a poignant emotional journey of two very different men who become friends.
Pictured: (left to right) Cory Moosman, Mark Lively, Alannah Vaughn | Photo by Tom Kimmel
"Every now and then, if you're lucky, you will get involved in a project with a perfect cast/crew and a perfect script/score, and this was one of those times. This was the first musical I ever directed, and it pretty much ruined me for any other musical, because nothing could possibly live up to it. Of everything I've done, The Producers was probably the most fun I've had on a show and one of the things I'm most proud of." –Steve Emily, Director
Directed by Steve Emily
Musical Direction by Roberta Jacshyn
Original Broadway Choreography Recreated by Mary Ripper Baker
Scenic Design by Christopher L. Sheley
Lighting Design by Holly Anne Rawls
Sound Design by Breton Parks Christopherson
Costume Design by Nicole Harrison
Wig/Make-up Design by Diana Ben-Kiki
Stage Managed by Dorothy Heedt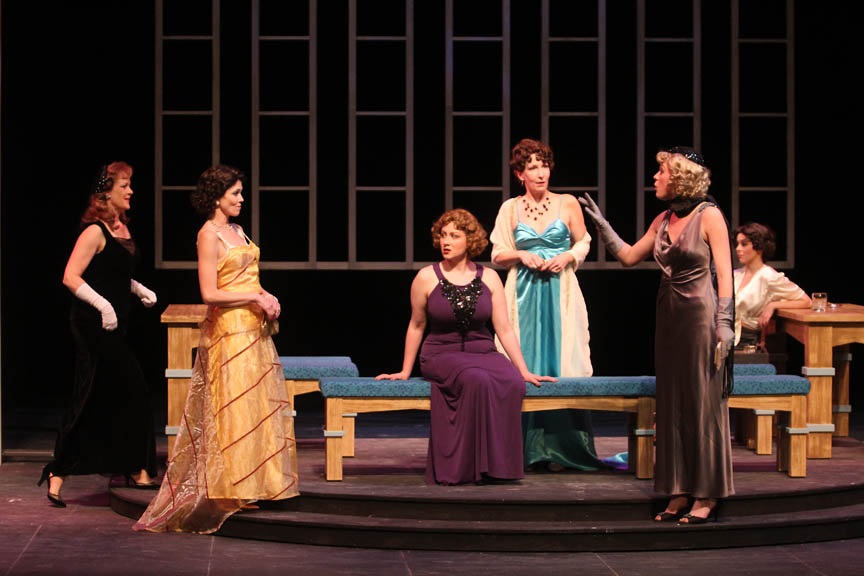 The Women
March 25–April 10, 2011
By Clare Boothe Luce
The author carries us through a number of varied scenes and shows us not only a somewhat unflattering picture of womanhood, but digging under the surface, reveals a human understanding for and sympathy with some of its outstanding figures. The plot involves the efforts of a group of women to play their respective roles in an artificial society that consists of vain show, comedy, tragedy, hope and disappointment.
Pictured: Jane Fromme, Sally Hybl, Colleen M. Arnold, Susan Dawn Carson, Ahren Victory
"The Women was my first show at the FAC! I was warmly welcomed into the community by the powerhouse group of women in this production (a huge cast), and little did I know I would eventually make this theatre, town, and people my home. My favorite memory of this show was the moment before and after the quick and mighty kitchen scene with my INCREDIBLE scene partner and dressing roommate Patti Murtha. Our characters came out of nowhere for this hilarious scene together, and we could always feel the shift of the audience's energy during our time to tell the story. The play felt like a relay, a passing of energy and story to the next people on stage, and that's one thing I love most about theatre." –Rebecca Myers, Jane
Directed by Sandra Womochil Bray
Scenic Design by R. Thomas Ward
Lighting Design by Holly Anne Rawls
Sound Design by Breton Parks Christopherson
Costume Design by Stefani Doan
Wig/Make-up Design by Diana Ben-KiKi
Stage Managed by Kari Kwinn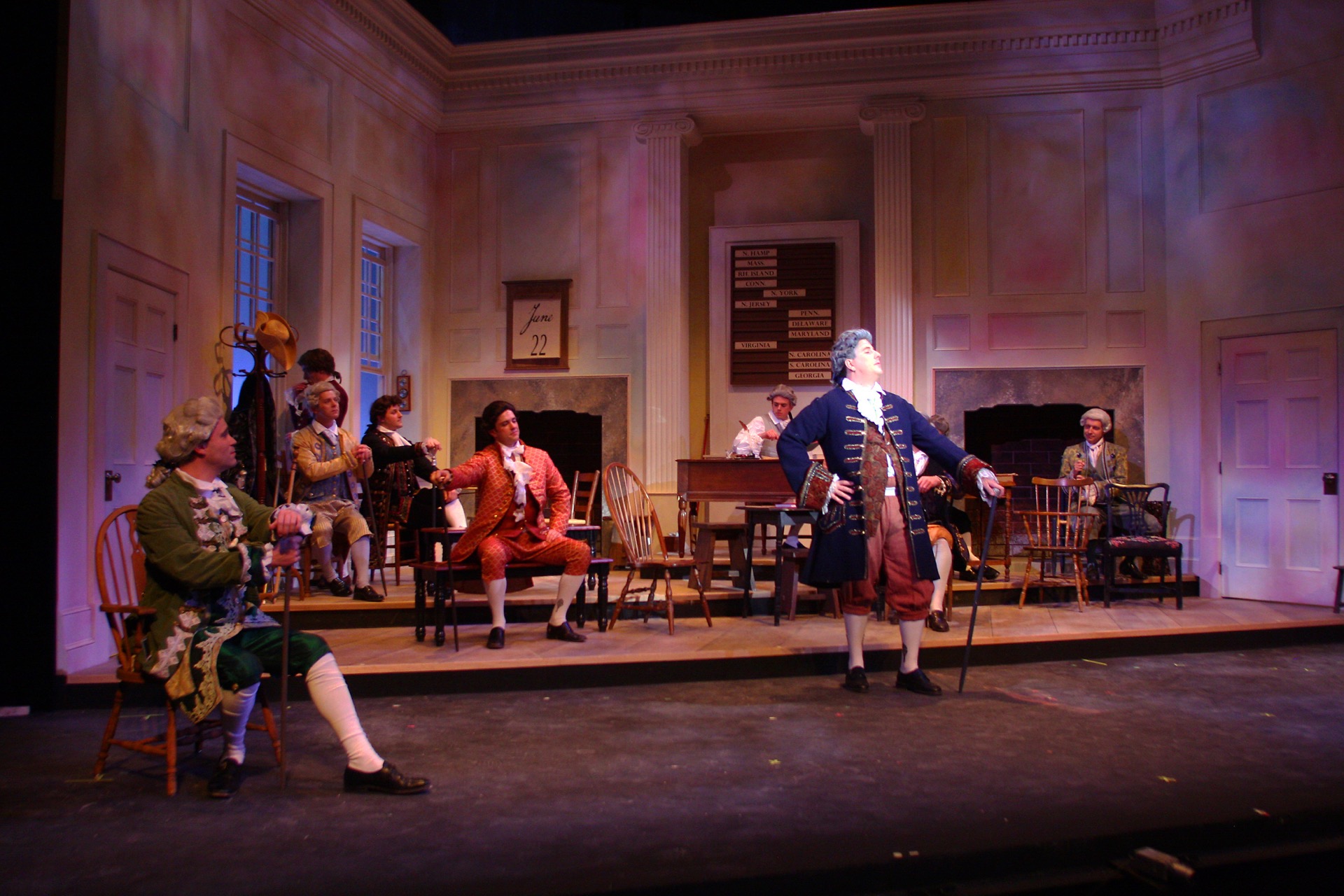 1776
May 13–June 5, 2011
Music & Lyrics by Sherman Edwards
Book by Peter Stone
Based on a Concept by Sherman Edwards
It's the summer of 1776, and the nation is ready to declare independence… if only our founding fathers can agree to do it! 1776 follows John Adams of Massachusetts, Benjamin Franklin of Pennsylvania and Thomas Jefferson of Virginia as they attempt to convince the members of the Second Continental Congress to vote for independence from the shackles of the British monarchy by signing the Declaration of Independence.
Pictured: (left to right) Emory John Collinson, Max Ferguson, Kevin Rorke | Photo by Tom Kimmel
"I was in the Fine Arts Center's production of 1776, back in 2011, and it had been a while since I had been onstage. I had forgotten the energy you can feel, even at the read through, with a large cast show. As rehearsals commence, the energy does nothing but grow…and so does the excitement. As the larger than life replica of Independence Hall and the lavish costumes and wigs began to appear, the energy just grows. Sharing that stage with 27, most of which are onstage the whole show, was a great experience. It felt a little like we were actually there, in the room, making not just art, but freedom happen." –Emory John Collinson, George Read (Delaware)
Directed by Tim Muldrew
Scenic Design by Christopher L. Sheley
Lighting Design by Holly Anne Rawls
Costume Design by Janson Fangio
Wig/Make-up Design by Diana Ben-Kiki
Stage Managed by Dorothy Heedt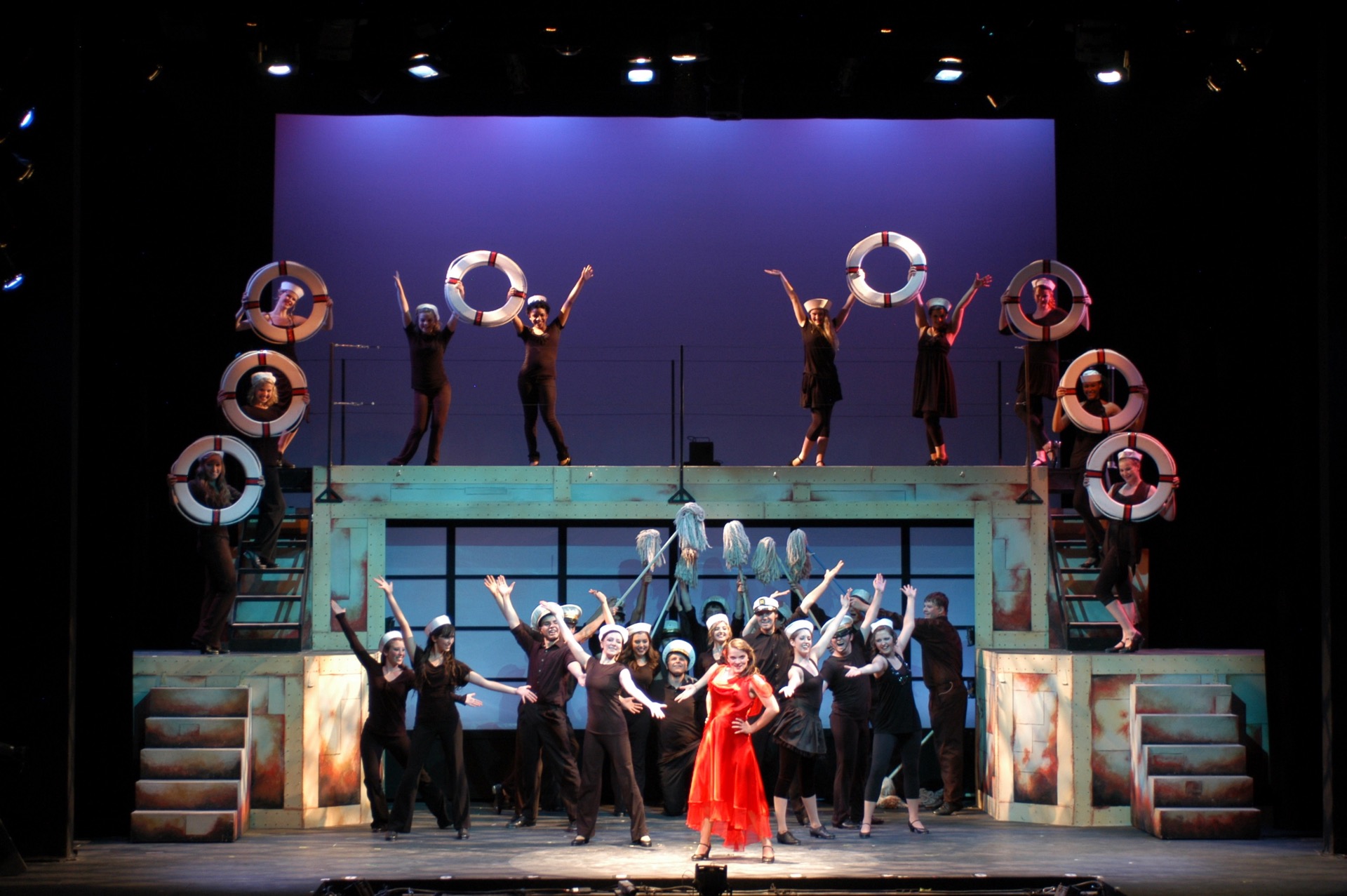 Celebrazione!
Youth Rep, July 21–23, 2011
Celebrazione! was the title we came up with to describe the performance celebration of Youth Rep in the Summer of 2011. We actually created two evenings of scenes and songs that were performed in repertory.  The whole company performed the same large group numbers at each performance, and then we were able to make each student shine, but featuring them in monologues, scenes and songs. Our design/tech students were able to create simple sets and costumes for each of the isolated scenes, and the performance students successfully learned a large swath of material to present over the course of the 4 nights.
Pictured: Cast of the 2011 Youth Rep Program
"When I think about Celebrazione, what stands out is the depth of the material we covered that year. Not only did we do high school musical staples like Anything Goes and Legally Blonde, but we were really getting our hands into the meat of the contemporary dramatic canon. These high schoolers were doing Stoppard, Sheppard, and Williams et al. We would play frisbee in the park during lunch and then in the afternoon it would be back to work doing serious scene study and choreography. Those of us in the tech track had the opportunity to explore a wide swath of design challenges: I remember long fringe sleeves on Victor/Victoria, stilt pants (amidst a whole circus) in Barnum, a whole sorority in Legally Blonde, and rivets. So many rivets." –Olivia Rigdon, Technical Student, Designer
Directed & Choreographed by Mary Ripper Baker, Steve Emily, Michael E. Gold, Scott RC Levy, Leah Chandler-Mills, Cory Moosman, Jodi Papproth, and Rrin Ramsey
Musical Direction by Cynthia Lee Fox
Designed by Caleb Born, Connor Fox, Ella Dawn Gilbert, Shayn Megilligan, Greg Pinsoneault, Olivia Rigdon, Nicolas Scroggins, & Olivia Sheley (with assistance from the Production Staff)
Staff Designers: Leslie S. Aldridge, Breton Parks Christopherson, Holly Anne Rawls & Christopher L. Sheley
Special Events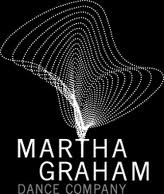 Martha Graham Dance Company
Special Event, April 19, 2011
Martha Graham and her Company have expanded contemporary dance's vocabulary of movement and forever altered the scope of the art form by rooting works in contemporary social, political, psychological, and sexual contexts, deepening their impact and resonance.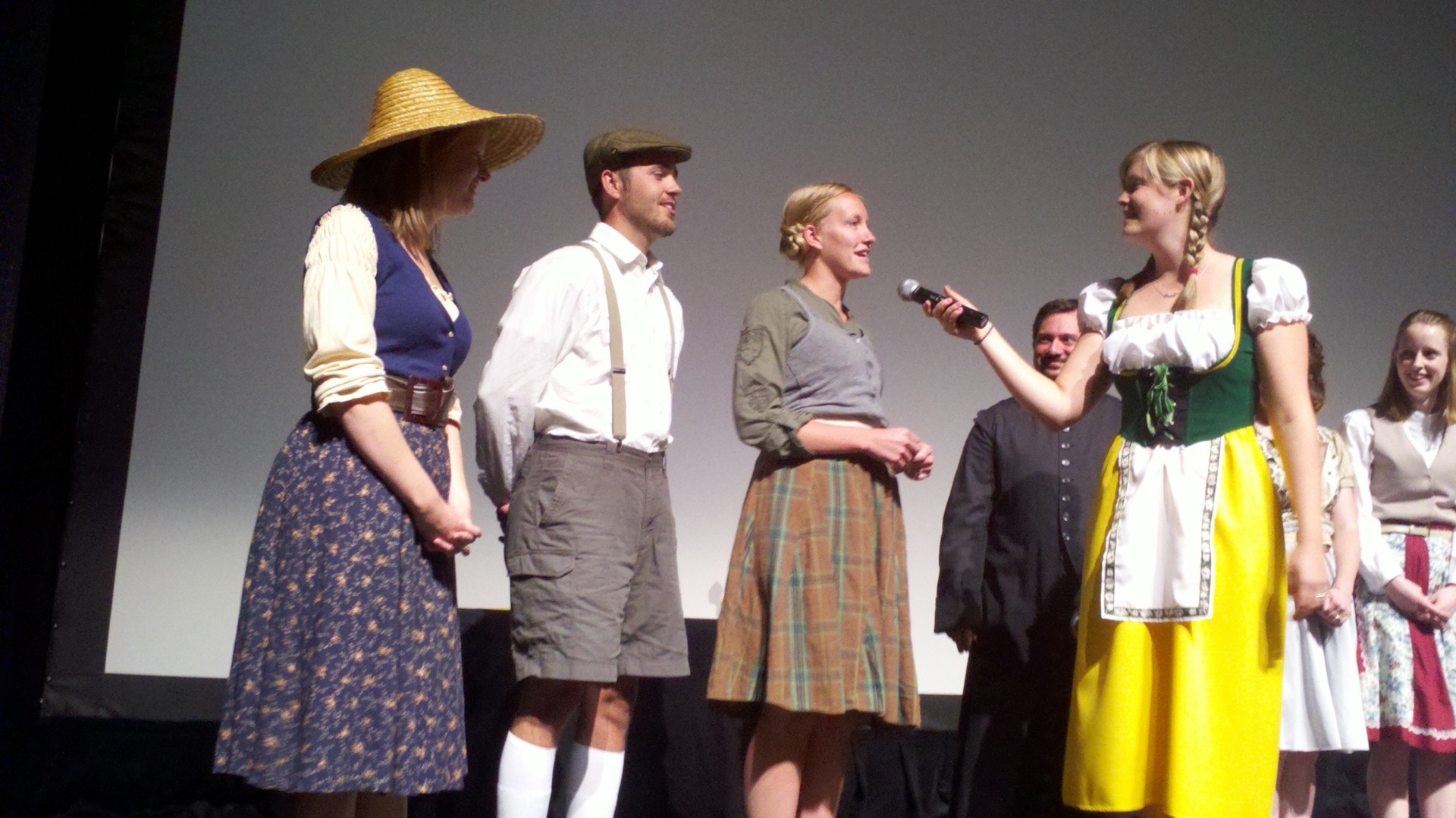 Sing-Along Sound of Music
Special Event, Aug. 4–7, 2011
Sing-Along Sound of Music is a screening of the classic Julie Andrews film musical in glorious, full-screen technicolor complete with subtitles so that the whole audience can sing along! "An extension of the musicals our theatre company produces, that will fill out theatre with the dulcet sounds of our audience singing some of Rodgers & Hammerstein's most beloved songs. It's a family-friendly version of the late-night Ricky Horror Show screenings," said FAC Performing Arts Director Scott RC Levy.