FAC Theatre Company 2015–2016 Season
Mainstage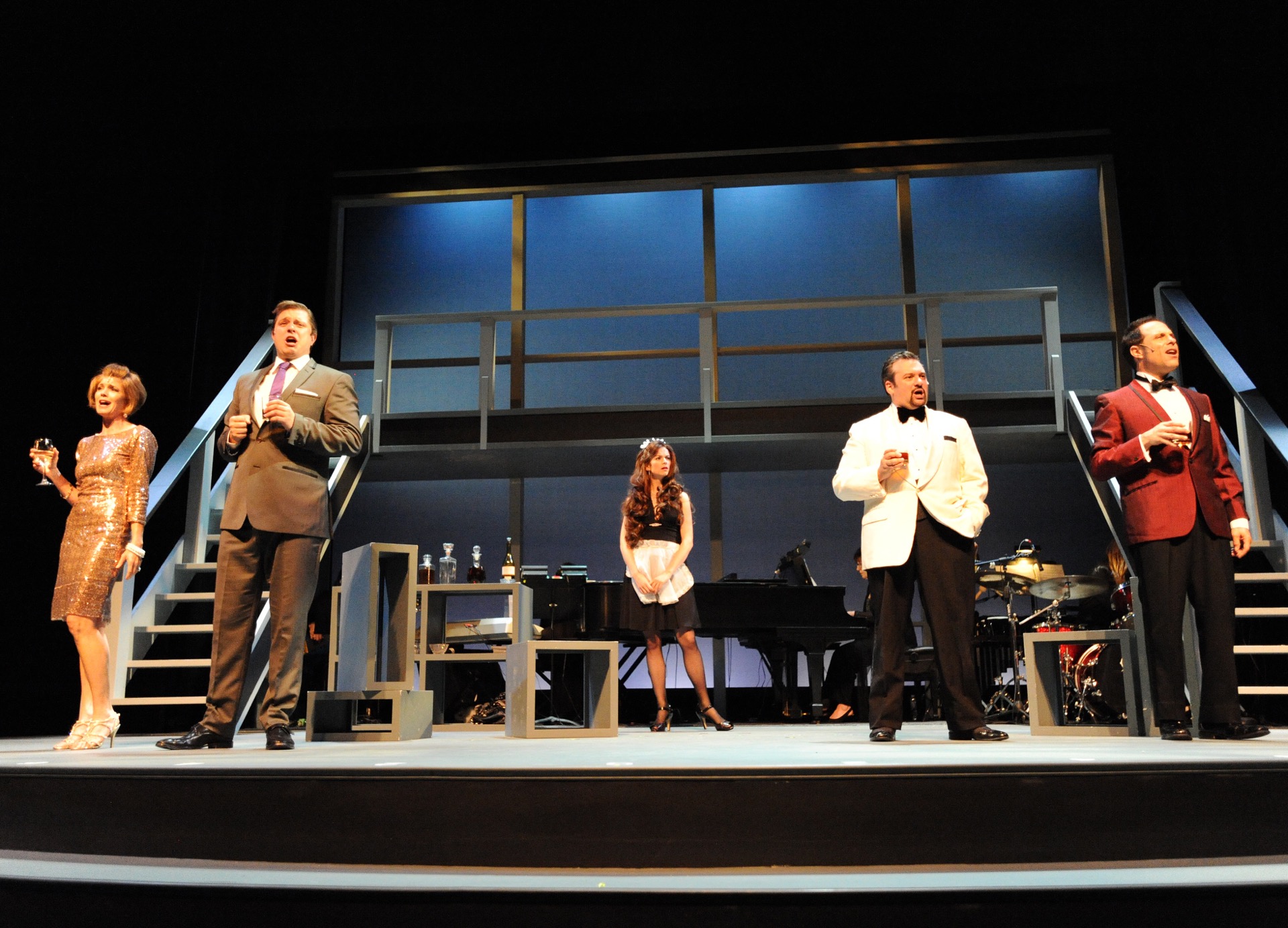 Sept. 10–27, 2015
Words & Music by Stephen Sondheim
Devised by Stephen Sondheim and Julie McKenzie
Putting It Together is a musical revue showcasing the songs of Stephen Sondheim (Sweeney Todd, Follies, A Funny Thing Happened…). Drawing its title from a song in Sunday in the Park with George, it celebrates Sondheim's incomparable career in musical theatre.
Featuring nearly thirty Sondheim tunes, Putting It Together is performed by only five people who are thrown together at a party in a Manhattan penthouse. 
Pictured: Scott RC Levy as The Other Man, Sally Hybl as The Wife, Max Ferguson as The Younger Man, Mackenzie Sherburne as The Younger Woman, Jordan Leigh as The Husband | Photo by Jeff Kearney
"What I remember most from our production of Putting It Together, is Nathan's laugh: Not only when something was funny but also when we made a ridiculous choice and after the show when we would all go out and grab food. It was less like creating a show and more like finding a family. I felt so incredibly lucky to get to sing some of the most beautiful music alongside my college professor (Scott Levy) and some of the most incredible performers in the region (Sally, Jordan and Max), all while being gently (and not so gently at times) guided by one of the most caring, passionate and wonderful people I know, Nathan Halvorson. Working on Putting It Together helped me remember how vital it is to allow myself to take chances, make mistakes and move past them and the only reason I was able to do that was because I knew I had an amazing net to catch me in my family at the Fine Arts Center. I love and miss you all and can't wait until the day when we can perform again together."- Mackenzie Sherburne, The Younger Woman
Directed & Choreographed by Nathan Halvorson
Musical Direction by Sharon Skidgel
Scenic Design by Christopher L. Sheley
Lighting Design by Holly Anne Rawls
Costume Design by Janson Fangio
Sound Design by Alex Ruhlin
Properties Design by Morgan Gatson
Hair and Make-Up Design by Jonathan Eberhardt
Production Stage Managed by Kaetlyn Springer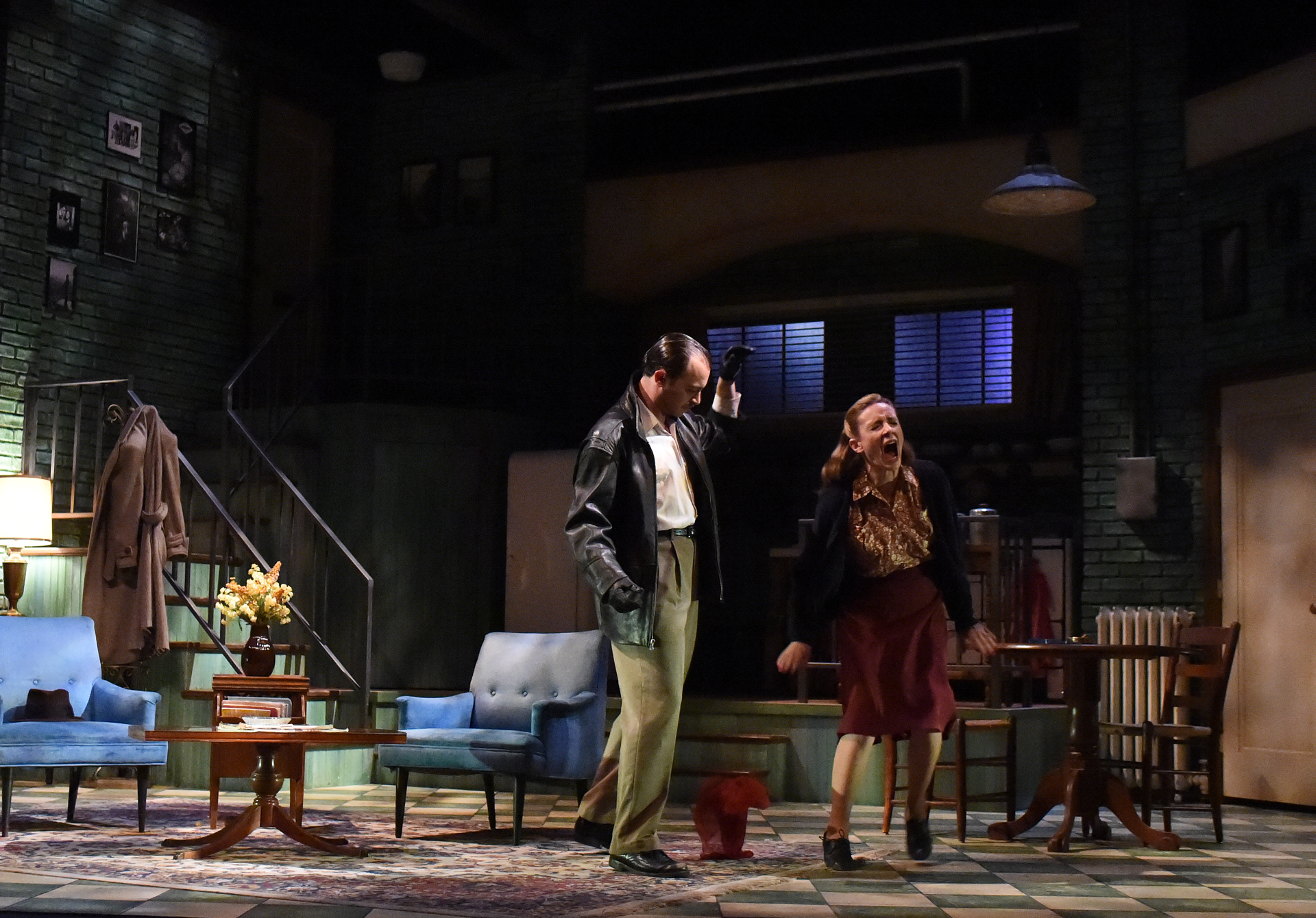 Oct. 15–Nov. 1, 2015
Written by Frederick Knott
Adapted by Jeffrey Hatcher
A blind housewife is targeted by three con men in search of a doll with heroin hidden inside, which her husband has inadvertently transported to their apartment.  They terrorize her until she finds the strength to fight back and makes them play by her rules – in the dark.
Pictured: Jessica Weaver as Susan, Michael Lee as Roat | Photo by Jeff Kearney 
"In 2015, I was presented the opportunity to perform in one of the most rewarding productions I've have ever been a part of.  Wait Until Dark, in its newer adaptation by Jeffrey Hatcher, was directed by the dynamic Scott RC Levy and brought to life with a powerhouse team of designers, cast, and crew.   Susie Hendrix is one of those roles that would make any actor squeal with delight when given the opportunity to perform.  She's vulnerable yet powerful, emotional yet centered… she has a magnetic sense of humor and can out clever the best of them.  As an actor, you have the opportunity to perform an emotional journey more colorful than a Santa Monica sunset while working with the physical limitation of being blind.  For this, I was able to reach out to the community for help by contacting the Colorado School for the Deaf and Blind.  I was fortunate enough to meet with a young woman who attended the school, and throughout the rehearsal process, helped me tremendously in accurately portraying Susie's way of living.  Everyone at the Fine Arts Center helped support me to be able to give everything I can for every rehearsal and performance, was a huge part in making this production of my favorites in my career." – Jessica Weaver, Susie Hendrix
Directed by Scott RC Levy
Scenic Design by Brian Mallgrave
Costume Design by Janson Fangio
Properties Design by Tori Higgins
Lighting Design by Holly Anne Rawls
Sound Design by Alex Ruhlin
Hair & Make-Up Design by Jonathan Eberhardt
Fight Direction by Benaiah Anderson
Production Stage Managed by Kaetlyn Springer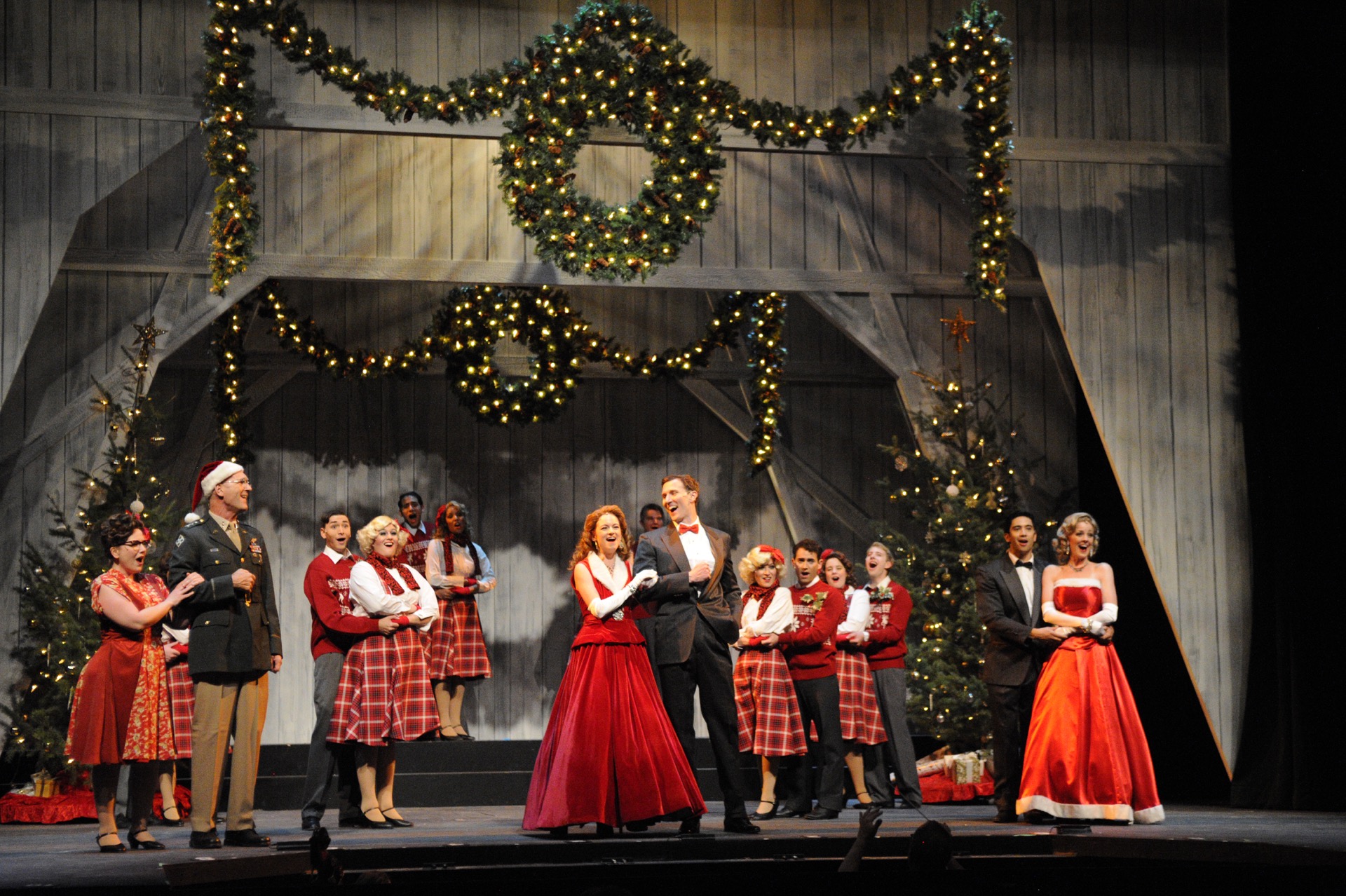 Dec. 10, 2015–Jan. 3, 2016
Based Upon the Paramount Pictures Film
Written for the Screen by Norman Krasna, Norman Panama and Melvin Frank
Music and lyrics by Irving Berlin
Book by David Ives and Paul Blake
Original stage production directed by Walter Bobbie
Based on the beloved, timeless film, this heartwarming musical adaptation features seventeen Irving Berlin songs.  Veterans Bob Wallace and Phil Davis have a successful song-and-dance act after World War II. With romance in mind, the two follow a duo of beautiful singing sisters en route to their Christmas show at a Vermont lodge, which just happens to be owned by Bob and Phil's former army commander. The dazzling score features well known standards including Blue Skies, I Love A Piano, How Deep Is the Ocean and the perennial favorite, White Christmas.
Pictured: Matt Gibson as Bob Wallace, Mackenzie Sherburne as Betty Haynes, Alannah Vaughn as Judy Haynes, Zachary Seliquini Guzman as Phil Davis, Mark Rubald as General Henry Waverly, Jen Lennon as Martha Watson, & Ensemble | Photo by Jeff Kearney
"White Christmas was a magical experience. From the production team, to the cast, crew and musicians. It was one of those shows where the right people came together at the right time to create something magical. I felt so loved and supported every day when I went to the theatre and we were truly a family.
One of my favorite moments from White Christmas was when my co-star's daughter was born during the rehearsal process. We were rehearsing 'The Best Things Happen While You're Dancing", and the song title was fitting. He left rehearsal to go home for the birth and in an incredibly touching moment the following day, he told me that they had named the baby Alannah. White Christmas will always hold a very special place in my heart. " – Alannah Vaughn, Judy Haynes
Directed by Nathan Halvorson
Choreography by Mary Ripper Baker & Nathan Halvorson
Musical Direction by Jay Hahn
Scenic Design by Christopher L. Sheley
Sound Design by Alex Ruhlin
Lighting Design by Eran Lynn Bradford
Properties Design by Morgan Gatson
Costume Design by Lex Liang
Hair & Make-Up Design by Jonathan Eberhardt
Production Stage Managed by Kaetlyn Springer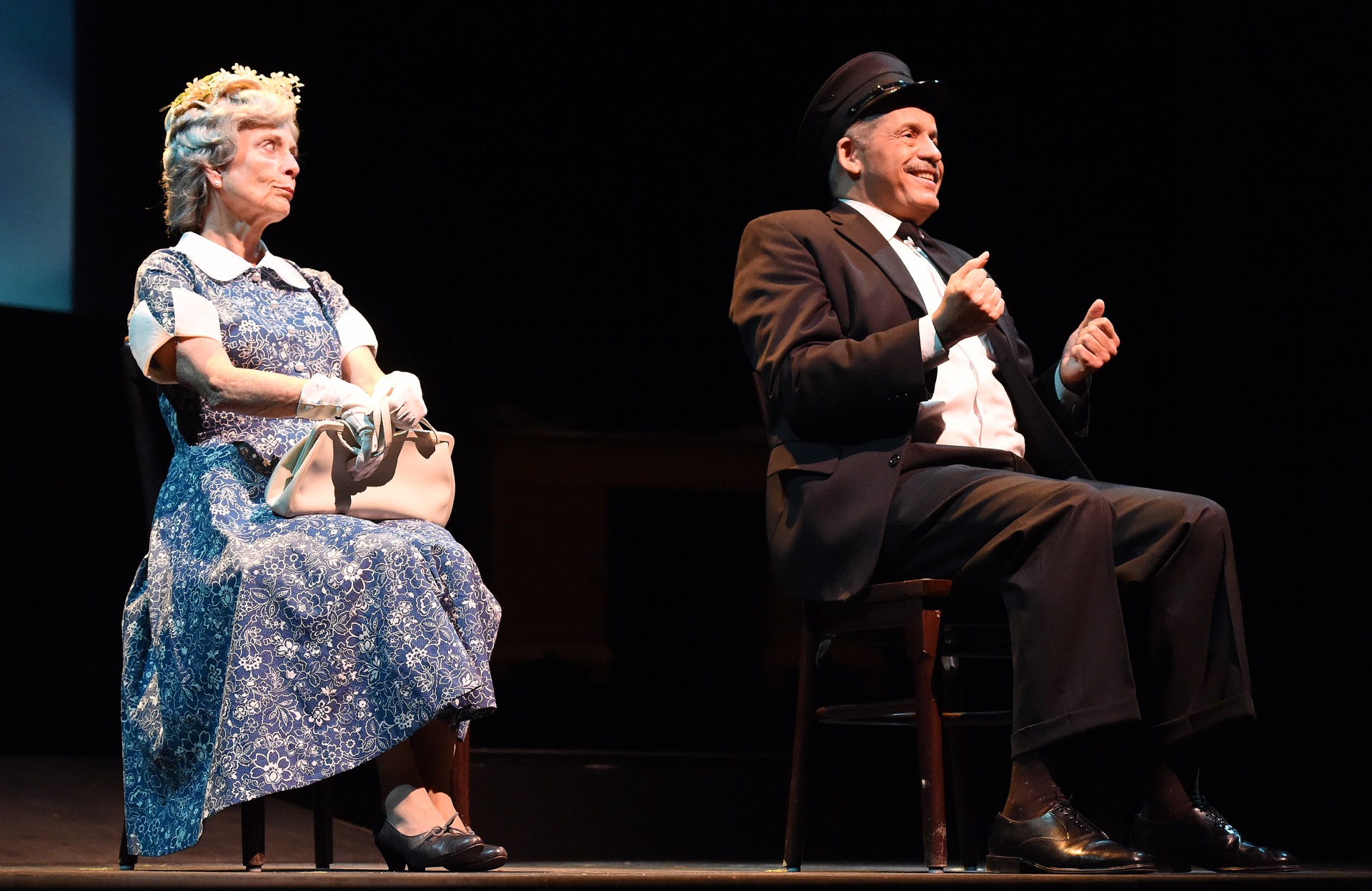 Feb. 4–21, 2016
A play by Alfred Uhry
When Daisy Werthan causes a car wreck, her son hires hard-working chauffeur Hoke Colburn to look after her. What begins as a hostile clashing of wills between a stubborn Jewish matriarch and a proud African-American man evolves into a decades-long friendship as the two navigate Civil Rights-era Atlanta. With humor and heartfelt emotion, Alfred Uhry's Pulitzer Prize-winning play poignantly explores the transformative power of true friendship.
Pictured: Billie McBride as Daisy Werthan and Joseph W. Lane Hoke Colburn | Photo by Jeff Kearney
"I have done Driving Miss Daisy 3 Times.  Three different venues, 3 different Boolies and 3 different Hokes. They were all three wonderful experiences. One of the things that made the one at the FAC so memorable was the backstage help. Morgan Gatson was my guardian angel. Daisy only gets off stage once or twice and at those times she has to change into another costume that help show the passage of time and location.  Morgan was there for every change and made sure that I safely made it back on stage. But my favorite thing was having the steps leading up to the stage painted and the railing added so that I did not fall going up or down in a hurry. To me that was above and beyond the call. This was another example of what I'd already known, Scott Levy takes great care in hiring staff. They have talent and heart." – Billie McBride, Daisy Werthan
Directed by Scott RC Levy
Music by Robert Waldman
Scenic Design by Christopher L. Sheley
Lighting Design by Holly Anne Rawls
Costume Design by Janson Fangio
Sound Design by Alex Ruhlin
Properties Design by Tori Higgins
Hair & Make-Up Design by Jonathan Eberhardt
Production Stage Managed by Kaetlyn Springer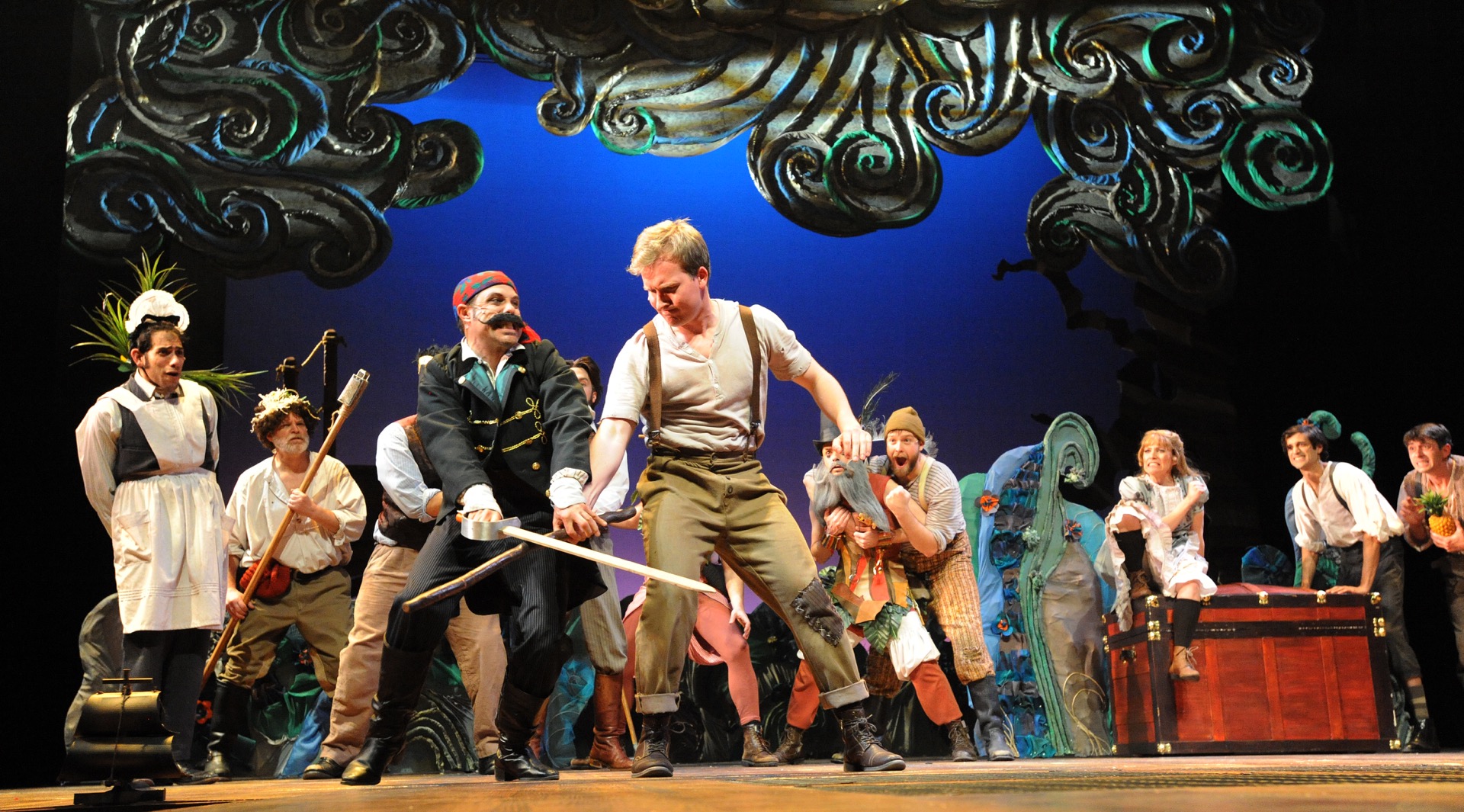 March 31–April 24, 2016
A play by Rick Elice
Music by Wayne Barker
Based on the Novel by Dave Barry and Ridley Pearson
Hailed by The New York Times as "the most exhilarating storytelling on Broadway in decades," this comedic play takes a hilarious romp through the Neverland you never knew. The winner of five Tony Awards®, this swashbuckling prequel to Peter Pan will have you hooked from the moment you let your imagination take flight. A company of a dozen actors play more than a hundred unforgettable characters, all on a journey to answer the century-old question: How did Peter Pan become The Boy Who Never Grew Up?
Pictured: Jordan Leigh as Black Stache, Levi Penley as Boy, and Ensemble | Photo by Jeff Kearney
"In a show packed to the gills with magic and cherished moments, I can't help but return to the simplest one. Two kids. Sitting on a treasure chest. A little afraid. A little excited. A little in love. Lost and growing up. I'll forever cherish that."  – Levi Penley, Boy
Directed by Joye Cook-Levy
Musical Direction by Jerry McCauley II
Fight Direction by Behaiah Anderson
Movement & Music Staging by Nathan Halvorson
Scenic Design by Christopher L. Sheley
Lighting Design by Jonathan Spencer
Costume Design by Janson Fangio
Sound Design by Alex Ruhlin
Properties Design by Victoria Higgins
Hair & Make-Up Design by Jonathan Eberhardt
Production Stage Managed by Kaetlyn Springer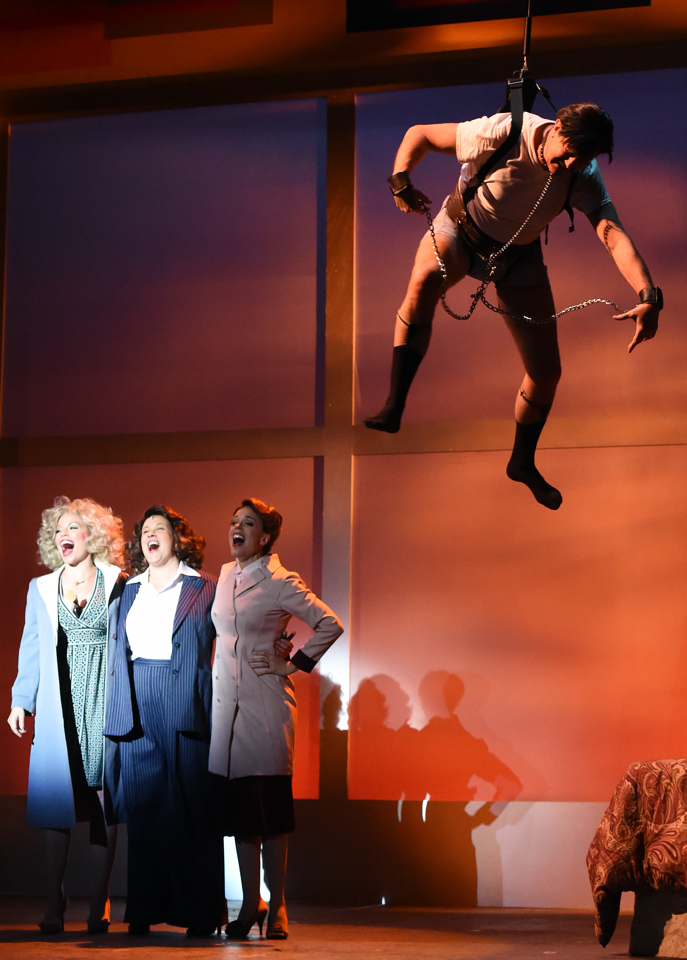 May 19–June 12, 2016
Music and Lyrics by Dolly Parton
Book by Patricia Resnick
Based on the 20th Century Fox Picture
A hilarious musical based on the blockbuster film. Pushed to the boiling point, three female co-workers concoct a plan to get even with their sexist, egotistical, lying, hypocritical boss. They conspire to take control of the company and learn there's nothing they can't do, even in a man's world! 9 to 5: The Musical is a story of friendship and getting ahead in the Rolodex era. Outrageous, thought-provoking and even a little romantic, 9 to 5: The Musical features Dolly Parton's original hit title song, along with her Tony and Grammy-nominated score, including Backwoods Barbie and Shine Like the Sun.
Pictured: Crystal Mosser as Doralee, Miriam Roth as Violet, Jennifer DeDominici as Judy, and Stephen Day as Franklin Hart | Photo by Jeff Kearney
"9 to 5 was one of the best theatrical experiences I have had. It felt like a family — built on trust, respect, and mutual admiration. There was never anything other than support for every member involved, from cast to crew to design team. One of my most prominent memories is performing 'One of the Boys', getting ready to walk along the desks, which are all on wheels. My shoe became unbuckled and started to slide off my foot. Thomas Voss, one of the men in the number, noticed it immediately and took charge, getting it back on my foot while still performing the choreography helping me stand from my sitting position. He saved me from breaking my ankle that show! I still feel inspired every time I hear 'Shine Like the Sun'." – Miriam Roth, Violet
Directed & Choreographed by Nathan Halvorson
Musical Direction by Jay Hahn
Scenic Design by Erik D Diaz
Sound Design by Alex Ruhlin
Flying Effects by ZFX, Inc
Lighting Design by Holly Anne Rawls
Properties Design by Liz Hultz
Costume Design by Lex Liang
Hair & Make-Up Design by Jonathan Eberhardt
Production Stage Managed by Kaetlyn Springer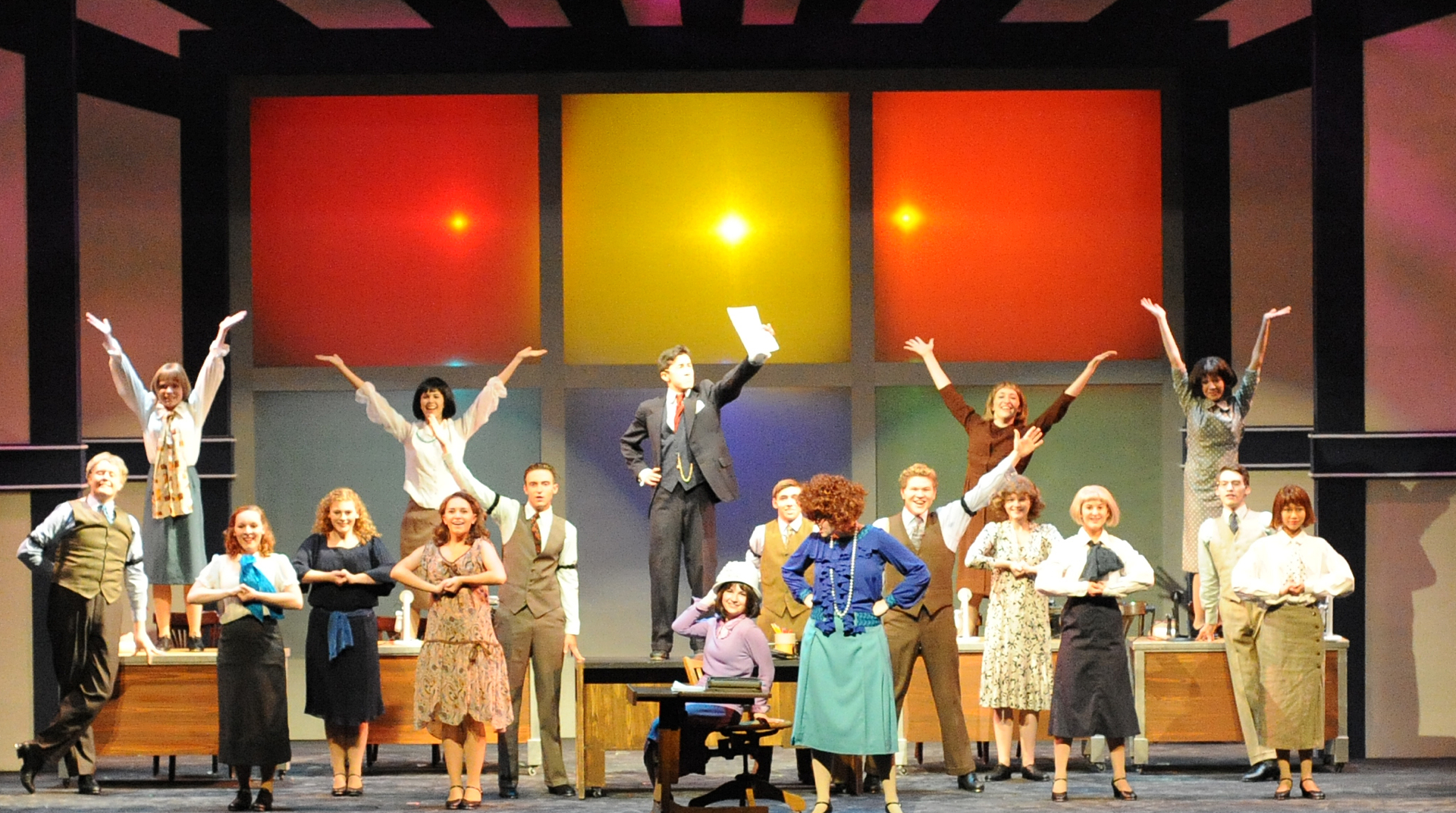 Youth Rep, July 28–31, 2016
New Lyrics by Dick Scanlan
New Music by Jeanine Tesori
Book by Richard Henry Morris and Dick Scanlan
Original Story and Screenplay by Richard Morris for the Universal Pictures Film
The winner of six Tony Awards including Best Musical, Thoroughly Modern Millie was the 2002 season's most awarded new show on Broadway! Based on the 1967 Academy Award-winning film, Thoroughly Modern Millie takes you back to the height of the Jazz Age in New York City, when "moderns" including a flapper named Millie Dillmount were bobbing their hair, raising their hemlines, entering the workforce, and rewriting the rules of love. This high-spirited musical romp is a delightful valentine to the long-standing spirit of New York City and the people who seek to discover themselves there.
Set in New York City in 1922, Thoroughly Modern Millie tells the story of young Millie Dillmount from Kansas who comes to New York in search of a new life for herself. Her grand plan is to find a job as a secretary for a wealthy man and then marry him. However, her plan goes completely awry. The owner of her dingy hotel kidnaps young girls to sell to the Far East; her wealthy boss is slow in proposing marriage; and the man she actually falls in love with doesn't have a dime to his name – or so he tells her. Filled with frisky flappers, dashing leading men and a dragon-lady of a villainess audiences will love to hate, Thoroughly Modern Millie is a perfectly constructed evening of madcap merriment.
Pictured: Arielle Miagkov as Millie Dillmount, Casey Fetters as Miss Flanery, Will Edelson as Mr. Trevor Graydon, and Ensemble | Photo by Jeff Kearney
"I remember Thoroughly Modern Millie being a lot of joy and inspiration. The most vivid memories I have from the show include being inspired by my friends; watching the girls joyously do a huge tap number and feeling inspired while Abby Roubal and Sam Pribly did the soft-shoe routine in the middle of I Turned the Corner.  I also remember tech being a time of intense work but also time for fun: falling down while dancing because of the need to get it right, hiding in the laundry cart, of course Liv's pants falling down, and trying to not break as it's an amazing thing to do theater with your friends." – Will Edelson, Mr. Trevor Graydon
Directed by Nathan Halvorson
Choreography by Alex Campbell, Nathan Halvorson, & Mary Ripper Baker
Musical Direction by Stephanie McGuffin
Scenic Design by Christopher L. Sheley
Lighting Design by Holly Anne Rawls
Costume Design by Olivia Rigdon
Sound Design by Tori Higgins
Hair & Make-up Design by Jonathan Eberhardt
Stage Managed by Kaetlyn Springer
Second Stage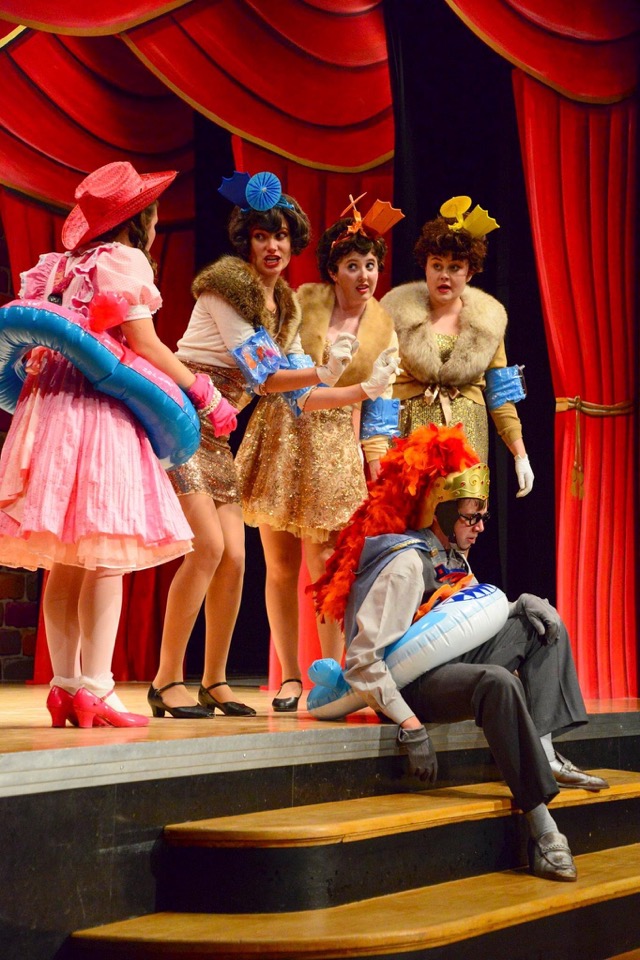 Oct. 8–18, 2015
Based on the Elephant and Piggie books by Mo Willems
Published by Hyperion Books for Children
Lyrics by author Mo Willems
Music by Deborah Wicks La Puma
In this vaudevillian romp, Elephant and Piggie sing and dance their way through plenty of pachydermal peril and swiney suspense.  Get ready for a musical experience ripped from the pages of Mo Willems's beloved, award-winning, best-selling children's books that will leave audiences doing the Flippy Floppy Floory dance all night long! In Elephant & Piggie's We Are in a Play!, Gerald and Piggie take to the stage in a rollicking adventure perfect for young audiences.
Pictured: Arielle Miagkov as Piggie, Sam Pribyl as Elephant, and Olivia English, Gabby Papa, and Casey Fetters as Squirelles
"Elephant & Piggie was simply a good story about best friends created by the bestest of friends." – Arielle Miagkov, Piggie
Directed & Choreographed by Nathan Halvorson
Assistant Directed & Choreographed by Jen Lennon & Alannah Vaughn
Musical Direction by Wes Sparks
Scenic Design by Christopher L. Sheley
Costume Design by Janson Fangio
Wig Design by Jonathan Eberhardt
Properties Design & Production Stage Management by Terri Harrison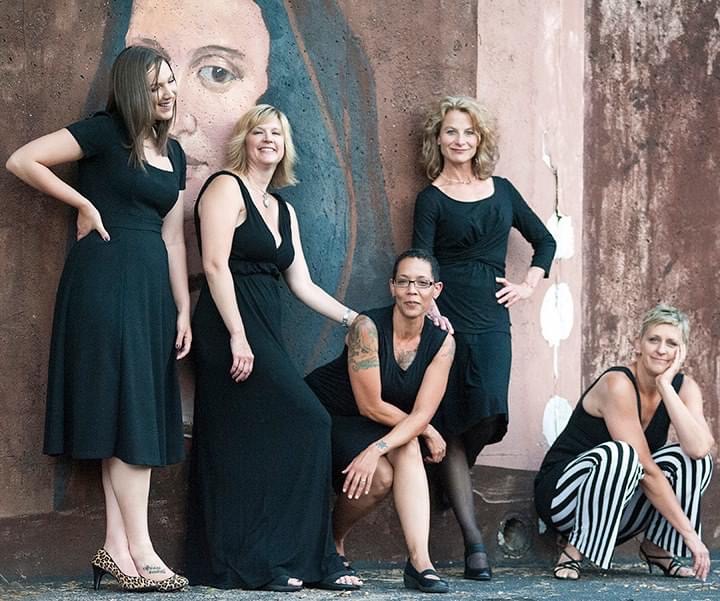 Nov. 12–22, 2015
By Nora Ephron and Delia Ephron
Based on the book by Ilene Beckerman 
A play of monologues and ensemble pieces about women, clothes, and memory covering all the important subjects – mothers, prom dresses, mothers, buying bras, mothers, hating purses, and why we only wear black. Based on the bestselling book by Ilene Beckerman.
Pictured: Kelly Cole, Joye Levy, Marisa Hebert, Amy Brooks, and Birgitta DePree
"Imagine a room filled with 100 strangers, sitting in low lighting, listening to five women telling other peoples' stories. That is at its essence what Love, Loss, and What I Wore was. At the beginning of each night I would look out into a sea of strangers and be a little intimidated. By the end of the night I felt like I knew these strangers better. We laughed together, we cried together, we committed to taking the journey of storytelling together, and it was a love fest each and every night." – Marisa Hebert, Actor
Production Stage Managed by Terri Harrison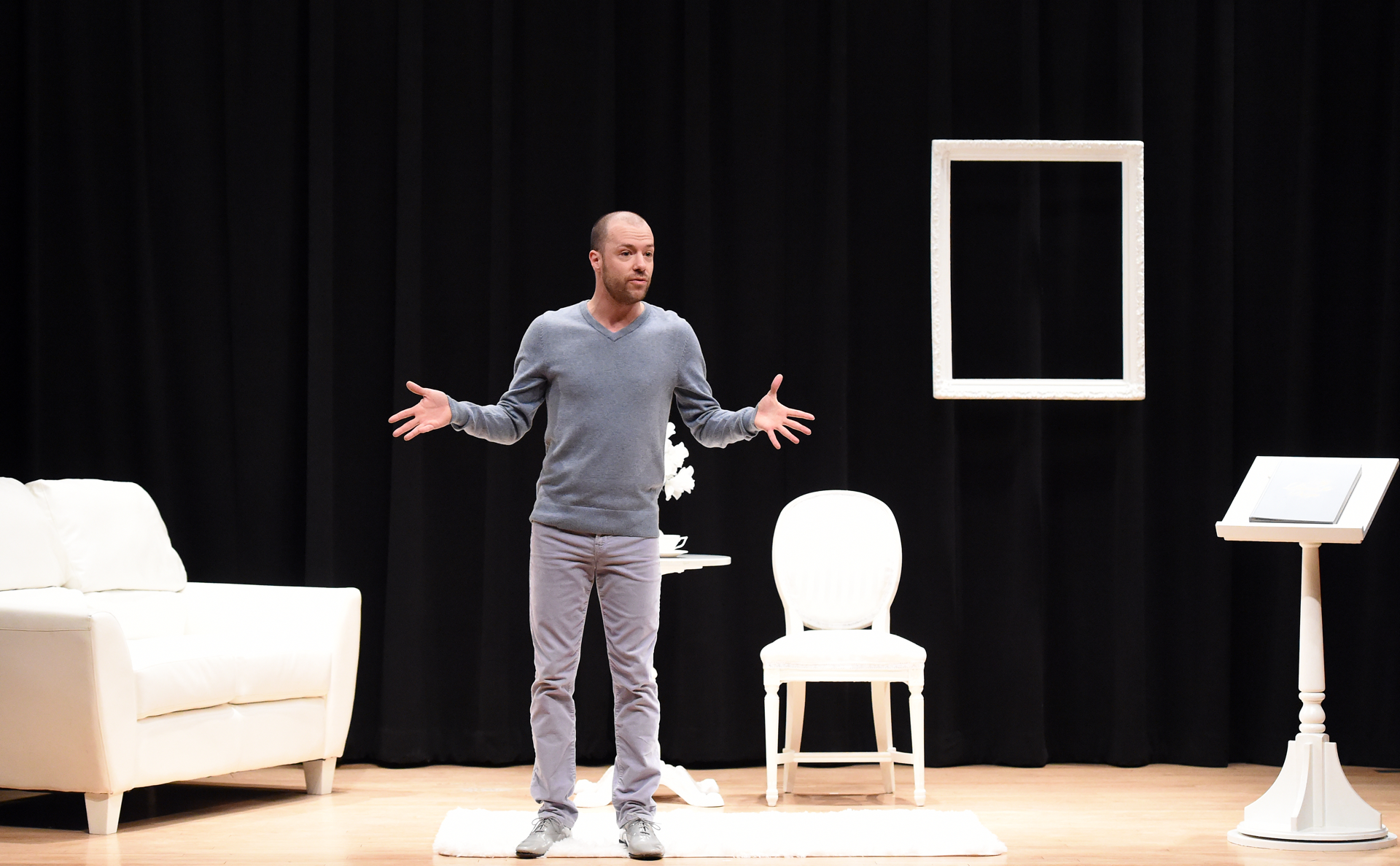 January 14–24, 2016
By Jonathan Tolins
Colorado Premiere!
A struggling actor in Los Angeles takes a job working in a mall in the basement of a megastar's house.  One day, SHE actually comes down and interacts.  It felt like a real connection, but will he make it out of the basement to the main floor?  A wonderful show about an eccentric celebrity and a very odd job.
Pictured: Sammy Gleason as Alex More
"Buyer and Cellar was a whirlwind. With only two weeks to rehearse, it came together beautifully through the combine efforts of the Director Cory Moosman, Stage Manager and Prop/Scenic/Costume Extraordinaire Terri Harrison, and myself. Apart from the opportunity to live many a gay persons fantasy – i.e. being Barbra Streisand – the show was such a singular opportunity for me as an actor – to just sit in a room with an audience and literally tell them a story. It's a different dynamic then performing in a huge musical or play on a stage where the audience is just 'the dark void'. Buyer and Cellar was more like a conversation – the direct connection with those observing felt so much more revealing and yet was immensely rewarding when the lights fell on the final line. It was a remarkable experience." – Sammy Gleason, Alex More
Production Stage Managed and Properties Designed by Terri Harrison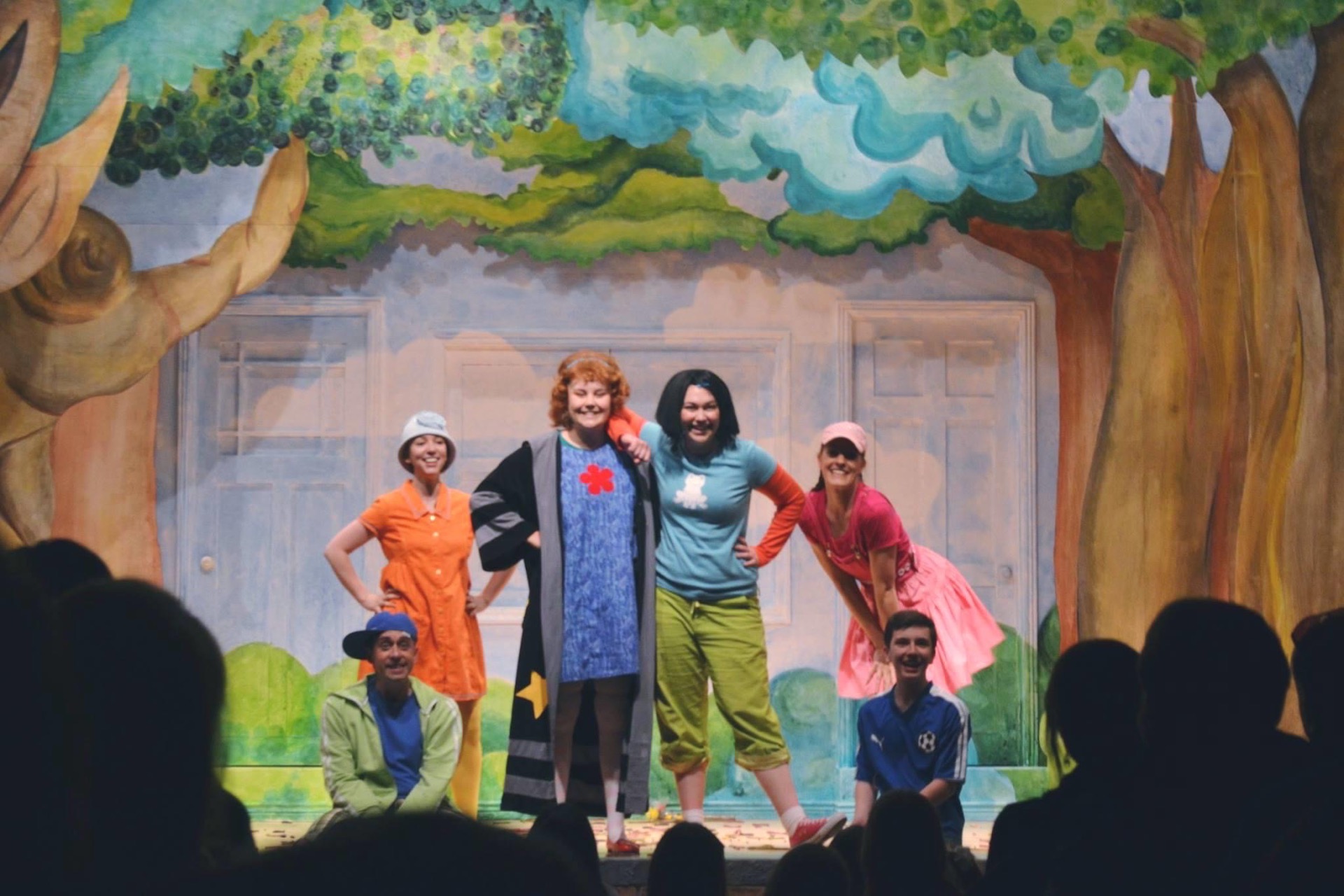 April 28–May 8, 2016
Book, Lyrics & Music by Scott Elmegreen
Based on the books by Annie Barrows
Based on The New York Times best-selling children's book series this is the story of an unexpected friendship between two very different second graders. The moment they saw each other, Bean and Ivy knew they would never like each other. Bean is loud and wild and goofy. Ivy is quiet and full of ideas. But when Bean plays a joke on her sister, and needs a place to hide, Ivy comes to the rescue. When the two become a team, there's mischief and laughter at every turn — along with lessons to be learned about the challenges and joy of family, friendship, and love.
Pictured: Kevin Pierce as Eric/Dad, Tia Luber as Sophie W./Mom, Casey Fetters as Ivy, Gretchen Vosburgh as Bean, Mallori Rouse as Nancy/Zuzu, and Evan Lennon as Leo
"Ivy and Bean was such a fun piece to create! My favorite part of the experience was getting the kids' feedback at our meet and greet with the audience after each show.  Kids are brutally honest, so when they would tell us all of the things they liked, we knew that their responses were genuine."  – Casey Fetters, Ivy
Directed by Scott RC Levy
Musical Direction by Jerry McCauley II
Choreography by Nathan Halvorson
Scenic Design by Christopher L. Sheley
Costume Design by Jen Andrews
Wig Design by Jonathan Eberhardt
Production Stage Managed by Terri Harrison
Special Events
One Night Only with Paula Poundstone
Special Event, Aug. 21, 2015
32 years ago, Paula Poundstone climbed on a Greyhound bus and traveled across the country — stopping in at open mic nights at comedy clubs as she went.  A high school drop-out, she went on to become one of the great humorists of our time. You can hear her through your laughter as a regular panelist on NPR's popular rascal of a weekly news quiz show, Wait Wait … Don't Tell Me. She tours regularly, performing standup comedy across the country, causing Bob Zany with the Boston Globe to write: "Poundstone can regale an audience for several hours with her distinctive brand of wry, intelligent and witty comedy."  Audience members may put it a little less elegantly: "I peed my pants."
While there is no doubt that Poundstone is funny, the thing that separates her from the pack of comics working today and that has made her a legend among comics and audiences alike is her ability to be spontaneous with a crowd.  Poundstone says:  "No two shows I do are the same. It's not that I don't repeat material. I do. My shows, when they're good, and I like to think they often are, are like a cocktail party. When you first get there, you talk about how badly you got lost and how hard it was to find parking. Then you tell a story about your kids or what you just saw on the news. You meet some new people and ask them about themselves.  Then, someone says, 'Tell that story you used to tell,' and then someone on the other side of the room spills a drink, and you mock them.  No one ever applauds me when I leave a party, though. I think they high five."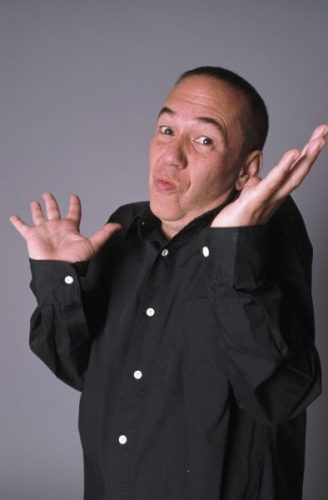 A Very un-PC Comedian: Gilbert Gottfried
Special Event, Feb. 17, 2016
As a famed comic's comic, Gottfried puts aside political correctness for his live performance and fires an onslaught of jokes that know no boundaries.
In 1980 Gottfried was hired as a cast member for NBC's Saturday Night Live. A few years later, MTV hired him for a series of improvised promos. He also had several television appearances on "Late Night with David Letterman."
Gottfried's film work includes "Beverly Hills Cop II," "Problem Child," "Problem Child II," "Look Who's Talking II" and "The Adventures of Ford Fairlane." He was also the host of the late night movie series "USA Up All Night."
Gottfried voice work includes, IAGO, in the Disney classic "Aladdin," the duck in the AFLAC Insurance commercials, the voice of DIGIT in the long running PBS Series "Cyberchase,"  the Comedy Central series, "The Annoying Orange, the horse on "Family Guy," Mr. Mxyzptlk in the new "Lego Batman 3 – Beyond Gotham" video game, and Abraham Lincoln in A Million Ways to Die in the West.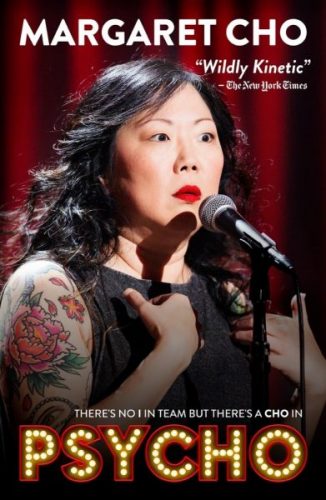 Margaret Cho: PsyCHO
Special Event, Feb. 25, 2016
Beginning with her early days on the scene in SoCal, comedian Margaret Cho has always been the Agent Provocateur of stand up. Never one to shy away from a difficult or even 'taboo' topic, there is no subject off limits. Her socially aware brand of comedy has made her both a thought leader as well as a teacher to those with open minds and open hearts.
Cho's had two shows debut Off-Broadway (I'm The One That I Want and The Sensuous Woman). She stared in the 1994 network comedy, All American Girl, followed by one of the first "reality sitcoms" to air on VH1, The Cho Show and most recently starring in the Lifetime series Drop Dead Diva for all six seasons. Her other releases include Notorious C.H.O. (2001), Assassin (2005), Revolution (2003), Beautiful (2009) and Cho Dependent (2011).
Margaret has been widely recognized for her work in the non-profit sector, lending her name, time and tireless work ethic to several charities, especially those involving gay rights and anti-bullying campaigns. In every segment of her life, Margaret is honest, adoring, passionate, uproarious and always entertaining.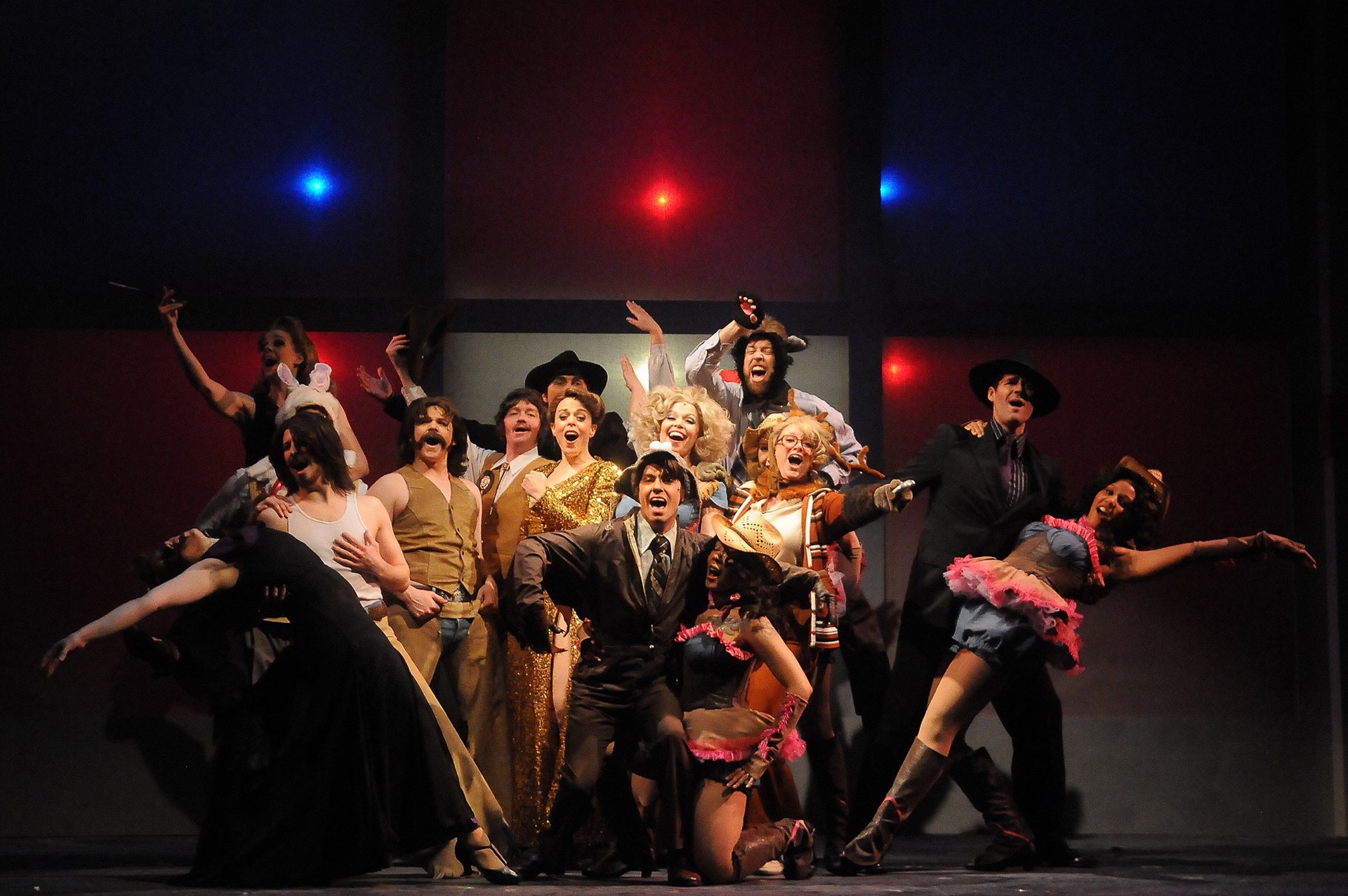 Dreams and Plans Cabaret
Special Event, May 31, 2016
The extraordinarily talented cast of 9 to 5, the Musical will serenade you with an evening of songs from Wicked, Newsies, Company, Songs For A New World, and more! Musical theatre fans will not want to miss this special event!