Theatre know before you go & FAQs
Below are some tips specific to your theatre experience.

WHAT TO WEAR
There is no formal dress code to attend a performance at the Fine Arts Center. You'll see patrons in suits and dresses sitting alongside others in jeans. Theatre is a special experience; we'd suggest dressing as if you were going out for a nice dinner, whatever that means for you. Layers are also a good idea should you find the theatre to be on the warm or cool side during the performance. A coatroom and free lockers can be found adjacent the main entry for coats, large bags, umbrellas and such.

PARKING
Parking in the Fine Arts Center parking lot is FREE for theatre patrons. The lot can fill up quickly for theatre performances so please be prepared to find alternate street parking if necessary.

WHEN TO ARRIVE
Patrons are allowed in the theatre 30 minutes before the show officially begins but you'll want to arrive well before that for parking and all the reasons outlined below. Should you arrive late or after curtain, for the safety of our performers and the benefit of fellow patrons, you may be held in the lobby until there is a suitable seating break during the performance.
MAKE THE MOST OF THE EXPERIENCE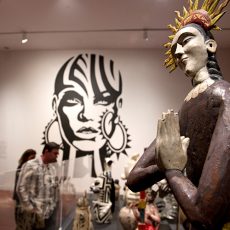 Build time into your schedule to explore the FAC museum galleries when you visit. Theatre patrons receive free admission on the day of your ticketed performance. Currently on view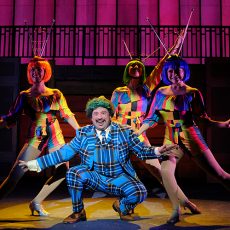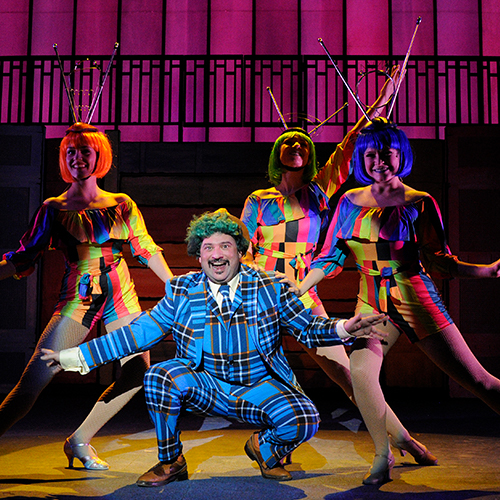 Many of our theatre productions feature related events that are free to ticket holders. Check the production's webpage for dates and details for backstage tours, talkback sessions and salon events, all regular happenings for our Mainstage productions! Theatre Events
CELL PHONES
Cell phones are allowed in the theatre but we kindly ask that you silence it and refrain from using any devices during the performance. Sets, costumes, scenery, and other production elements are considered intellectual property and may be copyrighted.
The use of any device to photograph or record during the performance is strictly prohibited. 
CHILDREN IN THE THEATRE
While each theatre production has recommended ages, parents should use discretion when deciding which shows are appropriate for their children. We have family shows for children as young as 3 in our Music Room and other productions recommended for audiences 18+.
Children under the age of five are not permitted in our Mainstage theatre.
FOOD AND DRINK
Our restaurant, Taste, offers an incredible pre-theatre dining experience for all Mainstage productions and other select events. Reservations can be made through our Front Desk by calling (719) 634-5583. In addition to Taste, we invite you to enjoy a pre-show cocktail in the FAC's Deco Lounge offering wine, beer, and craft cocktails before the show and during intermission.
Concessions and beverages purchased on location are welcome in the theatre. Outside food and drink are not permitted.
 OTHER INFO AND POLICIES 
CONTACT INFO
Phone: (719) 634-5583 | Email: fac@coloradocollege.edu
TICKET DELIVERY & WILL CALL
Patrons have the option to receive their tickets via email and print them out at home or have them held at will call. Will call is located at the FAC Front Desk.
If you'd like to request your tickets be mailed, please call our Front Desk a minimum of 10 days prior to the performance (a shipping fee will apply).
TICKET PRICES
Ticket prices vary by production and by seating section, however seats for most shows start at $20 (limited availability). Members can receive a 10% discount on tickets (does not apply to standard seats).
Student Rush Tickets
Students can purchase rush tickets on the day of the performance for $15. CC students may receive a FREE rush ticket with their Gold Card starting 1 hour before the performance.
Military Discounts
Thanks to Blue Star Theatres, active, reserve, and retired members of the Military are able to receive 1 (one) ticket at the current member rate for any theatre production.
Group Rates
Special rates are available for groups of 10 or more. Call (719) 634-5583 to book your group today.
TICKETING POLICIES
Ticket Exchanges
Tickets may be exchanged until the date of your scheduled performance, subject to availability, for another performance during the same production. A $5 exchange fee applies (waived for subscribers). Price differential and other rules may apply. Beginning two hours prior to curtain, exchanges for that performance are no longer available. For assistance, please call at (719) 634-5583.
Lost Tickets
It happens! Simply visit our Front Desk or call (719) 634-5583 and a new ticket can be printed for you to pick up.
Donate Tickets
If you are unable to use or exchange your tickets, you may transfer them prior to the performance as a tax-deductible contribution. Call (719) 634-5583 to donate your tickets.
Performance Cancellations
Performance cancellations are rare but do happen on occasion due to inclement weather. In the unlikely event of a show cancellation, we'll post notice to the homepage of our website, and attempt to contact ticket holders via email and/or phone for that performance. Patrons can also find out if a performance has been cancelled by calling the Front Desk at (719) 634-5583. The option for exchange or refund will be issued in the event of a cancelled performance