Each year we present the Living Treasure Award to a deserving individual to whom we would like to pay tribute; Living Treasure Award recipients are individuals who have made significant and lasting contributions, in a variety of ways, to the Fine Arts Center and its initiatives. They are the people who allow us to fulfill our mission of serving the community by acting as tireless champions for the FAC and the creative arts. The FAC's Living Treasures support the FAC by serving on the Board of Trustees, committees, ex officio/advisory councils, staff, or the Docent Corps; providing financial support to operations and programs; being ambassadors for and regularly attending the FAC's programming; and generally acting as proud representatives of the FAC.
What's more, our Living Treasure Awardees are often proponents of art more generally in our community, helping advance the impact of arts and culture as a source of Colorado Springs' vibrancy, health, and happiness. The Advisory Council of the Fine Arts Center presents the Living Treasure Award during our Annual Members' Meeting.
This year, we are especially pleased to bestow this honor on Kathy Loo. No one is more perfectly suited to be receiving this award, particularly in this year of growth, change and momentum, not only for the Fine Arts Center, but for our community more broadly.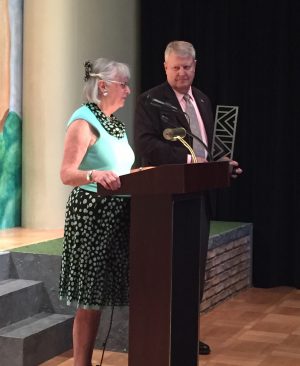 Kathy has been an active member of the Colorado Springs community for decades, in the artistic sphere and beyond. In particular, she has been a friend, ally, and advocate for the Fine Arts Center. To call her an active patron is a huge understatement. She has been highly involved for decades, served as Capital Campaign co-chair when we designed and built our magnificent expansion, served on the Development Committee for a number of years, and has been one of this organization's most generous investors. She has loaned works from her private collection on many occasions to exhibitions at the FAC, and has expressed intentions to bequest a portion of the collection to the FAC. In support of the recently announced alliance with Colorado College, she and her husband, Jim Raughton, have both indicated plans to make significant endowed gifts to the FAC Foundation in order to ensure a thriving future for the institution in this community.
Kathy has worked on numerous boards throughout the Pikes Peak region, the state of Colorado, and nationally. Recently she was a principle in the building of the first downtown apartment complex in more than 50 years. She is a champion for the culture and spirit of Colorado Springs and is renowned for her generous and strategic philanthropy.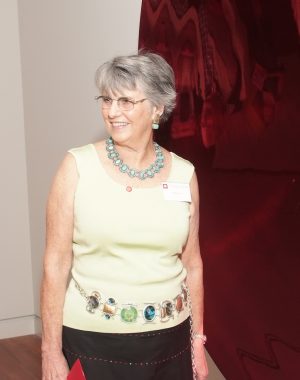 She served on Colorado Springs City Council for six years and also served on the Colorado Commission on Higher Education, which makes her uniquely qualified to be one of our most fierce champions, yet again, as we head into the most momentous change in our history with the Colorado College alliance. There is certainly a much bigger story to tell about all the ways in which Kathy is deserving of this award, but we don't have enough space for that.
In her acceptance remarks, Kathy talked of the time in the 60s when she discovered the FAC through her late husband, Dusty Loo, whose father served on the FAC Board of Trustees at the time. The FAC and the arts community remained central to their lives all the way up until Dusty's death in 2001, and continue to be a focal point for Kathy Loo and Jim Raughton today.