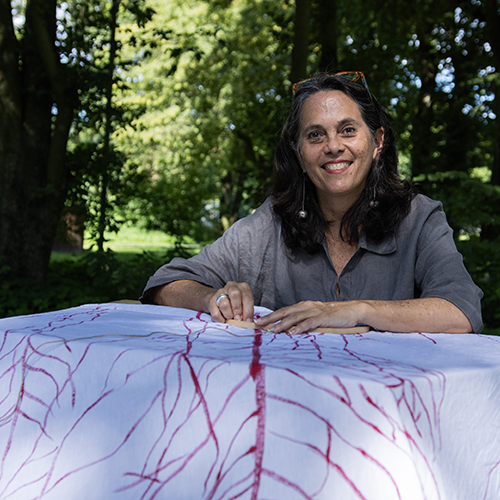 Artist Talk: Annalee Davis
Please join us for a talk by the artist and writer Annalee Davis. Combining history, ecology, and cultural activism, Davis explores the extractivist plantation history of Barbados, where she lives and works. Her practice, which often engages community and collaborators, includes walking, writing, artmaking, growing plots, and more recently, embroidery. In this talk, the artist will discuss her process and recent projects, including A Garden of Hope (Barbados) and Pray to Flowers – A Plot of Disalienation (Sharjah, UAE). This event will take place in Taste Restaurant.
The event is free and open to the public, but RSVPs are encouraged as space is limited.  
Annalee Davis is a Barbadian visual artist and writer whose practice combines history and biography in discussions of  'post-plantation economies' with cultural activism in the arts sector. Davis' works explore Barbados' transformation from a once biodiverse landscape to sugar plantations and more recently a tourism-dependent island, both arguably sectors of enclosure and exclusion. She understands the plantation as an economic model irrevocably impacting the contemporary environment whose historical legacy has been traumatically inscribed upon the landscape and its people. Working in her studio located on an operational dairy farm–once a 17th-century plantation–Davis exposes the poly-vocal narratives buried beneath the land. Drawing, walking, making (bush) teas, and growing living apothecaries, her practice suggests future strategies for repair and thriving while investigating the role of botanicals and living plots as ancestral sites of refusal, counter-knowledge, and healing. A Caribbean activist nurturing more equitable platforms for emerging artists, her work as the Founding Director of Fresh Milk, and co-founder of Caribbean Linked, Tilting Axis, and Sour Grass–promotes pan-Caribbean community engagement by working with artists across the multi-lingual archipelago. Collectively, they reinforce the healthy growth of contemporary visual arts in the region, by working with artists who often feel marginalized from mainstream society. Davis is a graduate of Fine Arts from Rutgers, The State University of New Jersey, and The Maryland Institute College of Art, USA.  
Solo exhibitions include Reseeding the Post-Plantation, Barbados Museum & Historical Society; re:wilding, Haarlem Artspace, UK; Heartseed, TEOR/éTica, Costa Rica; This Ground Beneath My Feet – A Chorus of Bush in Rab Lands, The Idea Lab, The Warfield Center, University of Texas, Austin, USA.  
Current group exhibitions include:  Linhas Tortas, "Mendes Wood São Paulo, Brazil;  Against Apartheid,  KARST, Plymouth, UK;  Seeds and Souls, Kunsthal Charlottenborg, Copenhagen. Recent shows include: Sharjah Biennial 15: Thinking Historically in the Present, Sharjah, UAE;  What's on your Plate?,  Hayy Jameel, Jeddah, UAE;  And if I devoted my life to one of its feathers?", Kunsthalle Wien, Austria.