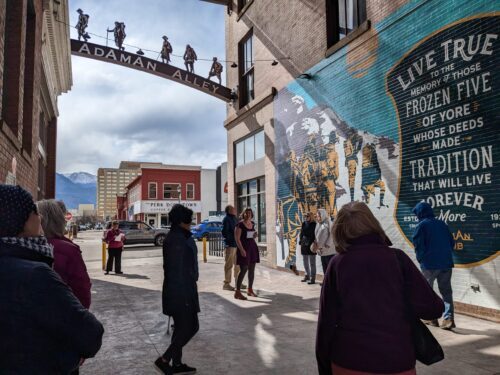 FAC Members Downtown History Stroll: The Great Outdoors & AdAmAn Alley
What does the "Great Outdoors" mean to you? Boasting over 300 days of sunshine a year, stunning scenery, and a mild climate, it is no surprise that spending time in nature is an important part of our past and present. From reverence, play, grit, and health, this tour examines our community's unique relationship with our environment. A must-see stop is an exploration of the newly completed AdAmAn Alley, a creative placemaking project examining the storied history of the AdAmAn club, which since 1922 has climbed Pikes Peak and lit up the sky with a dramatic fireworks display at the stroke of midnight on New Year's Eve.
Join a knowledgeable guide from the Colorado Springs Pioneers Museum for this 3/4 mile downtown stroll lasting approximately 1.5 hours.