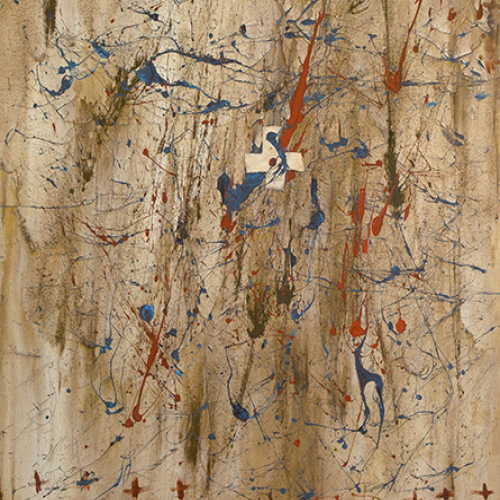 Redefining Native Art: Conversations of Contemporary Native Art with Anna Tsouhlarakis and Melanie Yazzie
December 1, 2022 @ 6:00 pm
Join the FAC for a critical conversation about redefining perspectives and perceptions of contemporary Native Art. In conjunction with the exhibition, Action/Abstraction Redefined, artists Anna Tsouhlarakis and Melanie Yazzie will share their perspectives as artists, educators, and activists of what Native Art is, isn't, and can be in our contemporary world. This conversation will be facilitated by Learning & Engagement Intern, Katie Norton '24.  
Event is free and open to the public.  
---
About the Panelists:
Anna Tsouhlarakis
Navajo + Creek + Greek 
Anna Tsouhlarakis works in sculpture, installation, video, and performance. She received her BA from Dartmouth College with degrees in Native American Studies and Studio Art. She went on to receive her MFA from Yale University in Sculpture. 
Her work has been part of national and international exhibitions at venues such as Rush Arts in New York, the Art Gallery of Ontario in Toronto, the Nasher Museum of Art at Duke University, Crystal Bridges Museum, the Museum of Contemporary Native Arts, the Heard Museum, and the Smithsonian's National Museum of the American Indian. Tsouhlarakis has participated in various art residencies including Skowhegan School of Painting and Sculpture, Yaddo, and was the Andrew W. Mellon Artist-in-Residence at Colorado College for the 2019-2020 academic year. 
Tsouhlarakis lives and works in Colorado. 
Melanie Yazzie
Dine 
Melanie Yazzie is Professor of Art Practices and Head of Printmaking at the University of Colorado in Boulder, Colorado. Her works belong to many collections such as: the Denver Art Museum, Anchorage Museum of History & Art, the Art Museum of Missoula, the Institute of American Indian Arts, the Kennedy Museum of Art and the Rhode Island School of Design Museum. She has exhibited nationally and internationally and in countries such as, New Zealand, France, Russia, Canada, Estonia, Northern Ireland, Korea, China, United Kingdom, and Australia. She is known for organizing print exchange projects that connect communities across the world. She makes prints, sculptures, paintings, does surface design and jewelry design. She has been represented by the Glenn Green Galleries in Santa Fe, New Mexico since 1994. 
Katie Norton '24
Katie Norton is a Junior at Colorado College studying Museum Studies and Anthropology with a focus in archaeology. In her work at the FAC as the Action/Abstraction Redefined Learning & Engagement Intern, Kaite has led tours, created learning objectives, organized a virtual exhibit, and works to connect people with resources relevant to contemporary Native Art.  
Katie comes to Colorado College from outside of Cleveland, Ohio. In her spare time, she likes to travel around Colorado and enjoy the beauty of the state. 
---
Top image: Mike Medicine Horse Zillioux, (Akimel O'odham/Cheyenne/Pawnee,1952–2020), The Day Jackson Pollack [sic] Became A Christian (detail), 1974, Acrylic, rawhide, salt on canvas, MoCNA Collection (P-22), Gift of the Artist