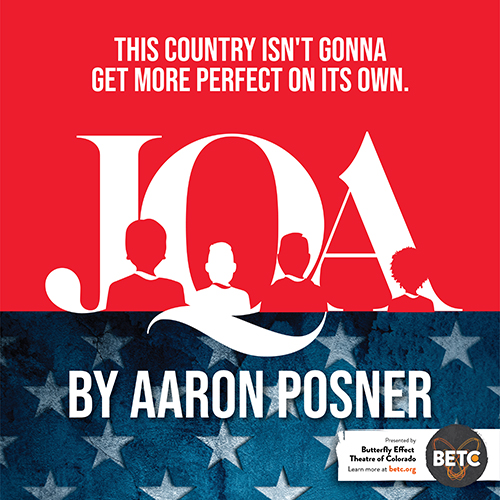 City as a Venue: Butterfly Effect Theatre of Colorado presents JQA
Saturdays in the Park with the FAC: join us for live performances and art demonstrations downtown at Acacia Park!
FREE – pre-registration recommended | Acacia Park Bandshell
JQA
by Aaron Posner
This country isn't gonna get more perfect on its own.
John Quincy Adams was a brilliant but quick-tempered diplomat, one-term president, and congressman. In "JQA," award-winning playwright Aaron Posner ("Stupid F**king Bird," "Cyrano") imagines conversations between Adams and extraordinary Americans like George Washington, Frederick Douglass, and Abigail Adams. In this performance from Butterfly Effect Theatre of Colorado, four Colorado actors chart John Quincy Adam's 70-year journey from mischievous child to reluctant diplomat to abolition advocate. Provocative, haunting, and hilarious, this play challenges the ways we think about our country, our government, and ourselves. 
"In Aaron Posner's play, there is more than one John Quincy Adams, but only one way to ensure that American democracy endures." —The New York Times 
"Even if one isn't a history buff, JQA is a thoughtful and thought-provoking piece of theatre, exploring the responsibility we owe to both our loved ones and our country." —Broadway World 
Content advisory: This production contains conversations about and depictions of American slavery. This production includes some mildly explicit language. 
Register for 2 p.m. performance
Register for 7 p.m. performance