Small Glimpses, Many Times presents a new body of work by sculptor and mixed media artist Nancy Lovendahl. Lovendahl, affected by her observations of the Colorado landscape, investigates themes of scale and perception. Taking its title from Dzogchen, a tradition in Tibetan Buddhism, this exhibition tracks Lovendahl's consistent exploration of repetition across new developments in her social practice in art.
Lovendahl has expanded her signature style—the loving recreation of the natural processes of erosion and polish on natural materials—to explore more immediate and experimental media. This new body of work harnesses materials not found in nature, like cast resin and Tyvek. Despite the apparent disparity between old and new methods, Lovendahl continues to explore and express her contemplation of human understanding. Depicting the same form over and again, in various media, offers new ways of seeing and understanding ourselves. For Lovendahl, repetition is the gateway to discover our isolating, behavioral lens of what we think we see.
The artist takes the mountain form as a metaphor to explore the difference between the object itself and her concept of it. With an understanding that all people experience the world through a lens of their own biased perception, the mountain comes to represent all assumptions that can obscure the truth of an experience or person. At first, the mountain presents a sense of myth and stability when viewed from afar; however, once one immerses themselves in the environment, this assumption shifts. It quickly becomes clear that the mountain is no more than a pile of rubble giving the appearance of solid form. Take a second look. Small Glimpses, Many Times is a meditation through Lovendahl's repeated investigation of the mountain shape in many different forms, media, and sizes, all interrogating the concept of perception versus reality.
Image: Nancy Lovendahl, Mountains 3: Cathedral (detail), 2020, Cast Eurethane, Cast Epoxy Resin, Photo: Courtesy of the Artist and Michael Warren Contemporary, Denver
Audio accompaniment to Mountain 1.0.0
This composition accompanies a sculpture (Mountain 1.0.0) on view now in the exhibition. Lovendahl calls this sculpture a visual "paper tiger" — an English phrase translated from the Mandarin term zhilaohu (纸老虎). Made from manipulated tracing paper, Lovendahl creates a mountain that is large and monumental in scale, but also flimsy, lightweight and transient. In the associated audio recording, composer D. Edward Davis has incorporated the sound of Lovendahl creating the sculpture, transforming one work of art into another. Click the link below to hear the composition.
D. Edward Davis
American (born 1980)
smoke under a white dress
2015–2020
Digital playback
Please consider bringing your own headphones to experience this composition in the gallery space.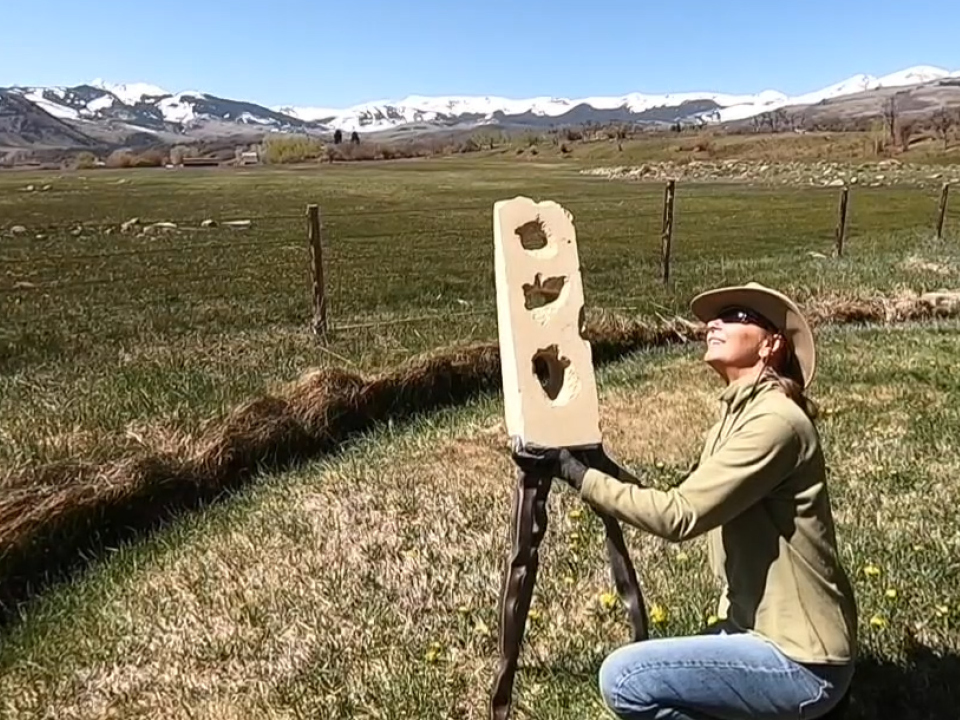 About the artist:
"I was born and raised in the Chicago area and escaped what I anticipated would be a confining future to the vast open space of Colorado."
Lovendahl moved west after studying ceramics at The University of Illinois – Champaign/Urbana. Her artwork can be found in private & public collections and museums such as The Smithsonian Institution in Wash., DC and the historic Keramikmuseum outside Koblenz, Germany. She has won numerous monumental Art in Public Places awards nationally in cities such as Dallas and Denver. Nancy teaches and lectures in institutions such as The Central Academy of Fine Art in Beijing, China and Anderson Ranch Arts Center in Snowmass Village, CO. She exhibits nationally and internationally with recent exhibitions at The Red Gate Gallery Residency in Beijing, The National Gallery in Tbilisi, Georgia and the Art Base, in Basalt, CO. Nancy is represented by Michael Warren Contemporary, in Denver and lives in Old Snowmass, CO with husband, jewelry designer Scott Keating, their dog and cat. She works in studios in Old Snowmass and Denver, CO.
Details
Museum Hours
Thursday–Saturday 10 a.m.–4 p.m. by reservation only
Admission includes entrance to all other galleries in the museum.
Tickets
| | | | |
| --- | --- | --- | --- |
| FAC Members | Non-Member Adults | Military & Seniors (55+) | Students & Teachers |
| Free | $10 | $5 | Free |
Sponsors