FAC Legacy Series
Throughout its prestigious history, the Colorado Springs Fine Arts Center museum has curated significant exhibitions dedicated to historic and contemporary regional art. The FAC Legacy Series celebrates the art that continues to represent the spirit of Colorado and the American West through solo exhibitions of work by artists who have worked and/or taught at the FAC.
This program began in 2012 with the Sandzén in Colorado exhibition. This was the most comprehensive presentation of Broadmoor Art Academy instructor Birger Sandzén's work in Colorado, and achieved acclaim from visitors and critics alike. The exhibition allowed the FAC to share the rich history of art in Colorado through not only the exhibition and catalogue, but lectures, interpretive material, and related classes.
Inspired by both the tradition of the FAC and the success of the Sandzén exhibition, the FAC Legacy Series has continued with stunning exhibitions of work by Charles Bunnell, Eric Bransby, Ellen O'Brien, and Myron Wood. Upcoming exhibitions will include the art of Mary Chenoweth and Frank Mechau.
Birger Sandzén (1871-1954) painted in a subtle, tonalist style early in his career, in his home country of Sweden, and then he studied in Paris where he was introduced to Impressionism, pointillism, and Post-Impressionism. That changed his outlook and his painting style forever. He immigrated to Kansas to teach at Bethany College and began a lifelong love affair with the landscape of America, particularly the American West. The artist visited Colorado almost every summer from 1908 until 1952. Sandzén succeeded John Carlson as professor of landscape painting at the Broadmoor Art Academy during the summers of 1923 and 1924. Sandzén referred to Colorado's scenery as "a paradise for painters" and adapted his open brushwork and vibrant hues to create epic paintings of landscapes throughout the state, with emphasis on the Pikes Peak Region and Estes Park. "Colorado Springs ought to be one of the most important art centers of the west," Sandzén told the Colorado Springs Gazette in 1923. "It is centrally located, in a setting that is without rival in the entire west. It has a sketching ground to offer artists that cannot be surpassed in the United States or elsewhere."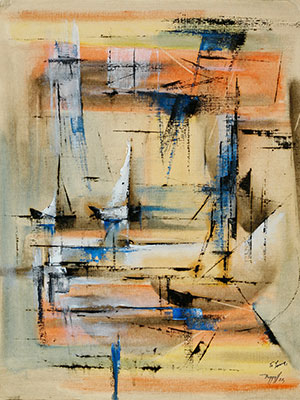 Charles Ragland Bunnell (1897-1968) was an American painter, printmaker and muralist. Bunnell was born in Kansas City, Missouri and moved to Colorado Springs in 1915. Bunnell attended the Broadmoor Art Academy where he studied under American impressionist Ernest Lawson in 1927 and 1928 and then became an instructor at the prestigious academy in 1929. He is among the few artists who learned traditional painting at the Academy and later adopted a more purified form of abstraction in his paintings. In his paintings, pure color and shape are the elements through which our ultimate response is sensory, emotional, and intuitive. In the 1930s, Bunnell painted and taught under the auspices of Depression-era federal art projects, including work as an assistant to master muralist Frank Mechau. By the 1940s and '50s, his abstract paintings were exhibited with those of New York School artists who had instigated a vigorous post-war transformation of American art that secured an unprecedented shift in art world attention from Europe to America. His work is in the collections of the Nelson-Atkins Museum of Art in Kansas City, the Taylor Museum at the FAC, Denver's Kirkland Museum, and other.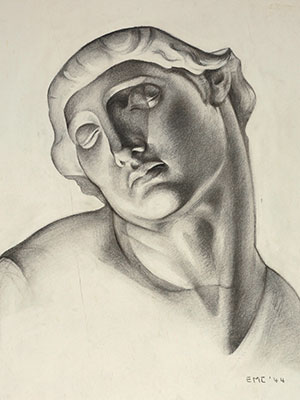 Ellen O'Brien (1922 – 2013) was gifted with an ability to express tremendous emotion and insight in her graceful figures, rhythmically patterned still lifes and mysterious landscapes. When she first came to Colorado Springs,  O'Brien brought with her the precise drawing skills, creative experience, and independence she was afforded at Cornell University and Detroit's Cranbrook Academy of Art. After a short stay here, O'Brien moved to Paris to work in the studio of painter Fernand Léger, who following Pablo Picasso, had helped develop the visual language of Cubism. After her return to Colorado Springs in 1951, O'Brien taught at the Fine Arts Center School, where she made a significant series of lithographs with master printmaker Lawrence Barrett. Around this time, O'Brien was among a small number of Colorado artists to adopt abstraction – a form that was redefining the art world. In her abstract paintings, she continued to create elegant and powerful images through dynamic compositions of undulating and intersecting lines surrounded by strong color.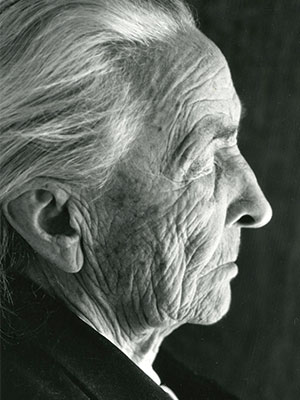 Myron Wood (1921-1999) was a prolific photographer of the Southwest from the late 1940s through the late 1980s, perhaps best known for his work in New Mexico with the Native Americans of Taos Pueblo, the Catholic Penitente brotherhoods of northern New Mexico and southern Colorado, and for his celebrated photographs of artist Georgia O'Keeffe and her Abiquiu, N.M., home. Around the Southwest, Wood made a name for himself with photography funded by the Ford Foundation, the Pueblo Public Library and the Pikes Peak Regional Library, among other supporters. His photographs have been published extensively in national and regional magazines and in many books. Born in Oklahoma, Wood moved to Colorado Springs in 1947, where he fell in love with the natural beauty of the Southwest. In the 1950s, he became assistant curator for photography here at the Colorado Springs Fine Arts Center. In fact, the reason he met Georgia O'Keeffe in 1956 was to thank her for donating copies of husband Alfred Stieglitz's publication, Camera Work, to the Fine Arts Center. It was more than 20 years later, in 1979, which Wood met O'Keeffe again and asked to photograph her and her Abiquiu home. For the next two and-a-half years, Wood made several trips to Abiquiu, where he captured O'Keeffe and the atmosphere of creativity she had created there.
Frank Mechau (1904-1946) was among the greatest of the artists associated with the Colorado Springs Fine Arts Center's first decades. He won an unprecedented three Guggenheim Fellowships in his career. He was the first Colorado artist to be awarded the study grant, and was among the first fellows allowed to use the award at home in the states. In 1943, Mechau spent his first year on the western slopes of the Colorado Rockies, bunking with cowboys on cattle ranches and traveling to rodeo events, collecting innumerable drawings for later paintings and murals. That same year, the artist was contacted by the Public Works of Art Program committee and offered one of the first mural commissions of the new federal subsistence plan, resulting in Mechau's Horses in the Night for Denver Public Library. Mechau taught for the FAC School in 1937-38; on the heels of the Broadmoor Art Academy's height and under the continued influence of the BAA's Boardman Robinson, Mechau maintained the Academy's traditional teachings by making the Fine Arts Center a Western focal point for Works Progress Administration mural projects.