FAC Theatre Company 2016–2017 Season
Mainstage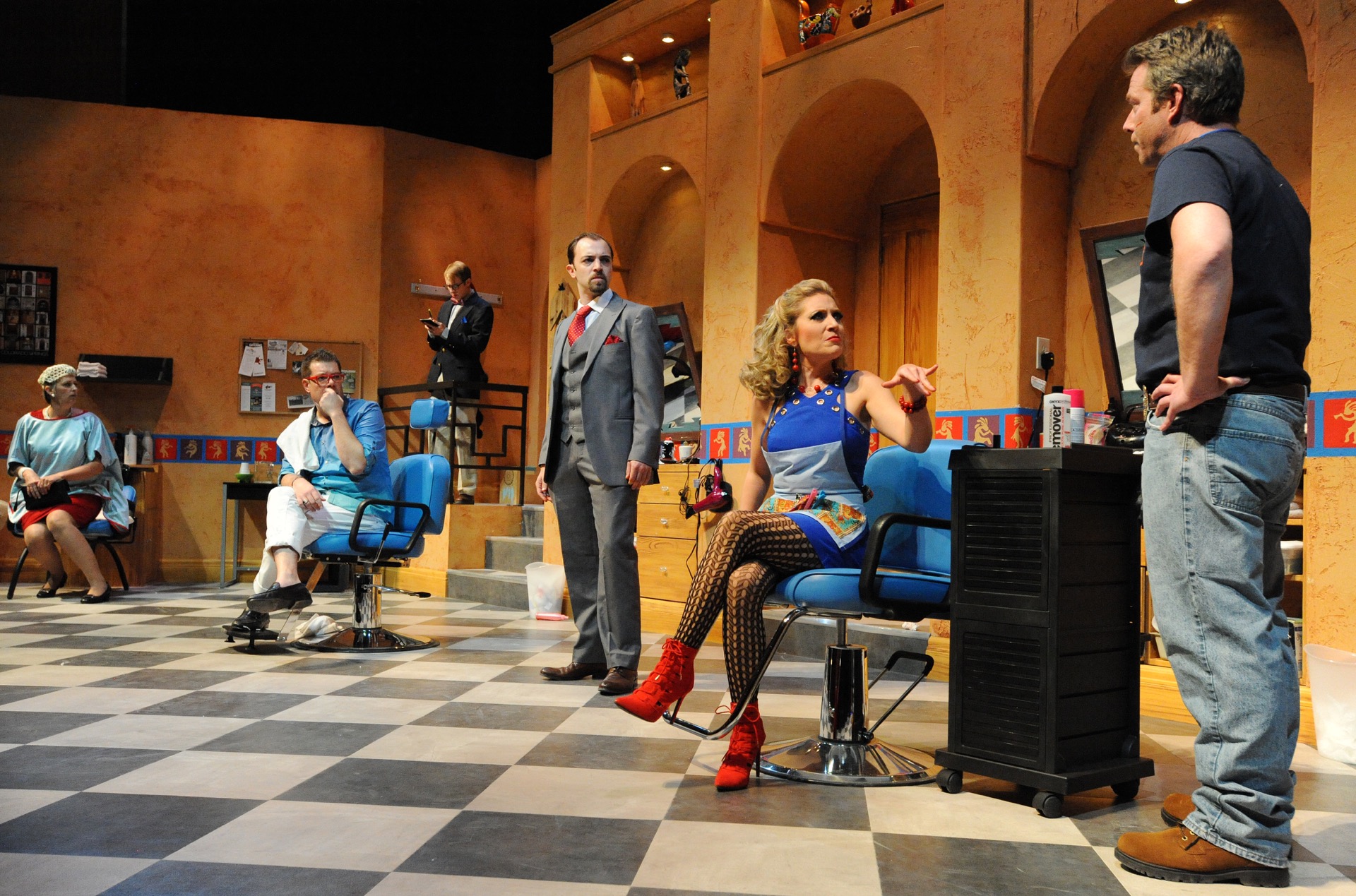 Sept. 22–Oct. 16, 2016
By Paul Pörtner
This unique comedy-whodunit takes place today in the Shear Madness hairstyling salon and is chock full of up-to-the-minute spontaneous humor. During the course of the action, a murder is committed and the audience gets to spot the clues, question the suspects, and solve the funniest mystery in the annals of crime. One of the longest-running non-musicals in history. And the best part… It's different every time you see it!
Pictured: The Company of Shear Madness (left to right): Birgitta De Pree, Nathan Halvorson, Nate Ferrick, Michael Lee, Rebecca Meyers, C. Clayton Blackwell | Photo by Jeff Kearney
"The first time I heard of the Colorado Springs Fine Arts Center was when my agent informed me that they were late casting the character of Nick O'Brien in their production of Shear Madness. I was already familiar with the show, because I assisted in the preparation of a close colleague's Las Vegas debut as the character of Barbara DeMarco ten years prior. When I was cast, I thought I was fully aware of how difficult and ambitious the show was to stage, but almost nothing can prepare an actor for the inherent traps one has to navigate with that particular script. During my nineteen years of professional experience, the most difficult shows are often times the most rewarding, and this one was no exception. Through the steady hand and leadership of Director and Producing Artistic Director Scott RC Levy, Shear Madness and my time at the FAC remains a highlight of my career." – C. Clayton Blackwell, Nick O'Brien
Directed by Scott RC Levy
Scenic Design by Christopher L. Sheley
Lighting Design by Holly Anne Rawls
Costume Design by Janson Fangio
Properties Design by Liz Hultz
Production Stage Managed by Kaetlyn Springer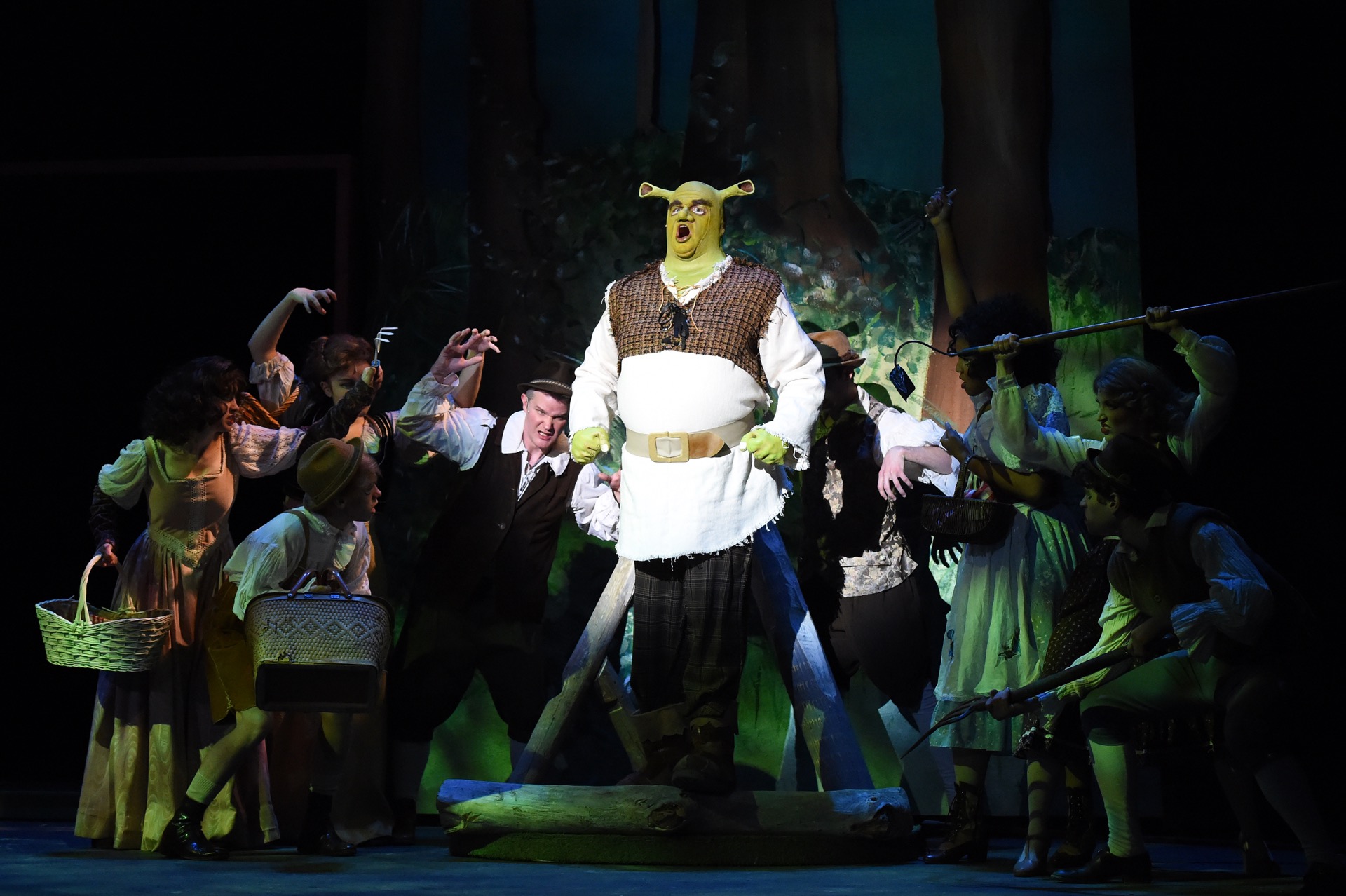 Dec. 1, 2016–Jan. 8, 2017
Music by Jeanine Tesori
Book and Lyrics by David Lindsay-Abaire
Based on the Oscar-winning DreamWorks Animation film and the book by William Steig.
"Once upon a time, there was a little ogre named Shrek…." And thus begins the tale of an unlikely hero who finds himself on a life-changing journey alongside a wisecracking Donkey and a feisty princess who resists her rescue. Throw in a short-tempered bad guy, a cookie with an attitude and over a dozen other fairy tale misfits, and you've got the kind of mess that calls for a real hero. Luckily, there's one on hand… and his name is Shrek.
Pictured: David Wiens as Shrek and the Company of "Shrek: The Musical" | Photo by Jeff Kearney
"Working on Shrek will remain one of the best theatre stories for me. That production solidified so many relationships in the FAC family. It's been years, but we are STILL exchanging 'Dulac bows' to each other on and off stage. And laughing. So many hilarious things came out of that tech process. From painted body suits, to prosthetic pig faces, to some of the most amazing looks I've ever seen, that's what I remember most. Lex Liang and Nathan Halvorson created a stunning array of unique fairy tale characters. For Pinocchio, I literally had a motor on my back. When my nose extended and you could hear children gasp from the audience, IT WAS EVERYTHING!" – Kevin Pierce, Pinocchio
Directed and Choreographed by Nathan Halvorson
Musical Direction by Jay Hahn
Tap Choreography by Zachary Selquini Guzman
Scenic Design by Christopher Sheley
Lighting Design by Holly Anne Rawls
Costume Design by Lex Liang
Hair and Make-up Design by Jonathan Eberhardt
Properties Design by Emma Dean
Production Stage Managed by Kaetlyn Springer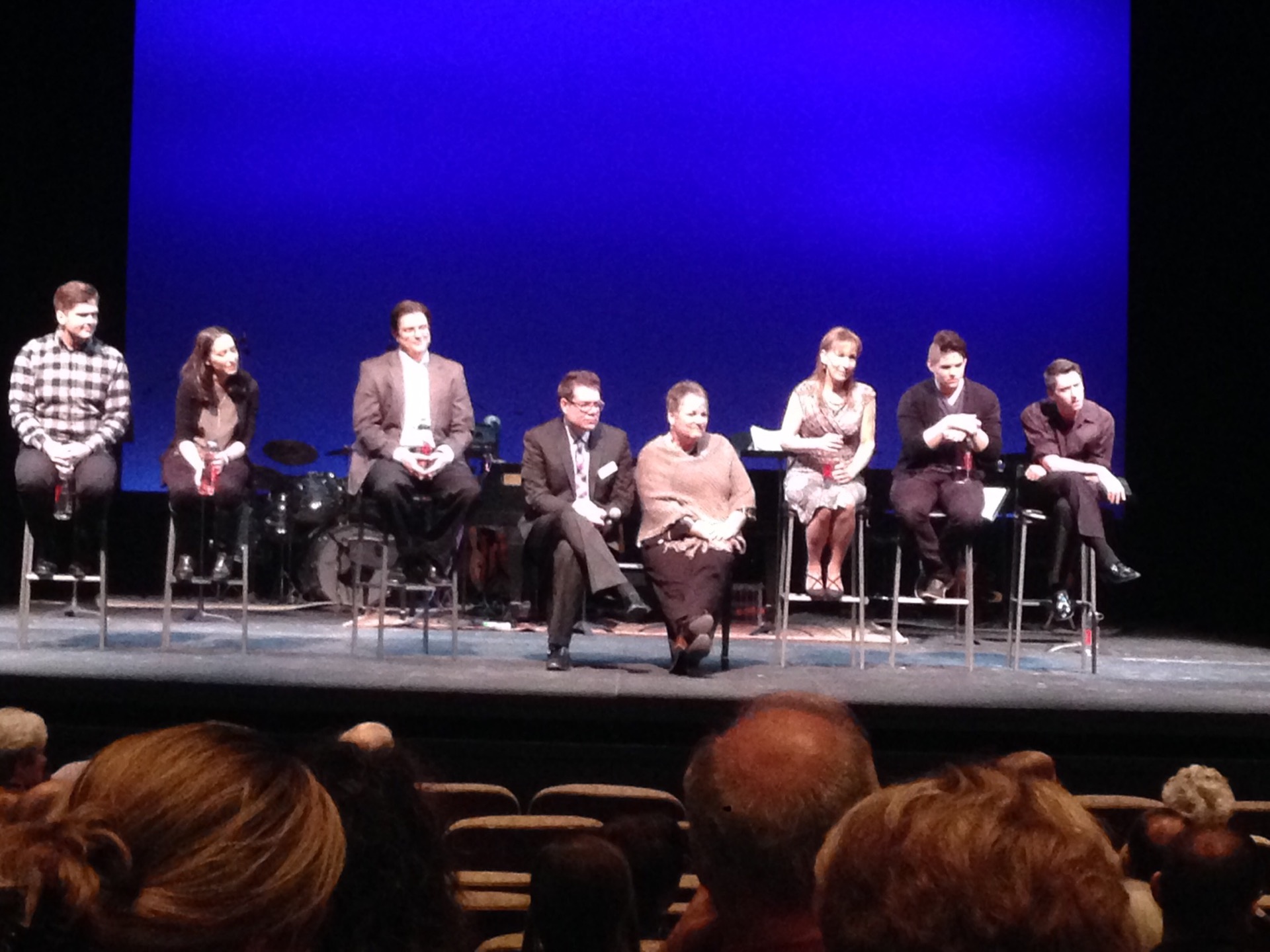 Jan. 14, 2017
Book and Lyrics by Brian Yorkey
Music by Tom Kitt
Dad's an architect; Mom rushes to pack lunches and pour cereal; their daughter and son are bright, wise-cracking teens, appearing to be a typical American family. And yet their lives are anything but normal, because the mother has been battling manic depression for 16 years. Next to Normal takes audiences into the minds and hearts of each character, presenting their family's story with love, sympathy and heart.
Next to Normal is an emotional powerhouse that addresses such issues as grieving a loss, ethics in modern psychiatry, and suburban life.
Pictured: The Company of Next to Normal at the post-show talkback | Photo by Terri Harrison
"The Next to Normal concert was truly an evening I will always remember. A freezing winter night, one of the most beautiful musical theatre scores ever written, and an audience was so engaged that we could almost hear the stillness of them listening. It was also special to sing with Susan Dawn Carson, my voice teacher and artistic mentor throughout middle/high school and to this day, one of my very closest friends." – Jessica Kahkoska, Natalie
Directed by Nathan Halvorson
Musical Direction by Stephanie McGuffin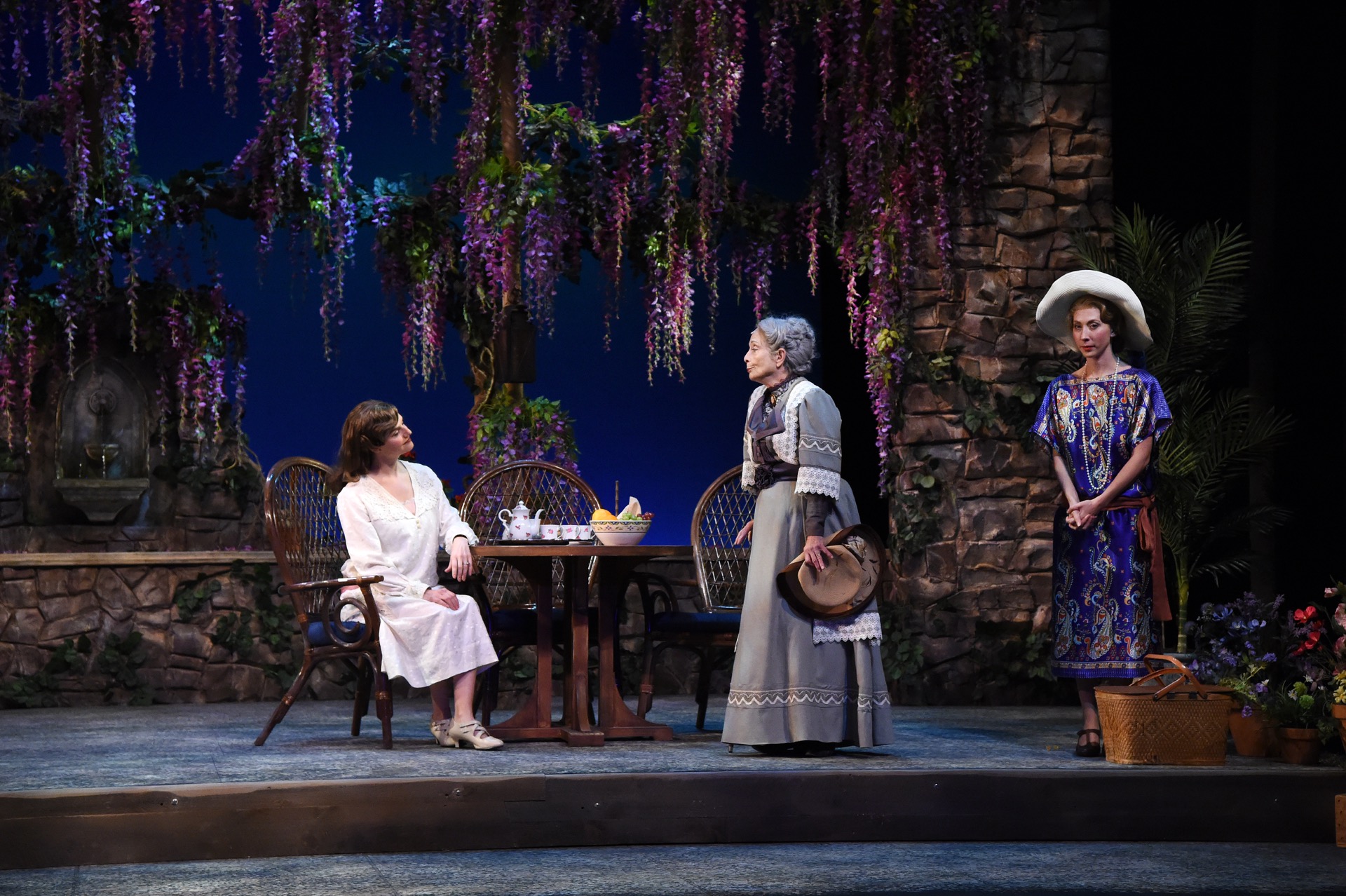 Feb. 9–26, 2017
By Matthew Barber
From the novel by Elizabeth von Arnim
This delightful romantic comedy, based on the beloved novel, comes to the FAC for the first time, following 500 critically-acclaimed productions worldwide. Feeling lost in the shadows of marriage and post-WWI society, two unhappy London housewives rent a villa in Italy for a ladies-only holiday away – reluctantly recruiting a pair of difficult, upper-class women to share the cost and the experience. Together, among the wisteria blossoms and the Mediterranean sunshine, the four women clash — and then begin to bond and bloom — until men once again upset the balance.
Pictured (left to right): Heather Lacy as Rose, Billie McBride as Mrs. Graves, Carley Cornelius as Lotty | Photo by Jeff Kearney
"This was one of those magical great rooms that happen every once in a while.  And even more rarely some rehearsals were just us girls! Carley Cornelius had an idea for every second.  Kind generous playful giving souls worked both the humor and longing of this piece. Two wildly different locales.  The first act was shorter scenes connected by an Anne Bogart Viewpoints mural of actor's transitions underscored by Ryan Bañagale's original score.  The second act a languid space of Italian wisteria all beautifully devised yet again by Chris Sheley.  The choreography of humor in the dining scene was one of those so tightly timed pieces we had to run it as a pre-show fight call.  I still giggle thinking of Logan Earnesthal immediately taking the note- can this be a bit more borschtbelt?  Such a group of pros one and all." – Joye Cook Levy, Director
Directed by Joye Cook-Levy
Scenic Design by Christopher L. Sheley
Lighting Design by Holly Anne Rawls
Costume Design by Janson Fangio
Original Music Composed by Ryan Bañagale
Production Stage Managed by Katelyn Springer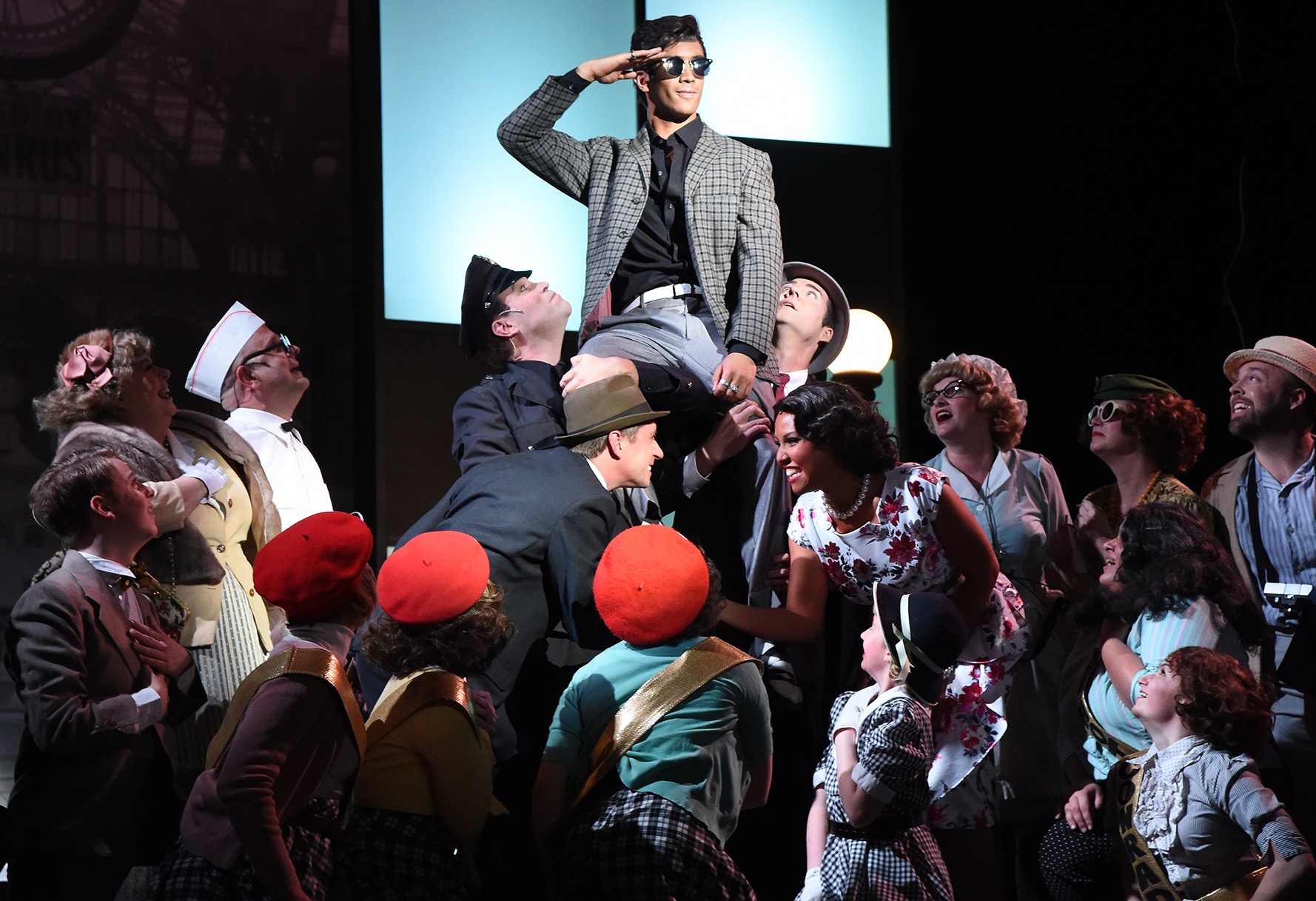 March 30–April 23, 2017
Book by Michael Stewart
Music by Charles Strouse
Lyrics by Lee Adams
The first rock 'n' roll musical, this modern classic takes the stage in an all new production. It's the late 1950's and teenagers from across the United States are going crazy for handsome rock star, Conrad Birdie. Disaster strikes when Conrad receives a draft notice to join the military. His manager stages a publicity stunt for Conrad to kiss one lucky fan on The Ed Sullivan Show before he leaves for the army. Conrad Birdie gets more than he bargained for when he arrives in Sweet Apple, which is reeling with excitement for his visit. Songs like An English Teacher, What Did I Ever See in Him?, Put on a Happy Face, One Boy, A Lot of Livin' to Do, Kids, Rosie and Spanish Rose are musical theatre classics. The story was inspired by the phenomenon of singer Elvis Presley being drafted into the United States Army in 1957.
Pictured: Zachary Seliquini Guzman as Conrad Birdie and the Company of "Bye Bye Birdie" | Photo by Jeff Kearney
"Bye Bye Birdie was a complete joy for me, as it was the first (and so far, only) time that all 4 of us Levys appeared together on stage in the same production.  And the four of us shared one tiny dressing room.  The production was also a joy because of its inter-generational nature, and being able to create "bits" with a large number of our locally-based artists, including a large swath of our teenage Youth Rep members made this a jazzy, hysterical delight from start to finish." – Scott RC Levy, Harry MacAfee and Artistic Director
Directed and Choreographed by Nathan Halvorson
Scenic & Lighting Design by Jonathan Spencer
Costume Design by Janson Fangio
Properties Design by Emma Dean
Hair and Make-up Design by Jonathan Eberhardt
Production Stage Managed by Katelyn Springer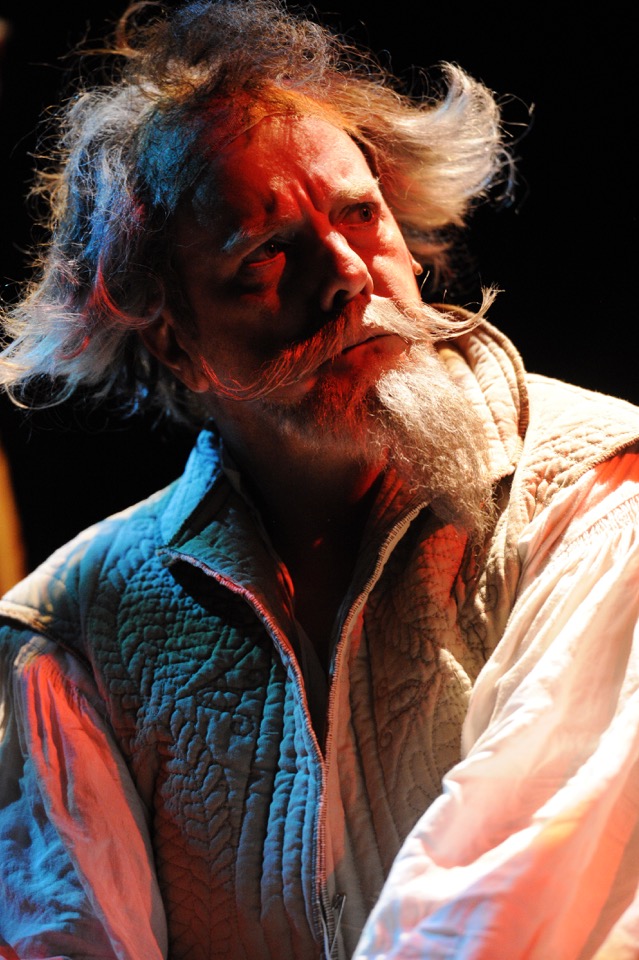 May 25–June 18, 2017
Written by Dale Wasserman
Music by Mitch Leigh
Lyrics by Joe Darion
A celebrated Broadway hit and winner of five Tony Awards, Man of La Mancha is a remarkable show and one of the great theatre successes of the 20th century. It will leave you breathless with a score including the touching ode to romance, Dulcinea, the heroic, I, Don Quixote and the unforgettable, The Impossible Dream. Inspired by one of the greatest novels of all time, Man of La Mancha features Miguel de Cervantes and his faithful servant, who channel the power of storytelling to recount the legend of wannabe knight Don Quixote and his trusty sidekick Sancho as they embark on a journey full of laughter, love and unruly windmills. Man of La Mancha is a theatrical masterpiece sure to captivate all lovers of musical theater!
Pictured: Stephen Day as Don Quixote | Photo by Jeff Kearney
"The reason that I consider the following photograph from Man of La Mancha one of the best images that I have made during my time as the FAC Theatre Photographer is because of the variety of talented professionals needed to create it. From the stage direction, to the dramatic lighting, to the period wardrobe and make-up, to the emotional commitment of the actor, it all came together in a magical moment as I snapped the shutter. It will always remind me of the unforgettable imagery that a combined creative process can produce." – Jeff Kearney, FAC Photographer
Directed by Scott RC Levy
Musical Direction by Sharon Skidgel
Choreography by Mary Ripper Baker
Scenic Design by Christopher L. Sheley
Lighting Design by Holly Anne Rawls
Costume Design by Sydney Gallas
Sound Design by Ben Heston
Properties Design by Emma Dean
Hair and Make-up Design by Jonathan Eberhardt
Production Stage Managed by Kaetlyn Springer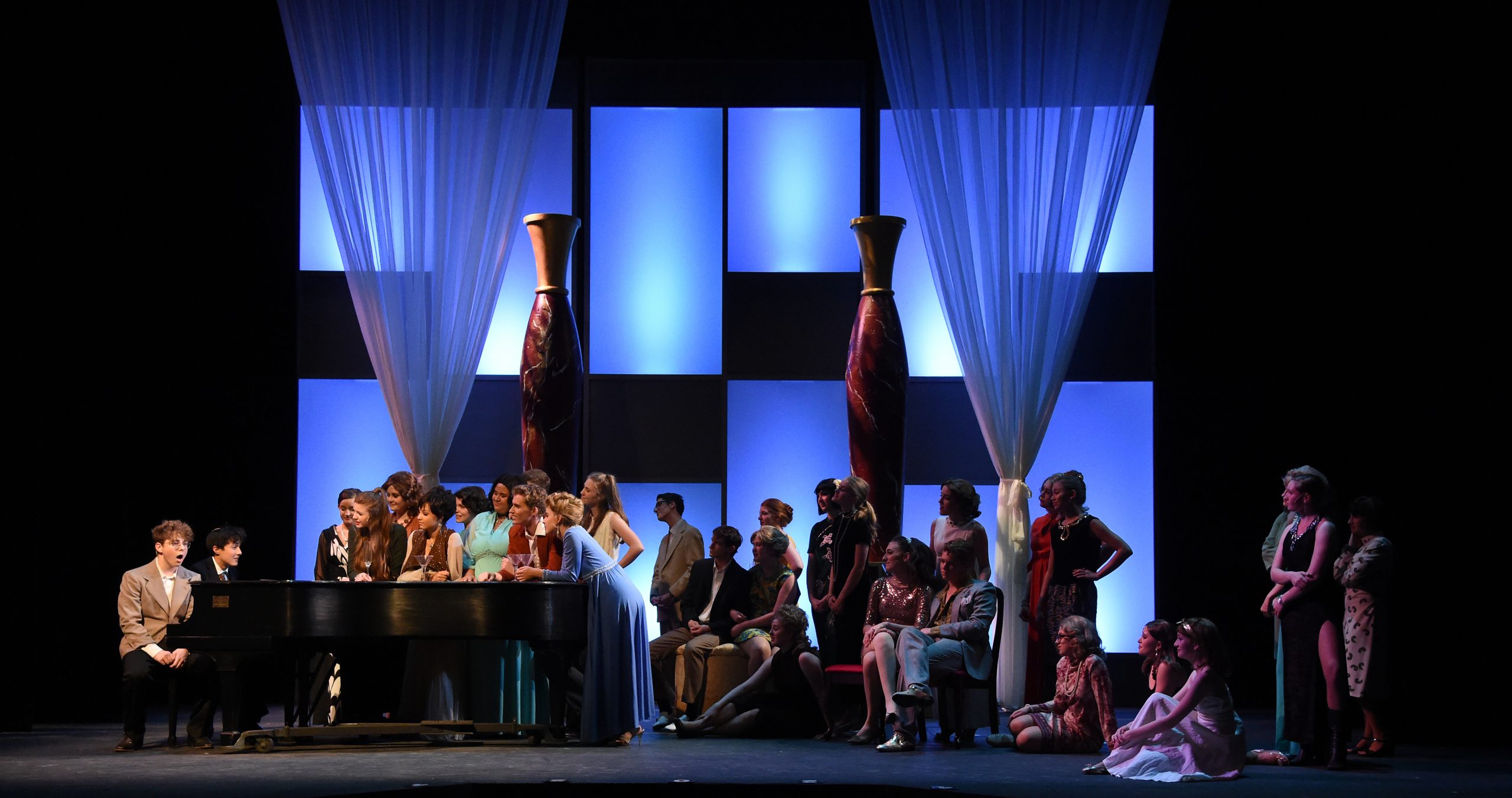 Youth Rep, July 27–30, 2017
Music and Lyrics by Stephen Sondheim
Book by George Furth
Merrily We Roll Along is a thrilling and compelling Broadway fable about friendship, compromise and the high price of success. Stephen Sondheim and George Furth expertly blend the excitement and energy of a backstage musical with a poignant and emotional contemporary story about the importance of staying true to one's ideals. Merrily We Roll Along begins in the present and moves backwards, tracing the lives of wealthy, jaded composer Franklin Shepard and his two estranged friends through each milestone of their personal and professional lives (good and bad). The show ends with a touch of rueful irony, as the three best friends at the start of their careers face a bright future: young, talented and enthusiastic about the worlds waiting to be conquered.
Pictured: the Company of Merrily We Roll Along | Photo by Jeff Kearney
"Merrily will always hold a special place in my heart because it was my last Youth Rep show. I will never forget when we were teching the finale number, 'Our Time', and everyone was exhausted. Nathan came onstage with us and said, "the lyrics are 'this is where we began being what we can'" and then he just pointed to the stage that we were standing on and went back into the audience. Then we sang this song about starting your life and chasing your dreams and we all wept like babies!" – Casey Fetters, Mary Flynn
Directed and Choreographed by Nathan Halvorson
Assistant Director/Choreographer Alex Campbell
Musical Direction by Stephanie McGuffin
Scenic Design by Christopher L. Sheley
Lighting Design by Holly Anne Rawls
Costume Design by Karen Holloway
Hair and Make-Up Design by Jonathan Eberhardt
Sound and Video Design by Benjamin Heston
Stage Managed by Terri Harrison and Kaetlyn Springer
Second Stage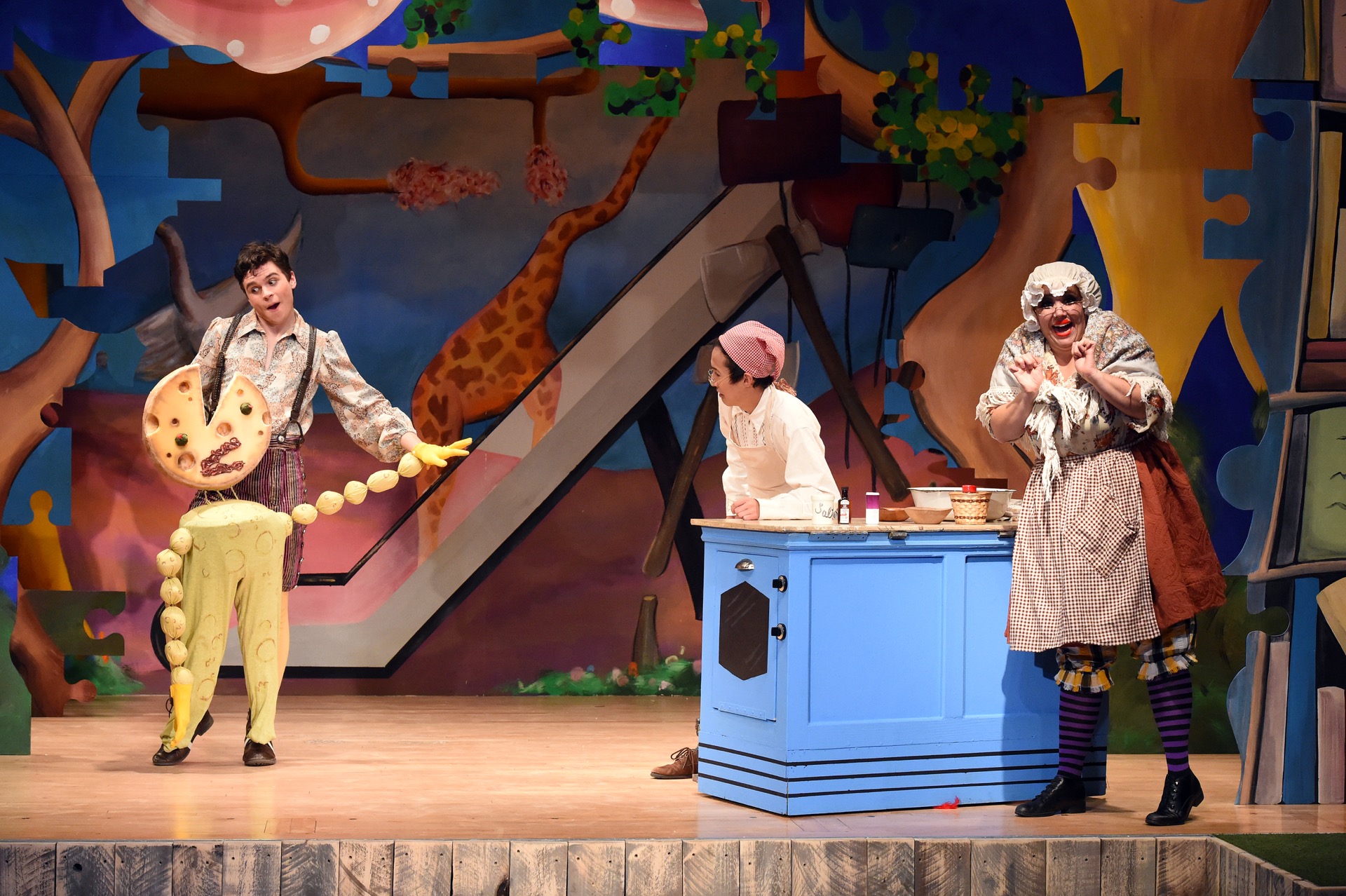 Sept. 30–Oct. 30, 2016
By John Glore
Based on the book by Jon Scieszka and Lane Smith
Though the characters may be familiar, each of your favorite storybook fables is uproariously derailed in this one-hour musical adaptation of Jon Scieszka and Lane Smith's quintessential children's book of fractured fairy tales. Everything from Chicken Little to The Gingerbread Man gets a complete makeover. Fun music and witty narration accompany the likes of ineloquent giants, sassy barnyard animals, colossal cow pies and enough stinky cheese to go around. A one-hour musical!
"Stinky Cheese Man is the embodiment of weird and was a complete joy to perform. A chance for children to experience the full breadth of the human emotional spectrum, from laughter to frowns, confusion and maybe a dash of fear, made for an engrossing experience every afternoon. And who can forget the giant cow-patty?!" – Parker Fowler, pictured as The Stinky Cheese Man
Directed by Meghann Henry
Musical Direction by Jerry McCauley II
Scenic Design by Christopher L. Sheley
Costume and Puppet Design by Janson Fangio
Stage Managed by Terri Harrison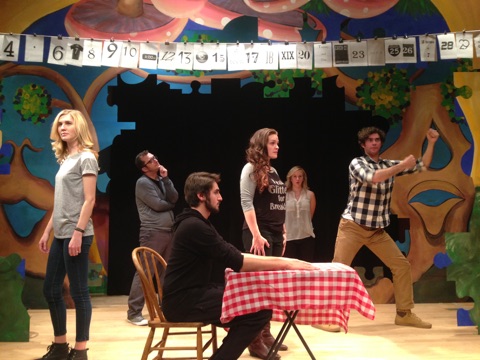 Oct. 21–Nov. 19, 2016
By Greg Allen
Having opened in 1988 and as the longest-running show in Chicago history, Too Much Light Makes The Baby Go Blind is an ensemble experiment in presenting "30 Plays in 60 Minutes." Each two-minute play is performed in random order with an interactive audience. An onstage 60-minute timer keeps everyone honest. This is a witty collection of comic, tragic, political, personal and abstract plays. Ready, set, GO!
Pictured: The Company of Too Much Light Makes the Baby Go Blind | Photo by Jeff Kearney
"Too Much Light is the ultimate expression of a shared experience in the theatre. Where the audience really gets to become a part of the action of the plays and the actors get to break the fourth wall…it's a show that creates community and requires participation and no matter who you are, or what you believe, there is something for everyone in this show." – Mackenzie Beyer, Ensemble Member
Directed by Scott RC Levy
Production Stage Managed and Properties Design by Terri Harrison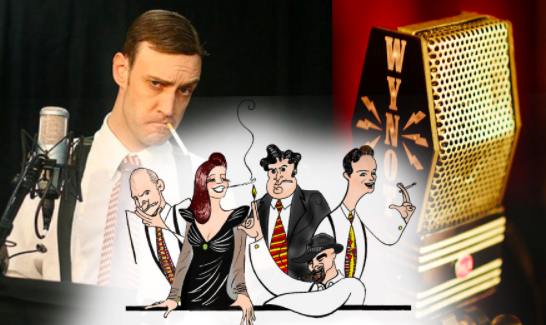 Jan. 13–29, 2017
By Cory Moosman and Sammy Gleason
This hilarious troupe returned for their fourth residency at the FAC. This newest episode is a theatrical spoof on the golden age of radio – a time when men were men, dames had moxie, and the sound of adventure filled the air waves! The Colorado Springs Gazette called it a "hilarious send-up of old-time radio," complete with twistedly nostalgic commercials, hysterical 'off-air' actor interaction and audience participation. This ain't your Grandpa's Old Time Radio Show! The WYNOT Radio Theatre Show is an evening of side-splitting comedy!
"Other Coast Caper was our 6th WYNOT Radio Theatre Show, and marked our 5th time performing at the FAC, and the 2nd time premiering a brand new WYNOT show on that great little stage! We always loved playing in the space!" – Cory Moosman, Director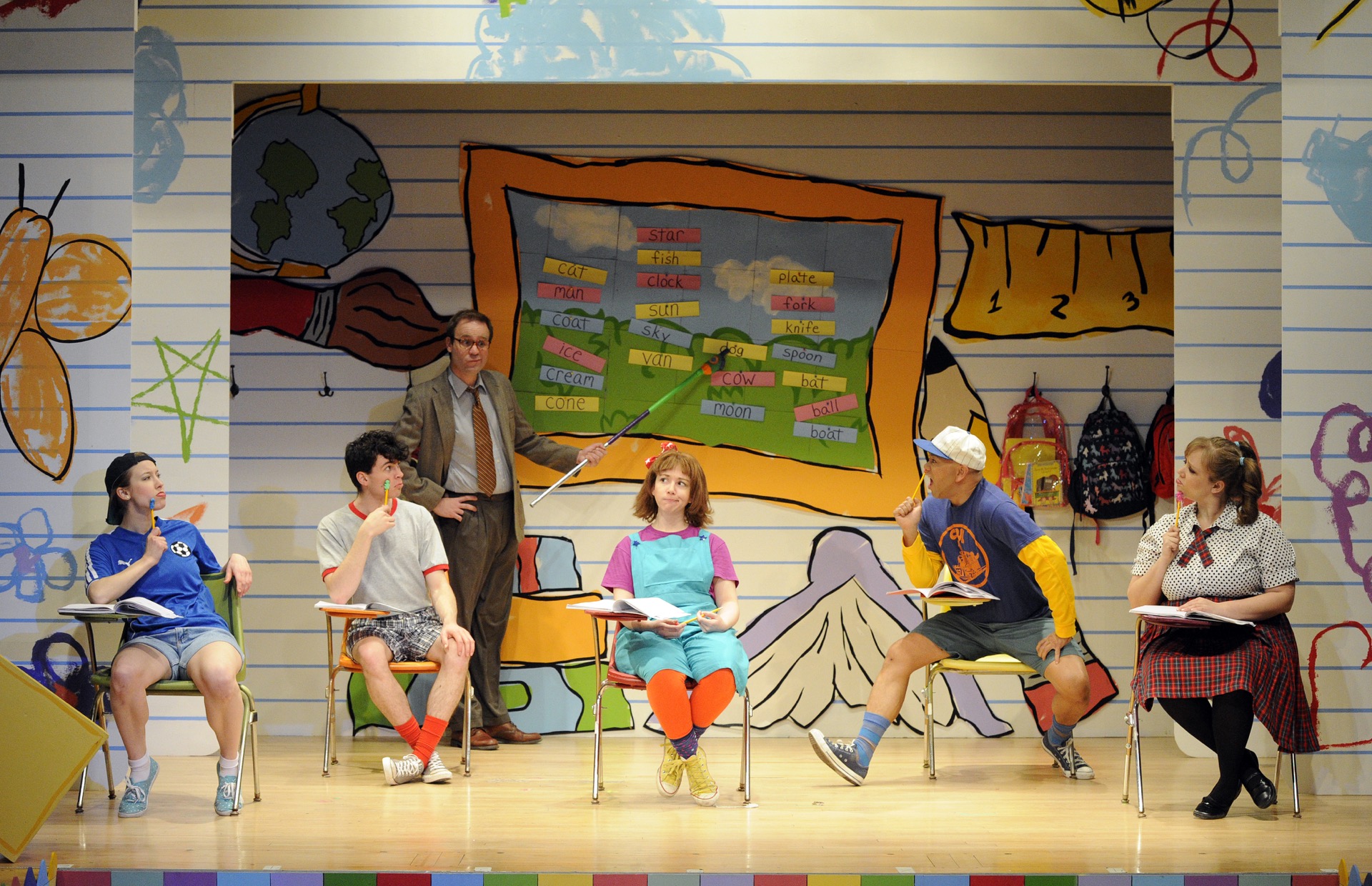 Feb. 24–March 26, 2017
Book and lyrics by Marcy Heisler
Music by Zina Goldrich
Based on the book series by Barbara Park
A delightful adaptation of the best-selling children's book series brought to life in a genuinely comical and not strictly-for-kids musical. It's Junie B.'s first day of first grade and a lot of things have changed for her. Featuring a tremendously lovable character and fun-filled songs, Junie B. Jones will capture your heart just as the books captivated an entire generation of students.
Pictured: Tia Luber as Junie and the Company of "Junie B. Jones: The Musical" | Photo by Jeff Kearney
"Junie B. was a blast to put together, it was also my first time on the other side of the table, serving as a choreographer. The performers were magnificent and it was so fun to create choreography to wacky songs about lunchboxes, lunch ladies and cheerleaders (Lucille, Camille and Chenille – one of my personal favorites because Jerry, Parker and Carmen were my cheerleaders, and the boys were hilarious!). We called the show the "Hamilton of Colorado Springs" as it was one of the first shows upstairs to sell out almost completely through the run. It was amazing to see my friends from a different lens and really get to know how brilliant they were as performers and directors and see them grow in the process. I am so thankful I was a part of it!" – Tracy Taylor, Choreographer
Directed by Rebecca Myers
Musical Direction by Stephanie McGuffin
Choreography by Tracy Taylor
Scenic Design by Lara Hincapie
Costume Design by Stephanie Bradley
Wig Design by Jonathan Eberhardt
Properties Design and Production Stage Managed by Terri Harrison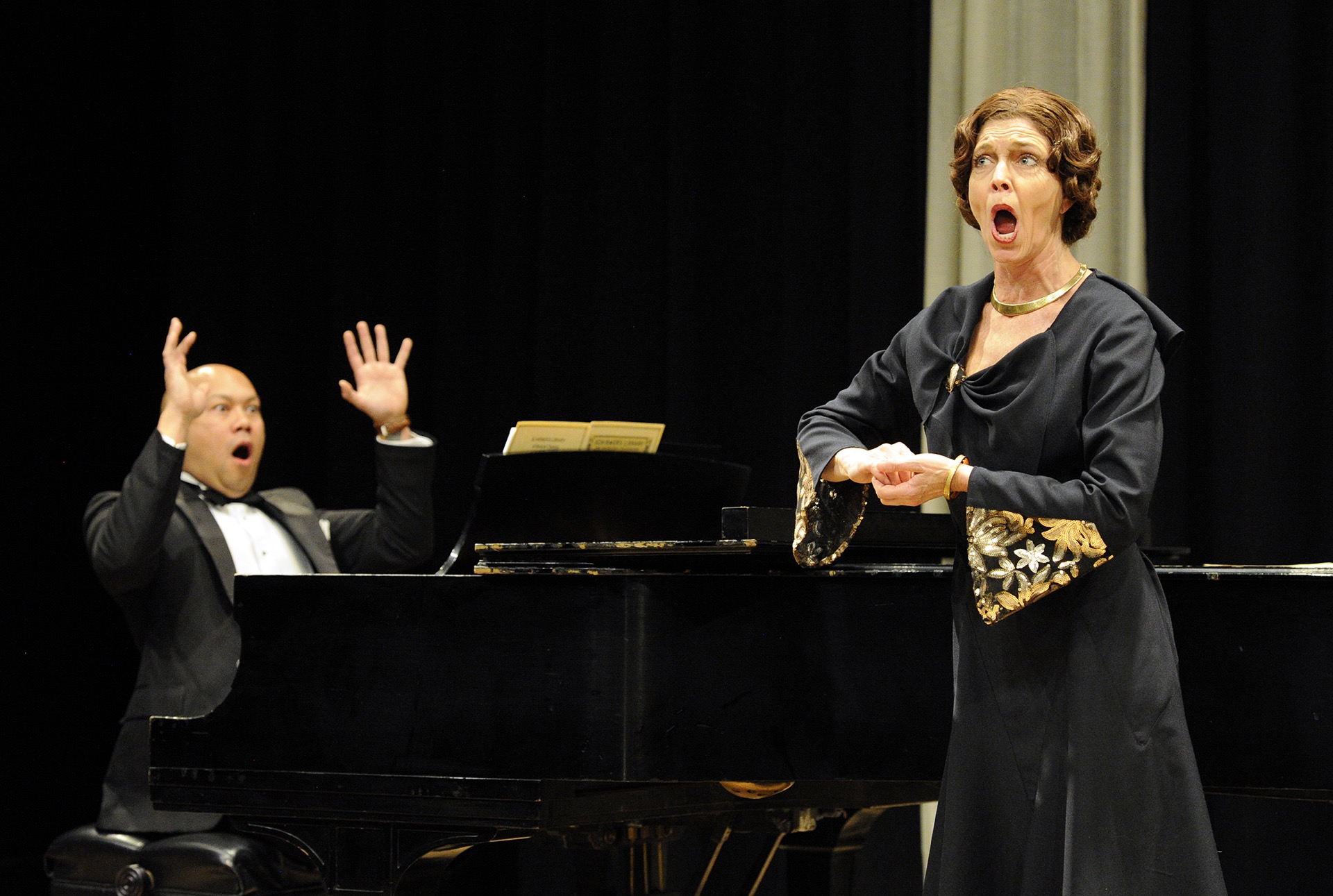 April 28–May 21, 2017
By Stephen Temperley
For more than half a century, the name Florence Foster Jenkins has been guaranteed to produce explosions of derisive laughter. Not unreasonably so, as this wealthy society eccentric suffered under the delusion that she was a great coloratura soprano when she was in fact incapable of producing two consecutive notes in tune. Nevertheless, she received extraordinary fame, and the climax of her career was a single concert at Carnegie Hall in 1944. Famously, it sold out in two hours. Souvenir, by turn hilarious and poignant, tells her story.
Pictured: Jerry McCauley as Cosme McMoon and Sally Hybl as Florence Foster Jenkins | Photo by Jeff Kearney
"Souvenirs are gifts to remind us of a person, place, or event.  While the play is a joyous romp about Florence, Cosme and their incredible friendship, the title seems especially fitting now as it truly was gift that we were given- perhaps to remind us of the beauty of music, of dreams, of friendship. I have never been so terrified, exhilarated, exhausted, or grateful for a role. Jerry never left the stage, amazing. The one moment I had to catch my breath, I sat stage left, looking across as he gloriously sang "Violets for Your Furs" – a beautiful memory captured in a tattoo that Jerry now bears on his arm.  Treasures, tattoos, gifts, souvenir." – Sally Hybl, Florence Foster Jenkins
Directed by Nathan Halvorson
Stage Managed by Terri Harrison
Special Events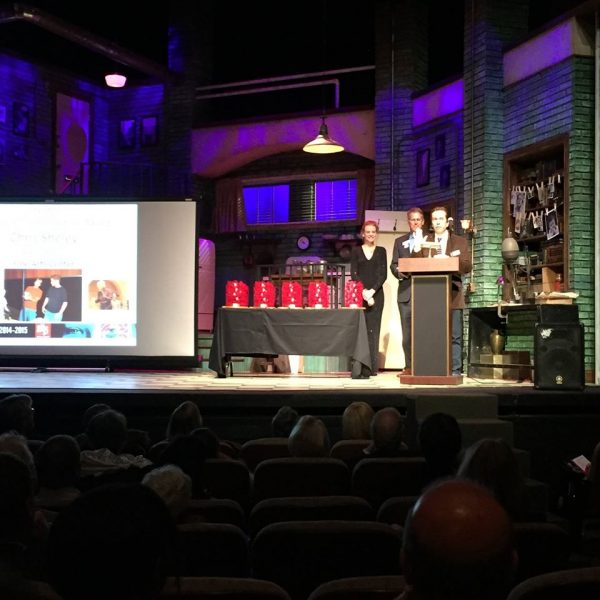 Pikes Peak Arts Council Awards
Special Event, Oct. 4, 2016
The FAC museum and theatre company were honored by no less than five nominations for this year's Pikes Peak Arts Council awards. You'll also notice that we not-so-quietly slipped in our connection to the winning "Artist of the year" Chris Weed, who had a major exhibition at the FAC, and nominated "Outstanding group" in popular music, The Haunted Windchimes, who opened for Arlo Guthrie at this year's Labor Day on the Lawn concert.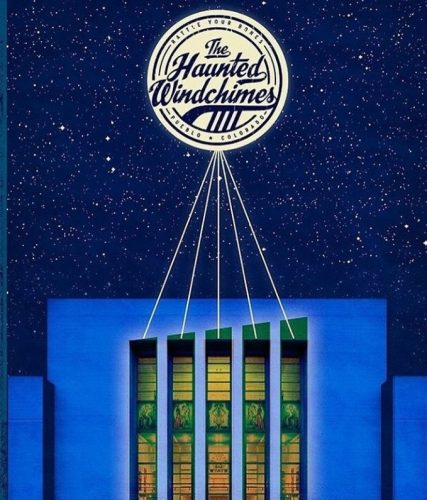 The Haunted Windchimes
Special Event, Oct. 21, 2016
The Haunted Windchimes sound is very traditional folk and blues and the songs have a vintage quality, as if they might have been written yesterday or 75 years ago. The groups' subtle and collective genius features original material written by all four members.
It's the vocal harmonies that really set them apart, a three-headed juggernaut of Desirae Garcia (ukulele), Chela Lujan (banjo) and Inaiah Lujan (guitar). When their voices blend, it is nothing short of beautiful. The sound is often moody and melancholy, but it is always deeply affecting. That sound is embroidered by the instrumental mastery of Mike Clark (harmonica, fiddle, mandolin, guitar and concertina).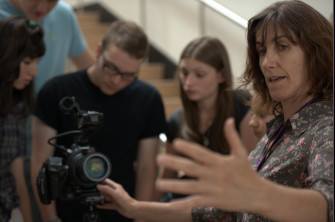 Youth Documentary Academy World Premiere
Special Event, Oct. 26, 2016
Meet the latest class of filmmakers from the Youth Documentary Academy and enjoy a public screening of nine short films. Exploring issues in our community from fatherhood to teen suicide prevention to the politics of hair, YDA films are winning hearts, minds and awards around the country!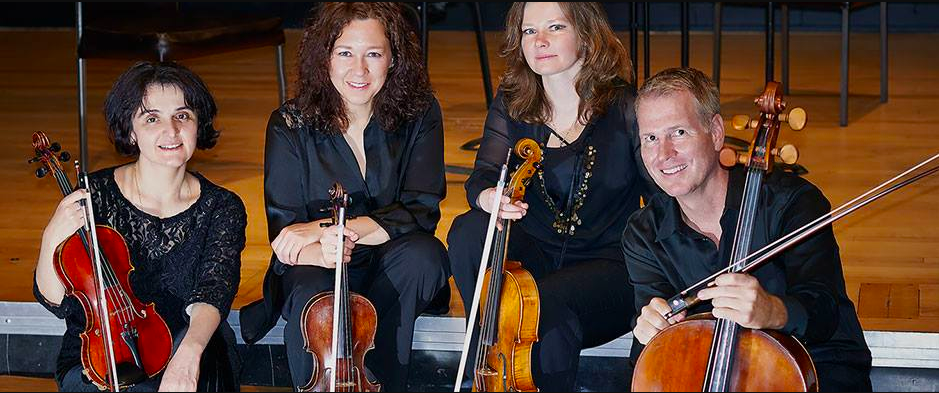 Veronika String Quartet
Special Event, Nov. 6, 2016
Veronika String Quartet launched itself into the international arena early on, taking top prizes at the Melbourne International Chamber Music Competition, Shostakovich International String Quartet Competition, and Yellow Springs Chamber Music Competition.  Since then, this foursome has appeared in important halls in Moscow, St. Petersburg, London, Madrid, Jerusalem, New York, Chicago, and in Germany, France, and the Netherlands, as well as throughout the United States.  The Veronika String Quartet has been heard abroad at the festivals of Evian, Lucerne, and Aldeburgh, and in prestigious North American venues of Ravinia, Music Mountain and Roundtop.  Noteworthy collaborations have included those with members of the Amadeus, American and Fine Arts quartets, and with guest artists Ruth Laredo, Richard Stolzman, and Lawrence Leighton Smith.
The Veronika String Quartet is firmly established in the Russian lineage, and its members represent training from the Gnessin Academy of Music, the Moscow State Conservatory and the Juilliard School.  The quartet counts Valentin Berlinsky, formerly of the Borodin Quartet, and Henry Meyer, formerly of the LaSalle Quartet, as its primary influences, and it has created a unique bridge between its rich heritage and the western tradition through studies under Isaac Stern, Natalia Gutman, and members of the Guarneri, Ysaye, Cleveland, and Tokyo quartets.
The Veronika String Quartet is widely acclaimed for the purity of its interpretations of the Russian masterworks, from Tchaikovsky to Shostakovich, Schnittke, and beyond. Its performances of the complete canon of the quartet repertory, coupled with its devotion to the modernist idiom, have resulted in a discography of nine recordings on Carlton Classics and Vienna Modern Masters, featuring an impressive array of works ranging from W.A. Mozart to Augusta Read Thomas.
The Veronika String Quartet continues to endear itself to audiences and music lovers in Ohio and Colorado, where it is a vital agent in the invigoration of the arts.  By recording and broadcasting for Colorado Public Radio and by presenting thematically adventurous concert series in both Colorado Springs and Pueblo, these veteran performers have single-handedly revitalized the chamber music scene in the region.  The Veronika String Quartet has held artistic posts at Colorado State University and at Ohio's Lancaster Music Festival, where it currently performs as quartet-in-residence. Musicians of the group were thrilled to start a perfrormance residency at the Colorado College in the fall of 2019. The quartet's commitment to the applied training of emerging young musicians is well-known, and the quartet's idealism and its ambassadorship for music prompted the Colorado Springs Gazette to remark, "The Veronika String Quartet shared an insight into the human condition that is strictly the domain of great art and music."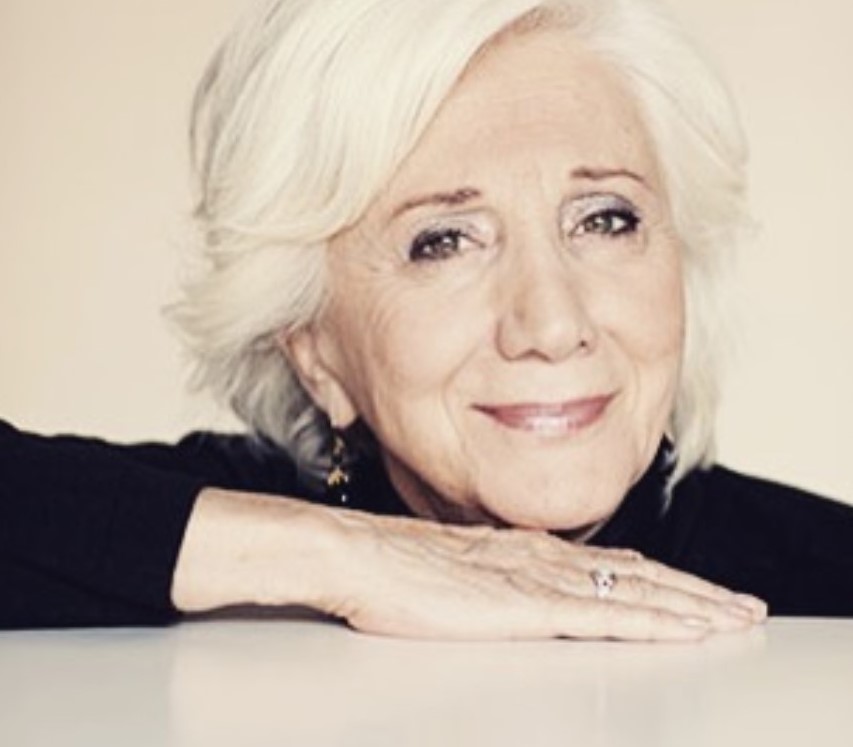 UCCS Prologue Series: Olympia Dukakis and Kevin Landis
Special Event, Nov. 17, 2016
A one-of-a-kind series sponsored by THEATREWORKS, the Department of Visual and Performing Arts, the College of Letters, Arts & Sciences and the Department of Humanities at the University of Colorado at Colorado Springs. The series consists of theatre talks, performances, and hands-on workshops featuring some of the most important theater makers working in the United States today.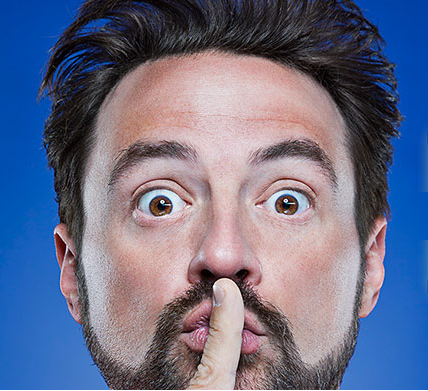 Kevin Smith
Special Event, Dec. 14, 2016
A writer, comedian, podcaster, and film director, KEVIN SMITH has written and directed numerous films, including Clerks, Chasing Amy, Dogma, and Jay & Silent Bob Strike Back; Creator of AMC's Comic Book Men; authored Silent Bob Speaks, Shootin' the Sh*t with Kevin Smith, My Boring-Ass Life and, most recently, Tough Sh*t: Life Advice from a Fat, Lazy Slob Who Did Good. He can be heard daily at Smodcast.com, a vast network of podcasts.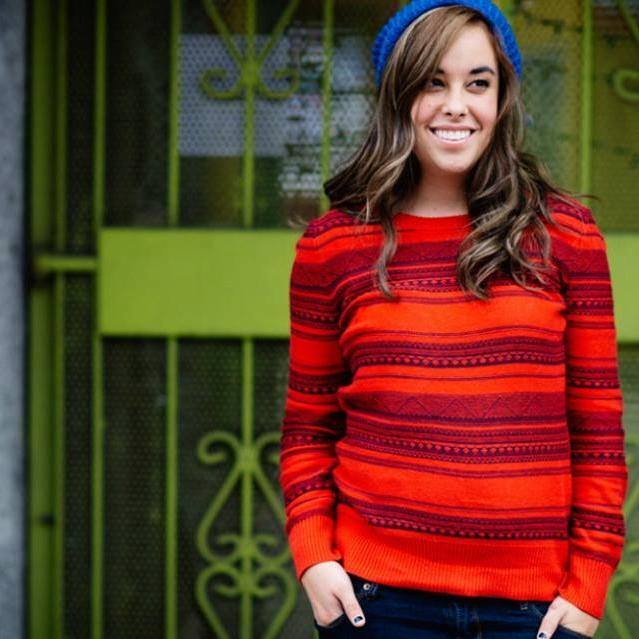 Happy Hour Stand Up with Christie Buchele
Special Event, Jan. 6, 2017
Christie Buchele is a Denver-based comedian who "fell" into comedy in 2010 when she went to see a cute guy do an open mic and thought to herself "I can do better." She was right. Despite being raised by her single father named Todd, Christie made a name for herself by joking about the heart-wrenching and hilarious realities of being a woman with a disability.
Christie is a strong stand-up with weak legs and her comedy aims to make the audience think about how they perceive people with disabilities while making them hurt from laughter. Christie reps the Mile High City hard while crushing audiences with a wry, biting style that's a bit sweet, and a little bit surly; proving time and again that you can say almost anything with a smile on your face and a gimp in your step.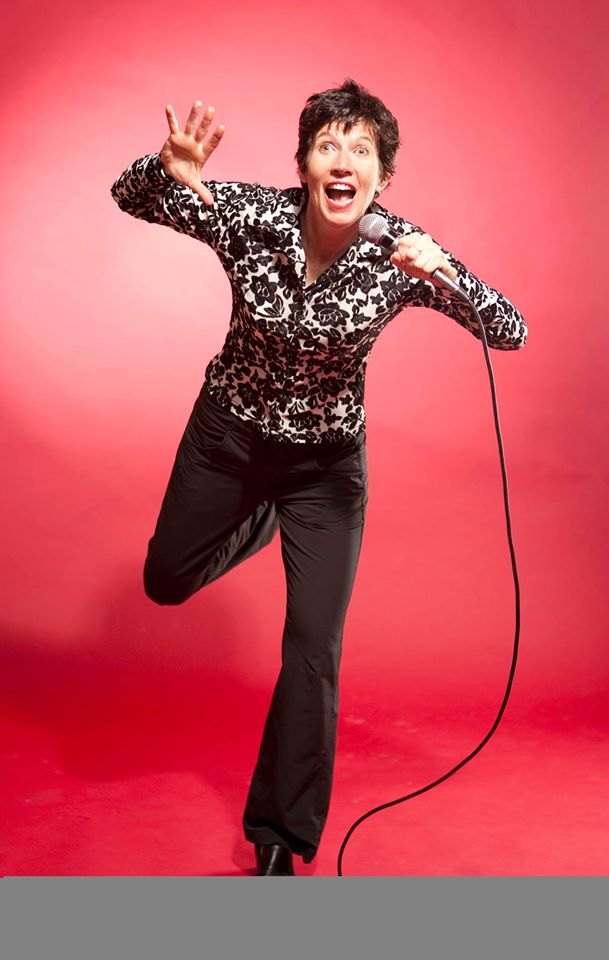 Happy Hour Stand Up with Nancy Norton
Special Event, April 7, 2017
Nancy is the first woman to ever win the prestigious Boston Comedy Festival. She's known for performing engaging and uniquely funny shows that connect with universal truths through her intuitive, authentic, high energy, fast-paced style.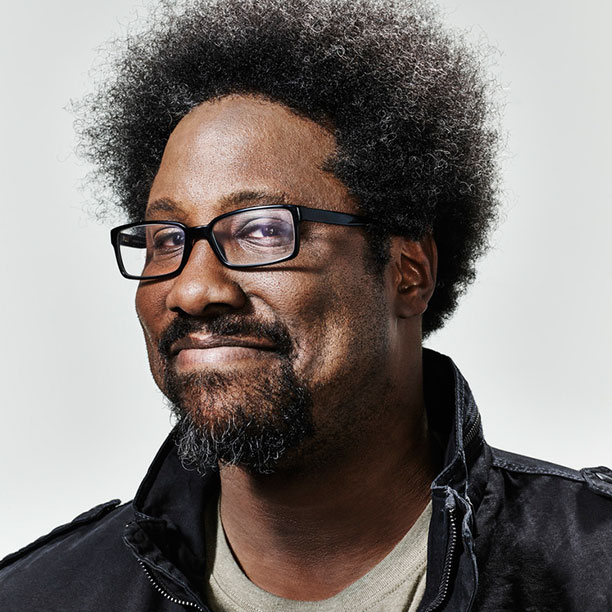 An Evening with W. Kamau Bell
Special Event, May 10, 2017
Kamau Bell is a socio-political comedian based in The People's Republic of Berkeley, CA. Kamau is the host of CNN's new travel show, The United Shades of America, which aired this past April. Kamau is best known for his critically acclaimed, but criminally short-lived FX comedy series, Totally Biased with W. Kamau Bell. Kamau is also proud to be the ACLU's Ambassador of Racial Justice. Although he's pretty upset that they didn't give him a badge along with the title. Kamau sits on the advisory board of race forward, a racial justice think tank, and Hollaback, a non-profit movement to end street harassment. Kamau's special, Semi-Prominent Negro, aired on Showtime this past April.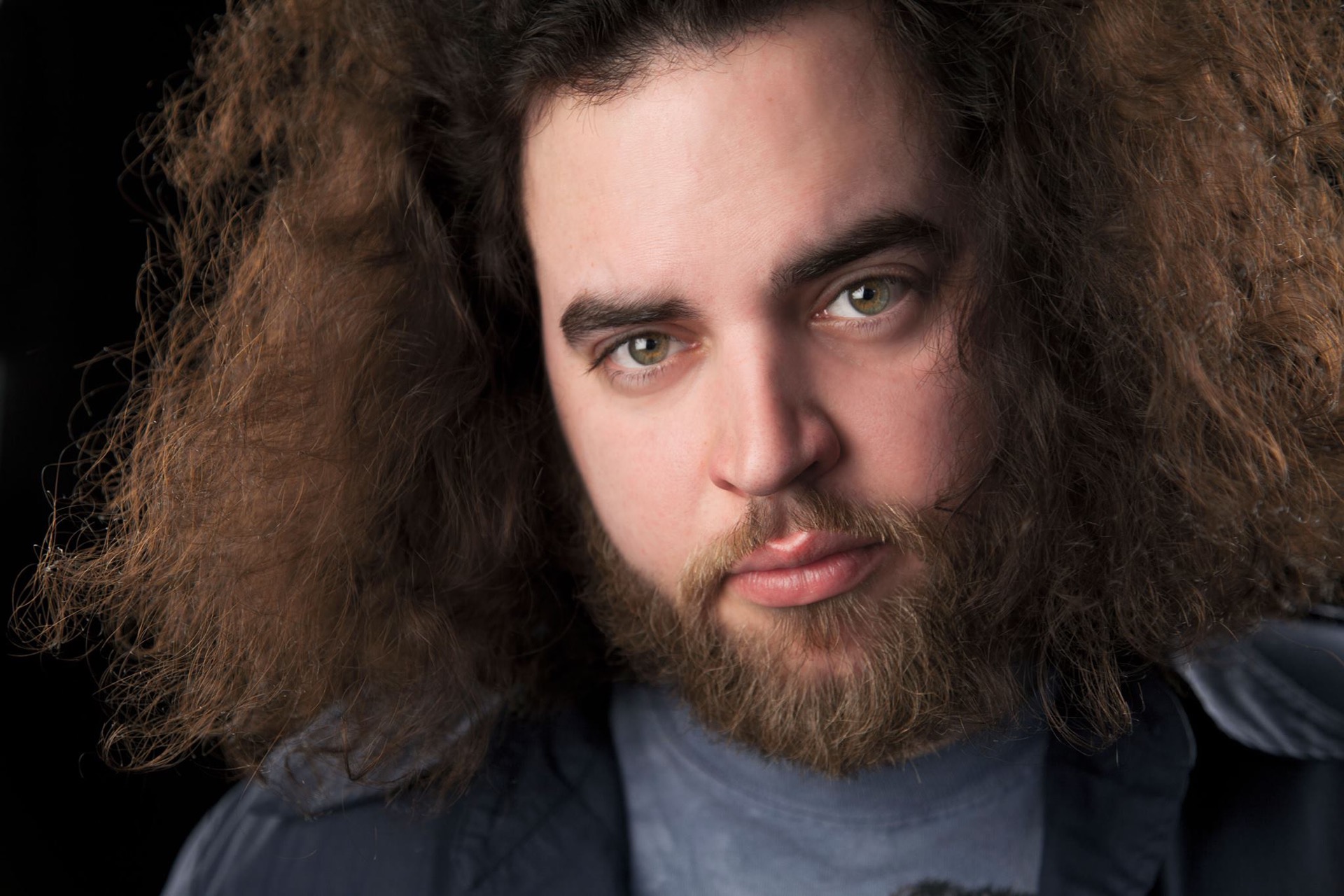 Happy Hour Stand Up with Nathan Lund
Special Event, June 2, 2017
Nathan Lund is a Denver comedian who has travelled all over the country and is a favorite at Denver's Comedy Works. Nathan was featured on the TV show "Flophouse" on the Viceland network and the BBC2 show "Horizon". He was a part of Funny or Die's Oddball Comedy Fest, Crom Comedy Festival, Savage Henry Fest, and the High Plains Comedy Festival.
Happy Hour Stand Up with Al Goodwin
Special Event, July 7, 2017
Al Goodwin is one of the funniest and most respected comics on the circuit today, who brings the laughter to any room, anywhere, anytime. He connects with his audiences with relevant material describing his own observations and experiences. Al works in almost every area of the country—performing for large corporate events and galas, large military events, private parties, clubs, colleges and bar mitzvahs.
Al has performed nationally on the comedy show LAUGHS on FOX, he was a finalist in the 2014 World Series of Comedy, and he represented the East Coast in Las Vegas in HBO's Lucky 21 Comedy Contest. You can also catch Al in the 4th season of House of Cards.
Al was a winner on America's Funniest People, he has been interviewed on The Billy Bush Show, and he has been seen in numerous PBS commercials. Having played almost every club and college in the country, Al has progressed to larger venues and theaters opening for Jim Gaffigan, Kathleen Madigan, Dave Chappelle, and Steven Wright.