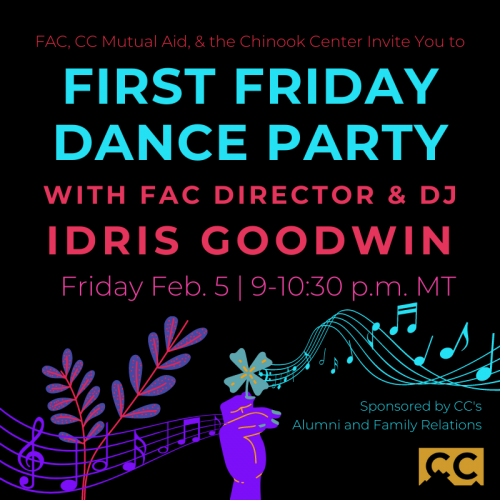 First Friday with FAC Director/DJ Idris Goodwin
February 5, 2021 @ 9:00 pm
Join us for a virtual DJ set brought to you by the FAC, CC Mutual Aid, and the Chinook Center of Colorado Springs. Sponsored by CC's Alumni and Family Relations.
FAC Director Idris Goodwin will host as DJ for a lively night of dancing! The event is FREE for all participants, with a suggested pay-what-you-can donation to Colorado College Mutual Aid and/or the Chinook Center.
The Chinook Center is a Colorado Springs grassroots community that supports people and organizations working for social, economic, and environmental justice in the Pikes Peak Region. Please note that a donation to the Chinook Center is processed separately from your event registration. Make a donation to the Chinook Center.
Please RSVP by Wednesday, Feb. 3, 2021