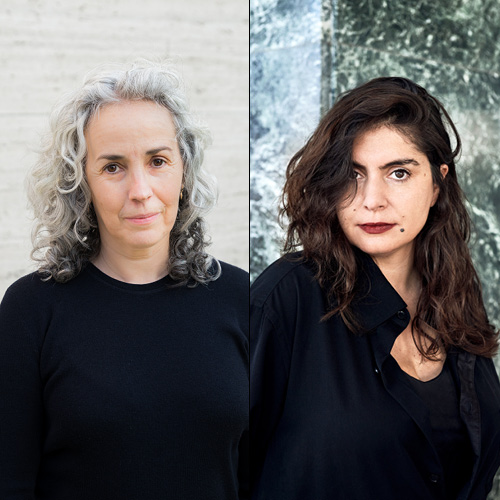 In Conversation: Rosa Barba and Ann Reynolds
11–12 p.m.: Coffee and snacks in the FAC Garden Lounge
12–1 p.m.: Talk in Dickinson Gallery (in "Agents of Care" space) 
Please join us for a talk with art historian Ann Reynolds and the artist Rosa Barba, whose film Disseminate and Hold (2016) is on view as part of the Contested Terrains new media series in Lane West Gallery at the Fine Arts Center. The film brings together contemporary and archival footage of São Paulo to investigate how man-made geographies and landscapes intersect with political agendas and histories. Barba (teleconferencing in from Berlin) and Reynolds will discuss Disseminate and Hold, which was made for the 2016 São Paulo Biennial, the relationship between film and archive, and the artist's process.
The conversation will be facilitated by Katja Rivera, Curator of Contemporary Art and JD Sell, artist and co-founder of Non Book Club Book Club (NBCBC). Coffee and snacks will be available in the FAC garden lounge before the talk. The event is organized by the Fine Arts Center Museum in collaboration with NBCBC.
Free and open to the public; registration required as seating is limited.
Rosa Barba is an artist and filmmaker who balances conceptualism with a distinctly personal vision in her work. She merges films, sculptures, installations, live performances, text pieces, and publications that are grounded in the material and conceptual qualities of cinema. She also creates installations and site-specific interventions to analyze the ways film articulates space, placing the work and the viewer in a new relationship. Her work has been exhibited internationally at prestigious institutions and biennials worldwide including Centre Pompidou, Paris (2023), Tate Modern, London (2023), Neue Nationalgalerie, Berlin (2021/2022), Cukrarna, Ljubljana (2022), Museo Reina Sofia, Madrid (2017), the 56th, 53rd, 52nd Biennale di Venezia, Italy, and the 7th Beaufort Triennial, Belgium. In 2020, Rosa Barba was awarded the Calder Prize by The Calder Foundation. Her work is part of numerous public and private collections and has been widely published, most recently, in the monograph Rosa Barba: On the Anarchic Organization of Cinematic Spaces – Evoking Spaces beyond Cinema (2021).
Ann Reynolds teaches art history at the University of Texas at Austin. Her recent publications include essays on surrealist experimental film, queer aesthetics, Joan Jonas, Ruth Asawa, Jack Smith, and Zoe Leonard. She is currently completing a book entitled In Our Time, a history of intergenerational relationships among New York artists and writers circa 1940–1970 that were shaped by shared, if heterogeneous, commitments to Surrealism and its legacy, primarily through a love of film. She is also the author of Robert Smithson: Learning from New Jersey and Elsewhere (MIT Press, 2003).
Non Book Club Book Club (NBCBC) is a group of Colorado Springs-based artists, musicians, filmmakers, chefs, and creatives who come together each month to swap books, readings, playlists, and experiences. The mission of the group is to break down barriers and create an open and safe space for discussion and expression.