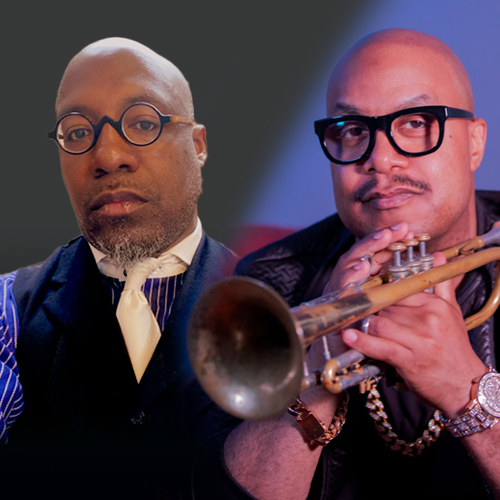 The Arts & Social Action | S̵t̵o̵p̵RESIST(ing)/Start RECLAIMIMG: Eight Minutes and Forty-Six Seconds of JuJu
October 29, 2020 @ 6:30 pm
Mountain Time
StopRESIST(ing)/Start RECLAIMIMG: Eight Minutes and Forty-Six Seconds of JuJu is a powerful collaboration between Colorado College Professor Michael Sawyer and Grammy Award-winning musician Nicholas Payton that layers actual recorded interactions between Black citizens and law enforcement with an original musical score. The resulting experience is one of beauty, pain, critical importance, and most importantly, reclamation.
The FAC will present a live stream of the piece, followed by a panel discussion.
Michael Sawyer
Michael Sawyer is Assistant Professor of Race, Ethnicity, and Migration Studies and the Department of English at Colorado College in Colorado Springs, Colorado. He was recently appointed Distinguished Visiting Professor of English and the Fine Arts at the United States Air Force Academy and is the Founder and Director of the Africana Intellectual Project at Colorado College.
The Africana Intellectual Project spent the last three years exploring the sonic realm with the series curated by Sawyer, "Black Art(s): Radical Potentialities" featuring artists like Pharoah Sanders, Talib Kweli and the first US performance of Nicholas Payton's Black American Symphony with the Colorado Springs Philharmonic. His sonic installation, (Stop)Resist(ing): Eight Minutes Forty Six seconds, continues the exploration of the radical potential of sound by interrogating the sensory space of police violence.
Sawyer has published two monographs. The first, An Africana Philosophy of Temporality: Homo Liminalis (Palgrave Press: 2018) was nominated for the American Philosophical Association's 2019 First Book Prize. He recently published Black Minded: The Political Philosophy of Malcolm X (Pluto Press: 2020) that theorist/poet Fred Moten endorsed by saying: "In its careful analysis of his radical and exemplary practice in word and deed, Black Minded doesn't give Malcolm X his rightful place in the canon of political philosophy so much as raise political philosophy to a height it never dared to reach by requiring and allowing it to ground with our brother. Michael Sawyer has written a powerful and necessary book".
Professor Sawyer holds a B.S. in Political Science from the United States Naval Academy and Master's degrees in International Relations from the University of Chicago's Committee on International Relations and in Comparative Literature (African American, French, and German) from Brown University. He completed his PhD in Africana Studies at Brown University in 2015.
Nicholas Payton
Grammy Award Winning Multi-instrumentalist, composer and trumpet master, Nicholas Payton is one of the most important artists working and recording today. A virtuoso before he was out of high school, his talent and skills have earned him praise and accolades and ensured his place in musical history. Spanning a multitude of musical genres, Payton has composed and arranged, performed and recorded with his own groups in many settings, including solo, duo, trio, quartet, quintet, sextet, 21-piece big band, as well as his 2012 full orchestral work The Black American Symphony.
Payton is the president of his own successful independent label Paytone Records. The latest project is the Afro-Caribbean Mixtape where he seamlessly merges contemporary music, African rhythms, and the voices of historical figures with a performance and execution that is unmatched.
Payton was born into a musical family in New Orleans, Louisiana. He showed talent for music at a very early age. He received his first trumpet at age 4 and by age 9 was sitting in with local bands including the Young Tuxedo Brass Band.  By the age of 12, he was a member of the All-Star Brass Band that performed and toured extensively. As he developed and studied, Nicholas successfully learned how to play several instruments. In addition to being an accomplished trumpeter, Nicholas plays piano, bass, drums, tuba, trombone, clarinet and saxophone, et al.  During his high school years, Payton attended the New Orleans Center for Creative Arts to study with Clyde Kerr Jr. and after graduation attended the University of New Orleans where he studied with Harold Battiste and Ellis Marsalis, among others.
Payton has toured the world with Ray Brown, Elvin Jones and lists significant collaborations including Trey Anastasio, Ray Charles, Daniel Lanois, Dr. John, Stanley Jordan, Elvin Jones, Roy Haynes, Joe Henderson, Zigaboo Modeliste, Marcus Roberts, Jill Scott, Clark Terry, Allen Toussaint, Chucho Valdes, Dr. Michael White, Nancy Wilson, and many more. He recently produced a brilliant Tribute to Ella Fitzgerald for the gifted singer Jane Monheit. He is credited on over 140 recordings as a composer, arranger, special guest or sideman.