Explore our Collections
Founded in 1936, the Museum's permanent collection of over 20,000 objects showcases the rich history and vibrant contemporary cultures of the Southwest and the Americas. Our robust exhibition program brings a wide variety of art experiences to Colorado Springs.
Our collection contains works of art from Native American (Pueblo, Plains, Plateau, and Great Basin cultures),
Hispanic and Spanish Colonial, and 20th Century American art.
*COMING FALL 2019*
eMuseum online database featuring selections from the FAC permanent collection
Image above: Glenna Goodacre, The Basket Dance, 1987 (detail)
Mural Art at the Fine Arts Center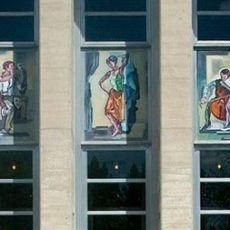 Entrance Façade
Boardman Robinson
Untitled, 1936, Fresco
Restoration by Eric J. Bransby (born 1916), 1985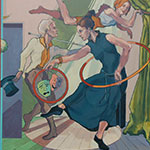 Smith Family Gallery
Eric J. Bransby
Fine Arts Center 75th Anniversary Mural
2012, Acrylic on panel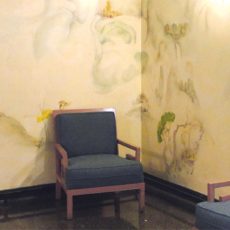 Lower Level
Archie Musick
Untitled, 1936, Dry pigment and pencil
Restoration by Mary Ann Bransby, 1985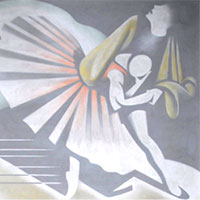 Taste Restaurant
Kenneth Adams
Dancers or The Ballet, ca. 1936, Oil on canvas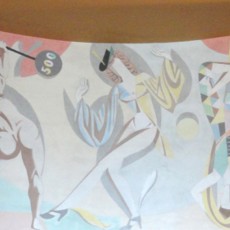 Taste Restaurant
Andrew Dasburg
Untitled, 1937, Fresco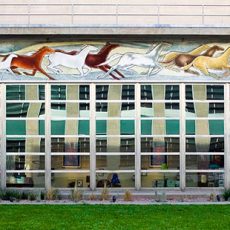 Courtyard
Frank Mechau
Wild Horses, ca. 1936, Fresco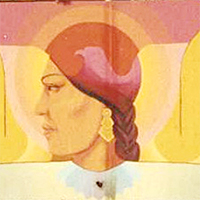 Parking Lot
Emanuel Martinez
Arte Mestiza, 1986, Acrylic on concrete
Gift of the Hispanic Arts Council