Educator resources
The alliance between the FAC and CC provides us the resources and opportunities to develop, implement and research new and adventurous approaches to teaching and learning in the arts. Below are some of those opportunities. We want to be a resource for you as an educator and encourage onsite and off site learning about the arts. If you have questions for us that are not answered here, please reach out to our education department at fac@coloradocollege.edu.
Educator Articles
Teaching Critical Thinking through Art with the National Gallery of Art
Based on the National Gallery of Art's popular Art Around the Corner professional development program for teachers in Washington, D.C., this five-part, self-paced online course provides everything you need to begin creating a culture of critical thinking and collaboration for any classroom, subject, or level. You do not need an art background or museum access to successfully integrate the "Artful Thinking" course materials into your teaching. Your focused attention, willingness to experiment, and commitment to trying new discussion practices with your students is all that is required.
Why Field Trips And Arts Education Aren't Just Frills
Education policymakers have seen arts classes and cultural field trips as far less important than reading and math skills. Now there's evidence that those experiences can have significant benefits, especially for disadvantaged students.
NAEA Digital 10 Lessons the Arts Teach Poster
Excerpted from the Elliot Eisner's, The Arts and the Creation of Minds, this piece makes a great addition to any classroom.
Expanding Creative Horizons
Touring Programs
Enrich the minds and imaginations of your students with the ageless power of art. We offer a variety of FREE tour options for educational groups of all ages, sizes, and abilities.
Professional Development
As part of the Kennedy Center Partners in Education, the FAC partners with school district 11, UCCS Presents and school district 20 to provide classes in Arts Integration.  Also, the Fine Arts Center's Bemis Art School offers certificates of completion for art classes. Often these hours qualify for professional development hours that must be maintained as a teacher.
Talented in Art Program
We offer Gifted and Talented in Art programs for School District 11, for grades 3-5. For over 25 years we have offered programs to teach high levels of art standards. Multiple week art classes in varied mediums culminate in an art show and reception for the students who participate.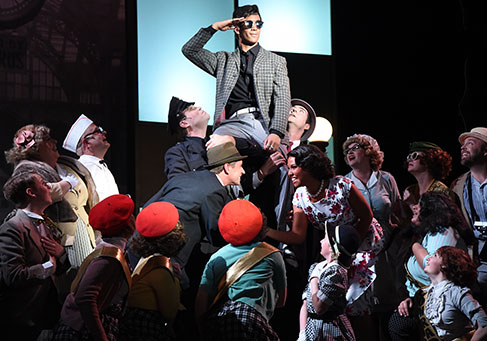 Student Matinée Programs
The award-winning and critically-acclaimed Fine Arts Center Theatre Company produces an annual season of musicals, comedies and dramas. Bring classes and groups to our student matinées for an enriching experience to last a lifetime. The variety of theatre experiences will leave your students wanting more!
Fourth Grade Passport to the Arts Program
With Art We Thrive
In an effort to maximize learning opportunities and incite a lifelong love and appreciation for the arts with area youth, the Fine Arts Center is proud to announce the Passport to the Arts program for fourth grade students and their families. Learn More
Image above: Doug Hyde, Hopi Basket Dancers, 1985 (detail)