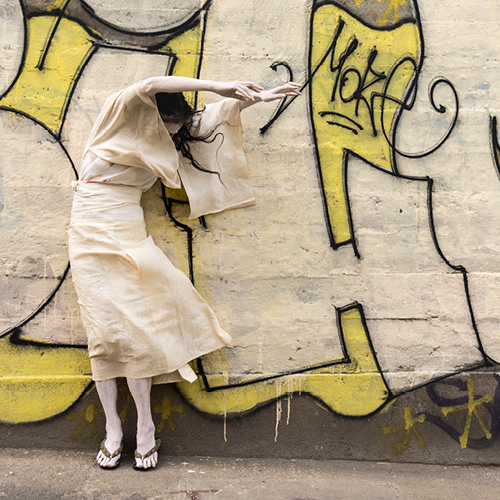 Eiko Otake: Public Talks and Conversations April 7
In celebration of Otake's solo exhibition I Invited Myself, vol. II, the Department of Theater and Dance at Colorado College will host a series of two-day events featuring film screenings, live performance by Otake, and conversations with faculty, scholars, and curators.
Conversation: What does a Body Carry?
Friday April 7, 1–2 p.m.
Joshua Chambers-Letson and Karen Shimakawa
Performance: Recalling "Slow Turn"
Friday, April 7, 2 p.m.
An experimental performance work conceived and performed by Eiko Otake accompanies the video documentary of her performance commissioned for the 20th year anniversary of the 9/11. Otake proposes to use her body as a place of recalling historical events that cannot be repeated.
Conversation: How does a Body Speak?
Friday April 7, 3:30–5 p.m.
Rosemary Candelario, Pallavi Snram, Thomas Jean Lax, Andrew Wallace
Performance: Intervention
Friday April 7, 6 p.m. | Fine Art Center
Eiko Otake will perform live as a part of Free Museum evening at the Fine Arts Center.
---
Panelists and special guests for April include:
Elise Butterfield, Independent Curator based in Chicago
Rosemary Candelario, Associate Professor of Dance at Texas Woman's University
Joshua Chambers-Letson, Professor of Performance Studies at Northwestern University
William Johnston, Photographer and Professor of History, Science in Society, Environmental Studies, and East Asian Studies at Wesleyan University
Thomas (T.) Jean Lax, Curator, Department of Media and Performance at the Museum of Modern Art
Marda Kirn, Founding Director of EcoArts Connections
Paula Lawrence, independent art consultant, New York
Jodee Nimerichter, Executive Director of the American Dance Festival
Karen Shimakawa, Associate Professor, Department of Performance Studies at NYU Tisch School of the Arts
Pallavi Snram, Associate Professor, Department of theater and Dance at Colorado College
Ryan Platt, Associate Professor, Department of theater and Dance at Colorado College
Brian Rogers, Artistic Director of The Chocolate Factory, New York
Andrew Wallace, Senior Advisor at Funders for LGBTQ Issues and Organizational Development Consultant. CC'12
Additional guests to be announced.
All events are free and open to the public.
Image: Eiko Otake, photo by Ben McKeown