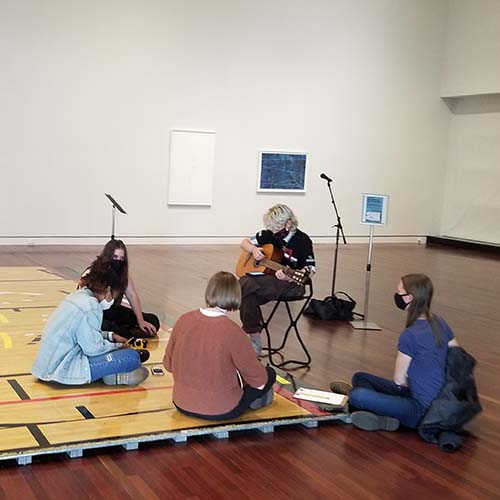 First Friday
December 3, 2021 @ 4:30 pm
Join us for a First Friday celebration at the FAC! Museum admission is FREE from 5-8 p.m. Drinks and small plates will be available in Deco Lounge (credit card payments only).
In the Ladyfingers shop: Local designer Noel Dolan will be in the shop hand lettering custom ornaments
On stage: Celebrate the opening of Rodgers & Hammerstein's Cinderella
In the museum: Catch Ronny Quevedo: at the line before it closes Dec. 4
There will be live music and performances by Colorado College students in the exhibition Ronny Quevedo: at the line. Performing on the floor installation, at the line, students will respond to the themes of movement, fragmentation, and displacement which are exhibited throughout Ronny Quevedo's work. Come watch these performances and experience the exhibition in its final days at the FAC. Performances begin at 4:30 p.m. and run until 7 p.m.
Performance schedule:
4:30-4:45 – Primo Seat
4:50-5:05 – Leo Patternity
5:10-5:25 – Twit
5:30-5:45 – Tenderheart
5:50-6:05 – Rocky Mountain Tops
6:10-6:25 – Funk Off!
6:30-6:45 – Tiny Tomboy
---
---