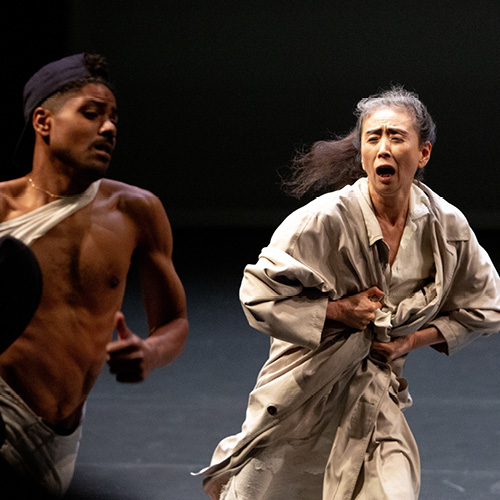 Shedding: Eiko Otake and DonChristian Jones performance
In celebration of Otake's solo exhibition I Invited Myself, vol. II, join us for a new performance work. Q&A will follow.
Collaborators: DonChristian Jones (Performance), Jinqui Guan (Video), Liz Sargent (Video), and Elise Butterfield (Dramaturg).
Free and Open to the public
Performance will take place in CC's Cornerstone Black Box Theatre
---
Eiko Otake
Born and raised in Japan and a resident of New York since 1976, Eiko Otake is a movement-based, interdisciplinary artist. She worked for more than 40 years as Eiko & Koma, but since 2014 has been working on her own projects. such as A Body in Places, The Duet Project and I Invited Myself. Since 1980's, Eiko has also created a large number of media works, "dances for camera," and documentaries. Created in post-nuclear-disaster Fukushima over six visits, A Body in Fukushima produced many photo exhibitions, performances, and a book publication. The feature-length film of the same title was premiered at MoMA's Doc Fortnight Festival and shown in other film festivals. www.eikootake.org
DonChristian Jones is a New York based interdisciplinary artist, singer/songwriter, and producer. His work spans musical and time based performance, rap albums, video and public murals, blending genres of painting and performance installation. He graduated from Wesleyan University in 2012, where he studied painting both there, and abroad in Rome, Italy. Don has shown and performed at institutions such as The Whitney Museum, MoMA Ps1, New Museum, Brooklyn Museum, Carnegie Center, and was a collaborating artist-in-residence at the Robert Rauschenberg Foundation, Captiva, Florida with Eiko Otake. Forbes listed DonChristian's debut album "Where There's Smoke" as one of the ten best Hip Hop albums of 2018.