FAC Theatre Company 2014–2015 Season
Mainstage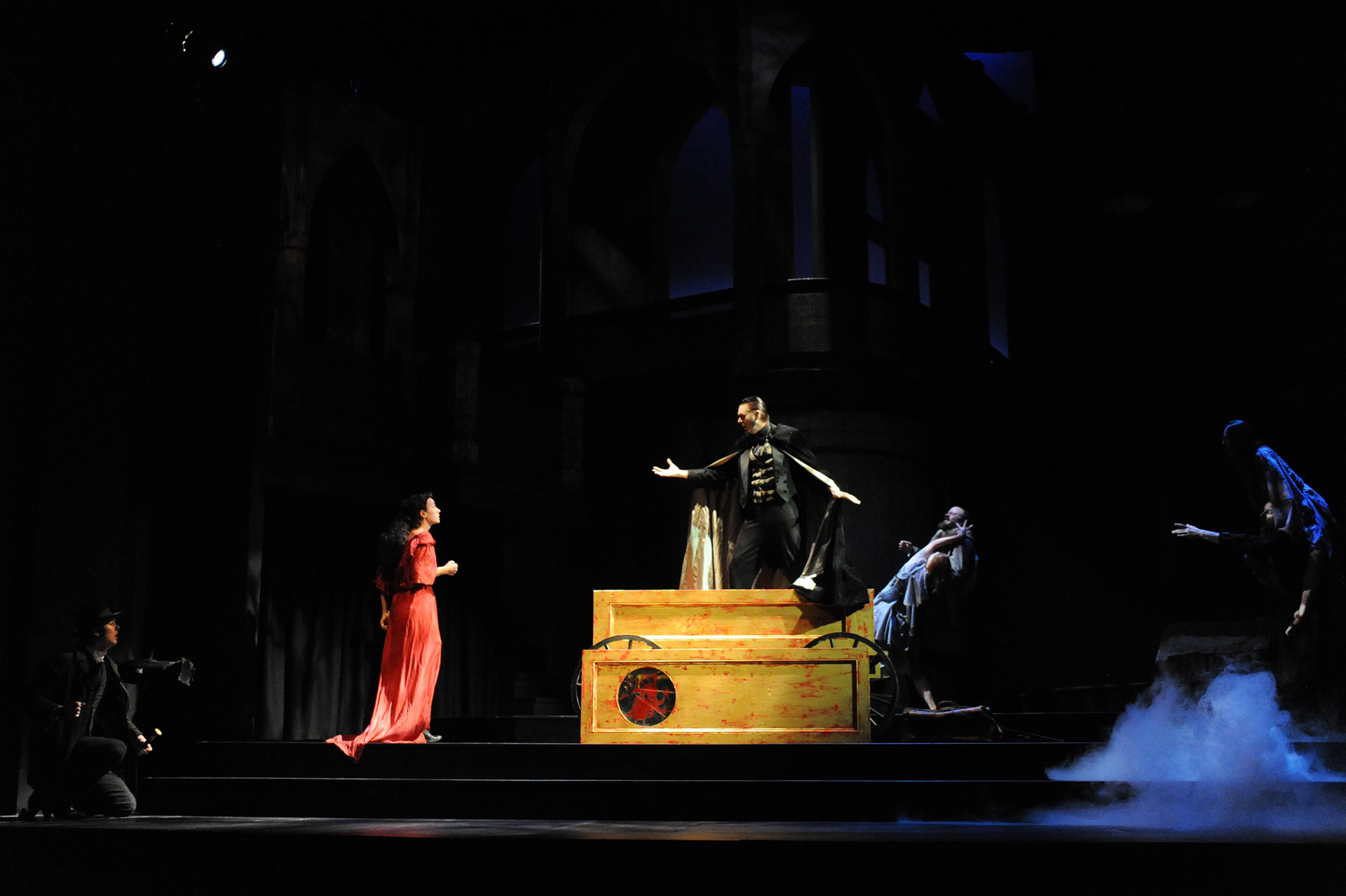 Oct. 9–Nov. 2, 2014
By Steven Dietz
From the Novel by Bram Stoker
This new adaptation restores the suspense and seduction of Bram Stoker's classic novel to the stage. As Count Dracula begins to exert his will upon the residents of London, they try to piece together the clues of his appearances — in a valiant attempt to save themselves from a hideous fate. Rich with both humor and horror, this play paints a wickedly theatrical picture of Stoker's famous vampire.
Pictured: Christian O'Shaughnessy as Harker, Jessica Weaver as Mina, Matt Radcliffe as Dracula, Logan Ernstthal as Van Helsing, and the ensemble of "Dracula" | Photo by Jeff Kearney
"In October of 2014 I played the titular character in "Dracula" at the Colorado Springs Fine Arts Center before it was at Colorado College. "Dracula" involved a few different fun entrances and exits for me. One of my favorite memories was during our invited dress rehearsal. I missed an entrance and Nathan called, "HOLD!" When he asked me why I missed the entrance, I told him it was because the window wasn't covered, and I thought it was supposed to be. He told me that I was right but he wanted to see if it would be obvious. Then he told me to get behind the curtain where Dracula was supposed to hide. The curtain was too short, so the audience could see the bottom of my feet. Nathan said, "Wow, that's scary," and went back to his seat. At the climax of Act 1, just before intermission, Dracula is supposed to dramatically enter a coffin that then sinks into the stage with cool lights, fog, and other special effects. During one performance, I got Dracula's cape stuck in the door of the coffin. With the way the cape had stuck in the door, the coffin couldn't go down and I couldn't get out. So, I was stuck in the coffin through intermission. All in all, Dracula is one of my most fond on-stage memories and I will always treasure my time at the FAC." –Matt Radcliffe, Dracula
Directed by Nathan Halvorson
Scenic Design by Christopher L. Sheley
Lighting Design by Holly Anne Rawls
Costume Design by Janson Fangio
Sound Design by Alex Ruhlin
Properties Design by Katelyn Springer
Hair, Make-Up, & Blood Design by Jonathan Eberhardt
Production Stage Managed by Katy McGlaughlin
Dec. 11, 2014–Jan. 11, 2015
Original Music and Lyrics by Richard M. Sherman and Robert B. Sherman
Book by Julian Fellowes
New Songs and Additional Music and Lyrics by George Stiles and Anthony Drewe
Co-Created by Cameron Mackintosh
The jack-of-all trades, Bert, introduces us to England in 1910 and the troubled Banks family. Young Jane and Michael have sent many a nanny packing before Mary Poppins arrives on their doorstep. Using a combination of magic and common sense, she must teach the family members how to value each other again. Mary Poppins takes the children on many magical and memorable adventures, but Jane and Michael aren't the only ones upon whom she has a profound effect. Even grown-ups can learn a lesson or two from the nanny who advises that "Anything can happen if you let it."
"The real magic of Mary Poppins was that every single person involved in the production worked amazingly hard, incredibly creatively, and heartwarmingly as a team to make the on-stage magic look effortless. Moe and Robin literally held my life in their hands as I flew across stage.  Dressers made exquisitely choreographed costume changes backstage.  Designers and crew created ingenious solutions so things like giant potted plants could come out of my carpet bag.  Tap dances on rooftops, microphones that worked under hats…and animal costumes, beautifully-lit evening chats on chimneys, cakes appearing out of nowhere – each moment was a testament to the way this theater comes together as a family to make the magic happen." -Jennifer DeDominici, Mary Poppins
Directed by Scott RC Levy
Choreographed by Mary Ripper Baker
Musical Direction by Jay Hahn
Scenic Design by Erik D. Diaz
Lighting Design by Jonathan Spencer
Costume Design by Lex Liang
Sound Design by Alex Ruhlin
Properties Design by Katelyn Springer
Hair & Make-Up Design by Jonathan Eberhardt
Flying Effects Provided by ZFX, Inc
Production Stage Managed by Katy McGlaughlin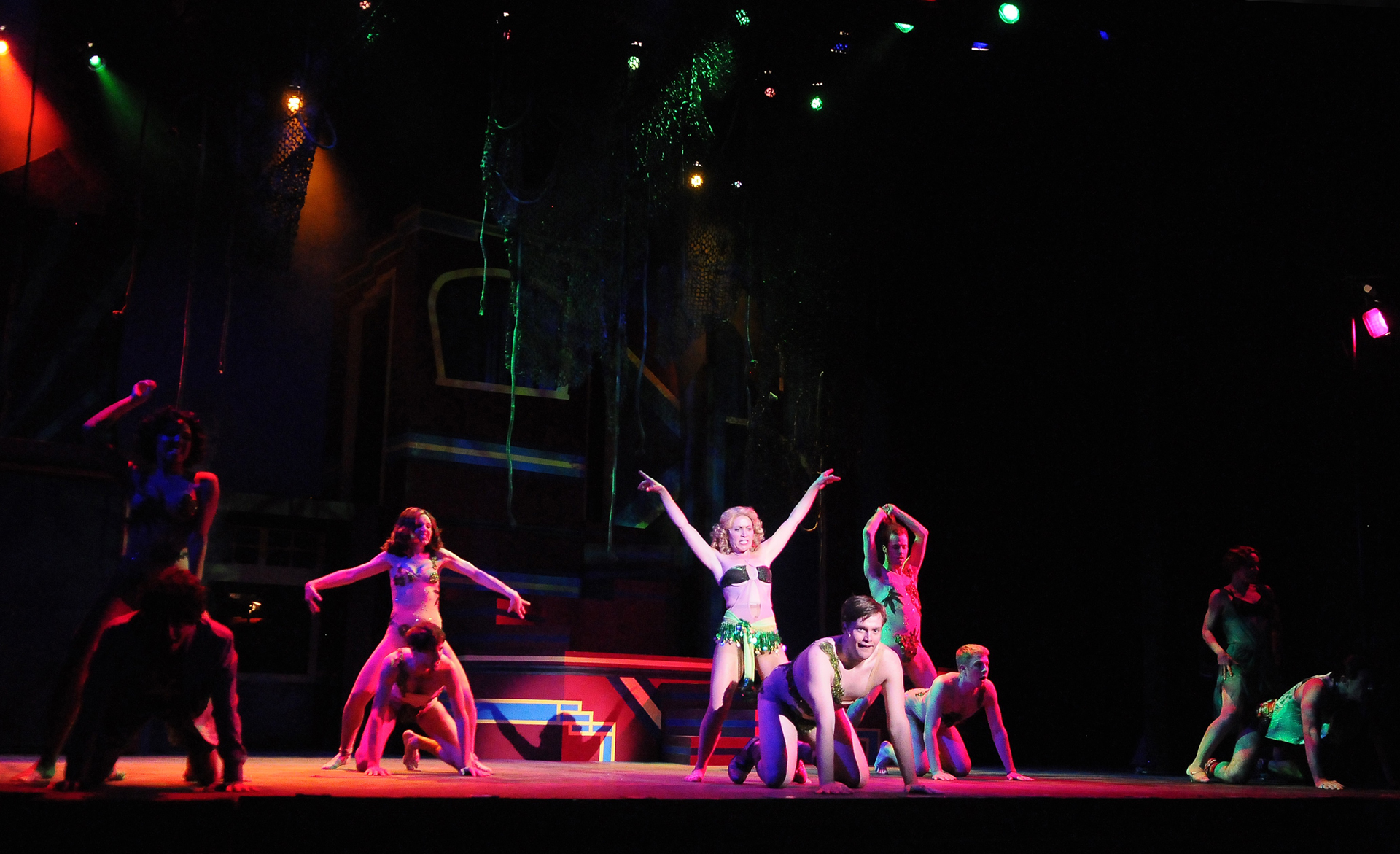 Feb. 12–March 1, 2015
Music by Dan Studney
Lyrics by Kevin Murphy
Book by Kevin Murphy and Dan Studney
Inspired by the original 1936 film of the same name, this raucous musical comedy takes a tongue-in-cheek look at the hysteria caused when clean-cut kids fall prey to marijuana, leading them on a hysterical downward spiral filled with evil jazz music, sex and violence. You won't be able to resist the spoofy fun of Reefer Madness. The addictive, clever musical numbers range from big Broadway-style showstoppers to swing tunes like 'Down at the Ol' Five and Dime' and the Vegas-style 'Listen to Jesus, Jimmy,' featuring J.C. Himself leading a chorus of showgirl angels. Reefer Madness is a highly stylized and satirical political commentary that will leave you wanting more.
Pictured: Andrew Wilkes as Jimmy and the full company of Reefer Madness | Photo by Jeff Kearney
"Reefer Madness was the most fun I've had working in professional theatre! The show opened after cannabis prohibition controversially ended in Colorado. Nathan Halvorson and his team imagined a wonderfully absurd production that prompted strongly worded emails from the community and extra-long smoke break intermissions for red eyed patrons." – Andrew Wilkes, Jimmy
Directed and Choreographed by Nathan Halvorson
Music Direction by Ian Ferguson
Scenic Design by Kevin Loeffler
Lighting Design by Jonathan Spencer
Costume Design by Janson Fangio
Sound Design by Alex Ruhlin
Properties Design by Katelyn Springer
Hair and Make-Up Design by Jonathan Eberhardt
Production Stage Managed by Katy McGlaughlin

March 26–April 12, 2015
Written by Amy Herzog
After suffering a major loss while he was on a cross-country bike trip, 21-year-old Leo seeks solace from his feisty 91-year-old grandmother Vera in her West Village apartment. Over the course of a single month, these unlikely roommates infuriate, bewilder, and ultimately reach each other. 4000 MILES looks at how two outsiders find their way in today's world.
Pictured: Billie McBride as Vera, Benjamin Bonenfant as Leo | Photo by Jeff Kearney
"4000 Miles….what a beautiful collaboration. An intimate piece, realistically told, the show is about the coming of age of different generations. Small and intimate, relying on every word to be real and felt, the cast and crew became immersed pursuing authenticity in every aspect of the show. Every piece of art on the walls, every book, every moth in the light fixtures was a reflection of Vera (played by Billie McBride). My fondest memory is Billie and I creating post-it notes to place on the wall around the telephone…..I wanted them to be her thoughts and in her handwriting." – Christopher L. Sheley, Scenic Designer
Directed by Scott RC Levy
Scenic Design by Christopher L. Sheley
Lighting Design by Holly Anne Rawls
Costume Design by Janson Fangio
Sound Design by Scott RC Levy & Alex Ruhlin
Properties Design by Katelyn Springer
Production Stage Managed by Katy McGlaughlin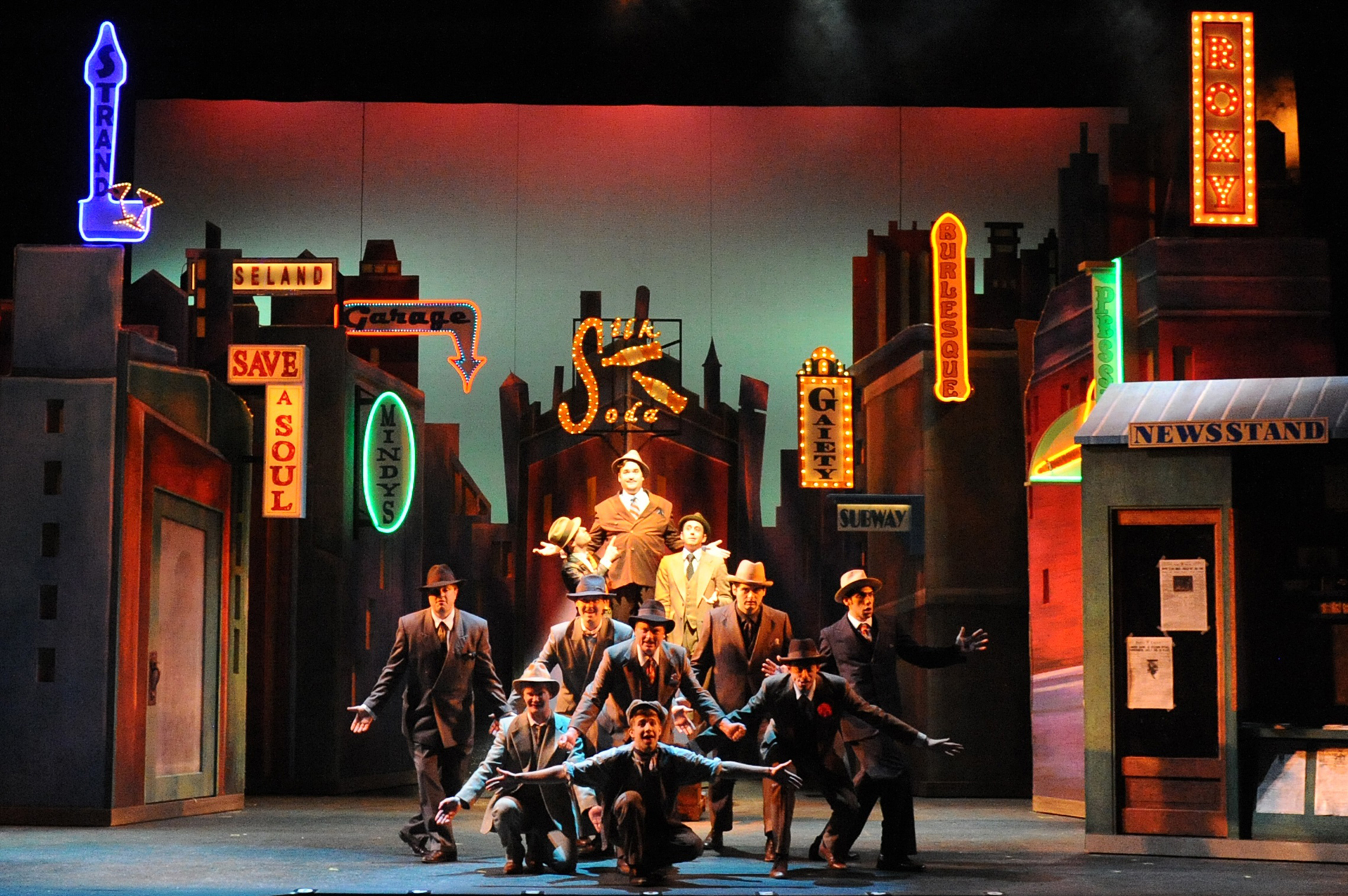 May 21–June 14, 2015
Music and Lyrics by Frank Loesser
Book by Jo Swerling and Abe Burrows
Set in Damon Runyon's mythical New York City, Guys and Dolls is an oddball romantic comedy. Gambler, Nathan Detroit, tries to find the cash to set up the biggest craps game in town while the authorities breathe down his neck; meanwhile, his girlfriend and nightclub performer, Adelaide, laments that they've been engaged for fourteen years. Nathan turns to fellow gambler, Sky Masterson, for the dough, and Sky ends up chasing the straight-laced missionary, Sarah Brown, as a result. Guys and Dolls takes us from the heart of Times Square to the cafes of Havana, Cuba, and even into the sewers of New York City, but eventually everyone ends up right where they belong.
Pictured: Male Ensemble of Guys and Dolls | Photo by Jeff Kearney
"Guys and Dolls was my first time performing at the FAC.  I had always loved the show and was so excited to play Sky Masterson.  I was also terrified!  I was worried that I wouldn't be able to pull off the hyper-masculinity of the role.  I decided it might help if I wore a suit coat and a hat throughout the rehearsal process.  Soon, I started to believe that my performance was completely reliant on that hat.  One night during the run, I went to make an entrance stage left (the furthest distance from my dressing room, of course), and I discovered, much to my horror, that I had forgotten my hat!  Morgan Gatson, our illustrious assistant stage manager, ran to my dressing room to retrieve it and made it back just in time for me to make my entrance.  I think about that moment all the time.  I'll never know if I could have done the scene without it., but I do know that the crew at the FAC will do anything to ensure a great performance for our audiences." –Nathan Halvorson, Sky Masterson
Directed by Scott RC Levy
Musical Direction by Jay Hahn
Choreography by Mary Ripper Baker
Scenic Design by Christopher L. Sheley
Lighting Design by Holly Anne Rawls
Costume Design by Lex Liang
Sound Design by Alex Ruhlin
Properties Design by Kaetlyn Springer
Hair & Make-Up Design by Jonathan Eberhardt
Production Stage Managed by Katy McGlaughlin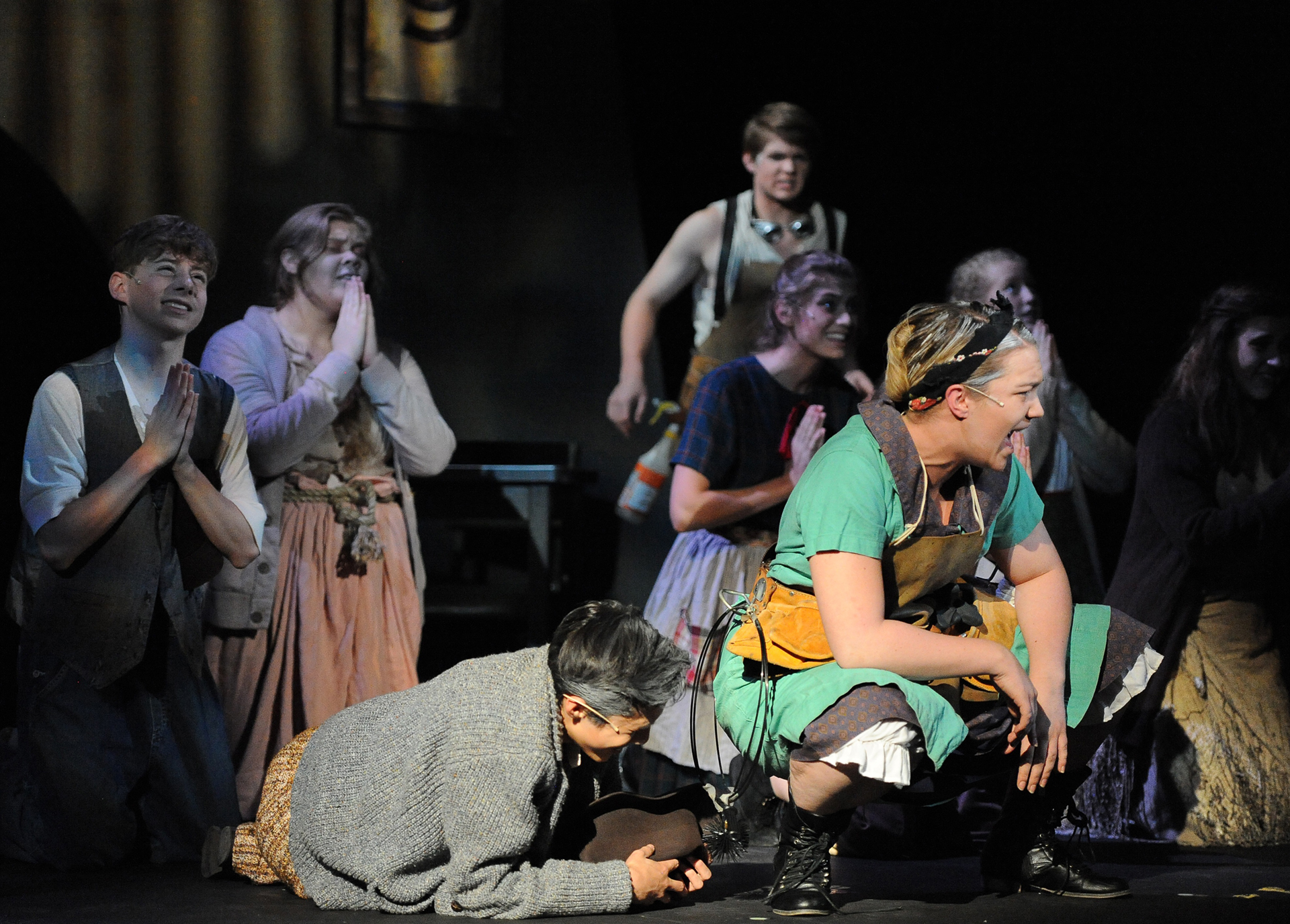 Youth Rep, June 23-26, 2015
Music and Lyrics by Mark Hollman
Book and Lyrics by Greg Kotis
In a Gotham-like city, a terrible water shortage, caused by a 20-year drought, has led to a government-enforced ban on private toilets. The citizens must use public amenities, regulated by a single malevolent company that profits by charging admission for one of humanity's most basic needs. Amid the people, a hero decides that he's had enough and plans a revolution to lead them all to freedom!
Pictured: Gretchen Vosburgh as Penelope Pennywise and the Company of Urinetown the Musical | Photo by Jeff Kearney
"It was my third year in the program, and I remember doing Pennywise's big monologue in act 2 for the first time. Nathan (the director) turned to me with so much pride and said, "You couldn't have done that three years ago". I knew it was true and felt that same pride over my growth. Working on such a physical character and in an environment of such support I was able to take the character and my acting to a whole new level." –Gretchen Vosburgh, Penelope Pennywise
Directed and Choreographed by Nathan Halvorson
Musical Direction by Ian Ferguson
Scenic Design by Christopher L. Sheley
Costume Design by Janson Fangio
Lighting Design by Holly Anne Rawls
Sound Design by Tori Higgins
Stage Managed by Katy McGlaughlin
Second Stage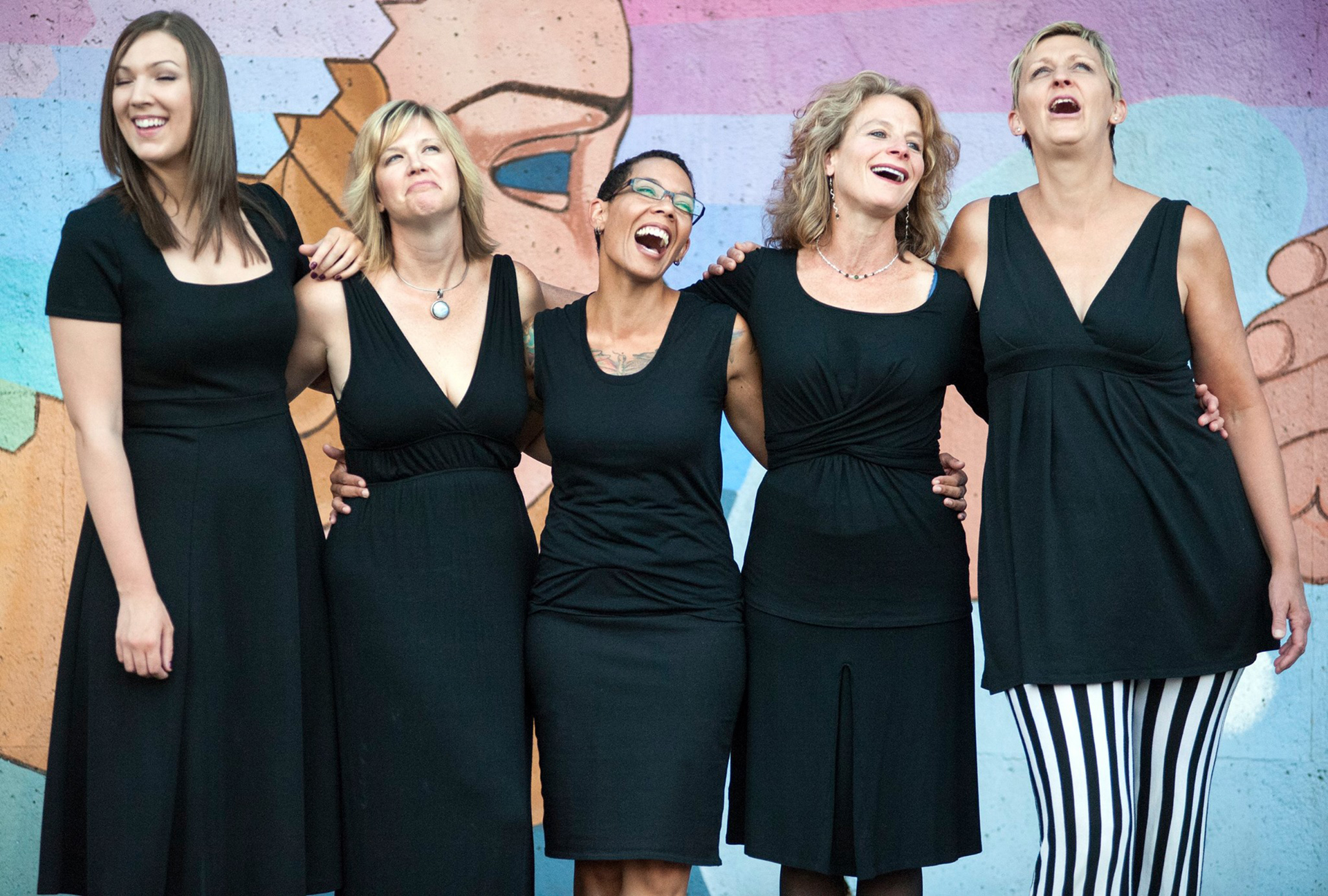 Sept.18–Oct. 4, 2014
Written by Nora Ephron and Delia Ephron
Proving that a great show is always in fashion, Love, Loss, and What I Wore has become an international hit.  With its compulsively entertaining subject matter, this intimate collection of stories by Nora and Delia Ephron celebrated an accomplished two-and-a-half year run in New York's Westside Theatre.  Love, Loss, and What I Wore is based on the best-seller by Ilene Beckerman as well as the recollections of the Ephrons' friends.  The show uses clothing and accessories and the memories they trigger to tell funny and often poignant stories that all women can relate to, creating one of the most enduring theatergoing experiences
Pictured: (left to right) Kelly Cole, Joye Cook-Levy, Marisa Hebert, Amy Brooks, Birgitta Depree
"There is nothing more wonderful than hearing waves of laughter ripple through a room, or to sit for a while in shared silence as the weight and truth of a story hits home.  For me this is the best that theatre can offer – that shared experience, that recognition of ourselves in someone else's story.  LOVE LOSS & WHAT I WORE spoke to the deeply personal and defining moments in a woman's life.  It was a treat to be part of bringing these stories to life with such a terrific cast and wonderful audiences." – Birgitta DePree, Ensemble
Stage Managed by Terri Harrison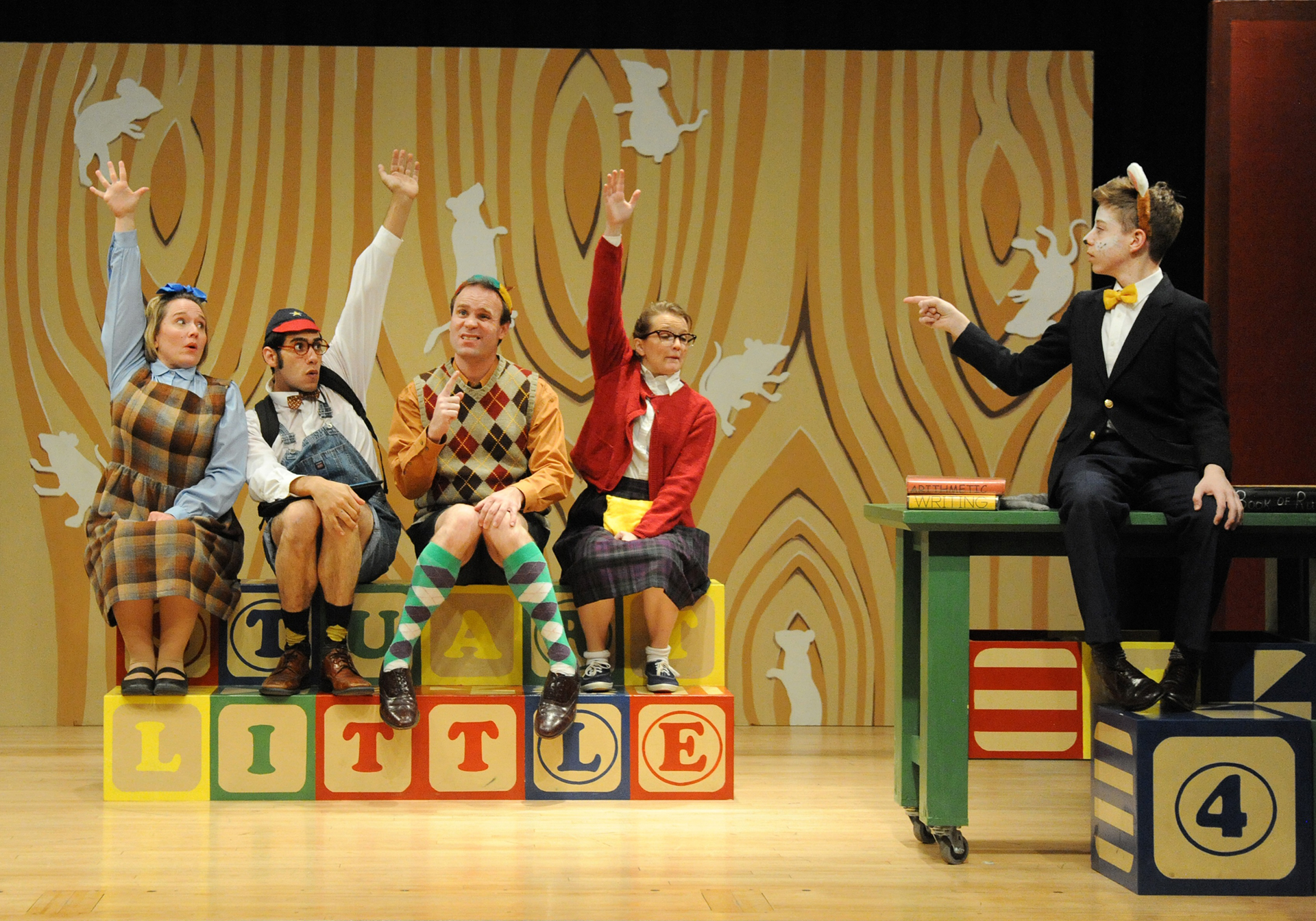 Sept. 23–Nov. 2, 2014
by E.B. White
Adapted by Joseph Robinette
This is the endearing classic about a mouse named Stuart who is born into an ordinary New York family. All the charm, wisdom and joy of the E.B. White original are captured in this adaptation by Joseph Robinette. The many adventures—both big and small—of Stuart Little are brought vividly to life in this story-theatre presentation. The acting ensemble plays many human and animal roles in a series of delightful scenes that make up the marvelous maneuverings of a mild-mannered mouse trying to survive in a "real people's world."
Pictured: (left to right) Jen Lennon, Adam Blancas, Emory Collinson, Sara Barad, Jack English
"Doing Children's Theatre for the FAC Is one of the finest honors a Colorado Springs performer can have! To tell stories and breathe life into beloved characters from literature can be more fun and rewarding than all the other roles an actor can play in a year. Getting to play multiple characters in stories like Stuart Little and Junie B. Jones feel like once In a lifetime opportunities where you get to give a gift to families and community, and it's a gift that gives back a hundred fold."–Emory Collinson, Ensemble
Directed by Joye Cook-Levy
Scenic Design by June Scott Barfield
Costume Design by Janson Fangio
Stage Managed by Terri Harrison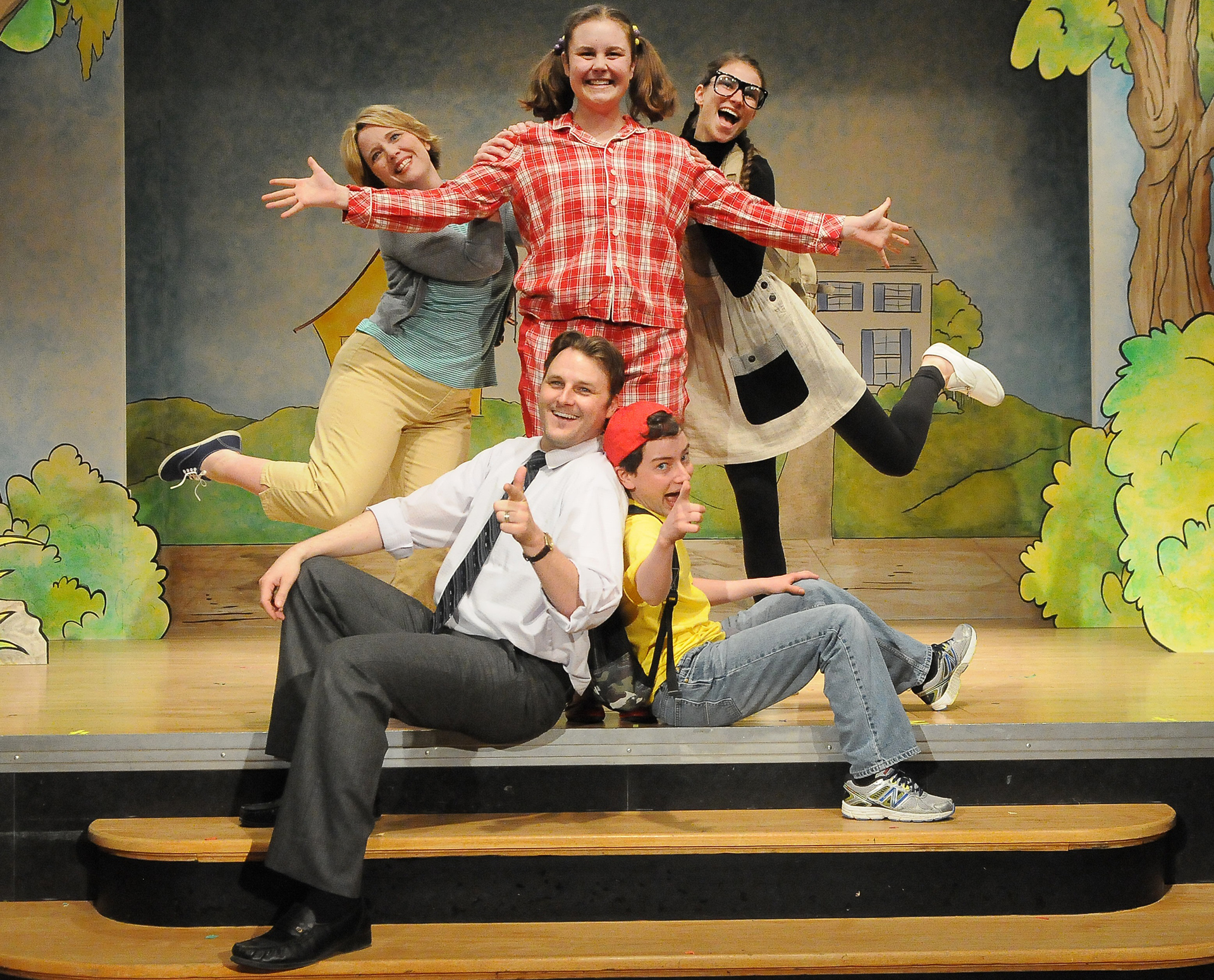 March 19–29, 2015
by Jeremy Dobrish
Music & Lyrics by Drew Fornarola
Based on the Book by Molly Shannon
Tilly is a mischievous girl who loves nothing more than causing a little trouble. From leaking cups to toothpaste-flavored cookies, Tilly has a trick for everyone: her mom, dad, brother, classmates, and even her teacher. But when the tables are turned and her family does some scheming of its own, will Tilly decide to change her trickster ways?
Pictured: the Company of Tilly the Trickster
"Tilly the Trickster is a hilarious children's show based in a book written my Molly Shannon. It's funny for me to look back in the process because the Music Room was still in its transition phase to becoming the Second Stage that it is now. I remember we had to hide speakers on stage behind scenery because they hadn't been mounted to the walls yet! It's amazing how much the space has transformed over the years!" –Casey Fetters, Tilly
Directed and Choreographed by Nathan Halvorson
Scenic Design by Heidi Larson
Costume Design by Janson Fangio
Stage Managed by Terri Harrison

June 4–14, 2015
The Colorado Springs Fine Arts Center is proud to be producing our bi-annual Rough Writers New Play Festival in the spring of 2015. This two week-long festival will feature readings of new scripts submitted by playwrights worldwide. Playwrights whose work is included in the festival have the opportunity to have staged readings of their scripts in front of an audience with a moderated talkback session immediately following.
"I love new scripts. I love taking something no one has ever seen before and presenting it for the first time. It's a really special thing in theatre — to be able to do something that has never been done before, and the audience comes in with no preconceived notions. We had a really interesting script from Jess Weaver, and to subsequently watch how it grew, from the early versions, up through Rough Writers, and beyond, was just a really amazing opportunity. Programs like Rough Writers are essential to theatre, in my mind. It is through opportunities like that that we discover the next Shepard, the next Mamet, the next Baker, the next Miranda." –Steve Emily, Playwright
Special Events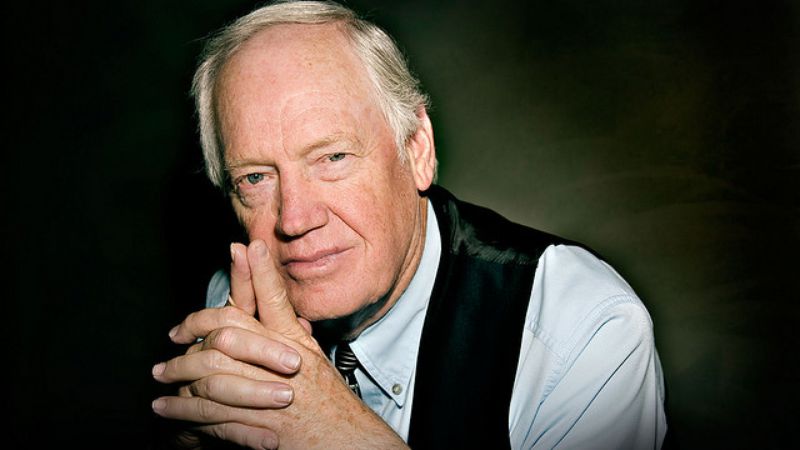 Ronny Cox
Special Event, Sept. 14, 2014
Ronny Cox is a well-known actor, but his first love is music. As a singer/songwriter he has performed at folk festivals, concert venues and small intimate theaters all over the U.S.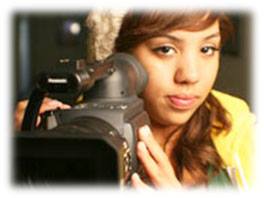 Youth Documentary Academy Premiere Screening
Special Event, Nov. 5, 2014
In 2013, documentary filmmaker Tom Shepard returned home to Colorado Springs and founded the Youth Documentary Academy (YDA) at the Fine Art Center's Bemis School of Art. The program provides a small class of local teenagers with the knowledge, skill, and equipment required to create documentary films. Shepard also brought in Coloradan filmmakers Suzan Beraza and Aaron Burns to help teach students about film techniques and equipment.
When their training is completed, the YDA students have been free to tell the non-fiction story of their choosing. The students were encouraged to pick a topic important to them and to tell the story in a personal way. The various topics of their films include the local music scene, self-expression through street art, time spent at the bug museum, the effects of PTSD on family life, the experiences of a transgender person, and violence against/self-defense of women.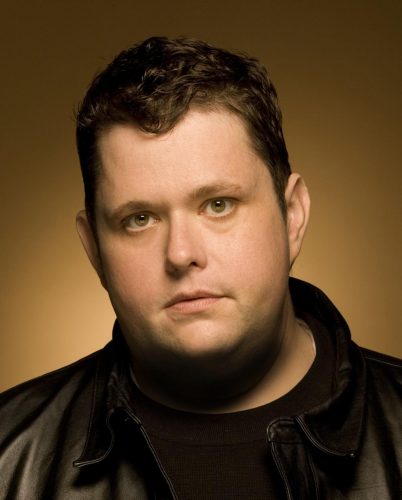 Ralphie May
Special Event, Jan. 13, 2015
Comedian Ralphie May takes to the FAC stage with his raw, rollicking take on men's fashion, racism, sex, and even waffles.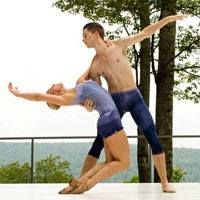 Peridance Dance Company
Special Event, April 18, 2015
Peridance Contemporary Dance Company (PCDC) has been a powerhouse of energetic and evocative dance since its inception in 1983. The Company, known for Artistic Director Igal Perry's timelessly elegant and brilliantly musical choreography, has an illustrious performance history at venues including the Joyce Theater, the Rose Theater at Lincoln Center, and internationally in Italy, Israel, South Korea and Bulgaria. PCDC is housed within Peridance Capezio Center in the Union Square area of New York City, with the Salvatore Capezio Theater as its resident performance venue. The dancers are all classically trained.