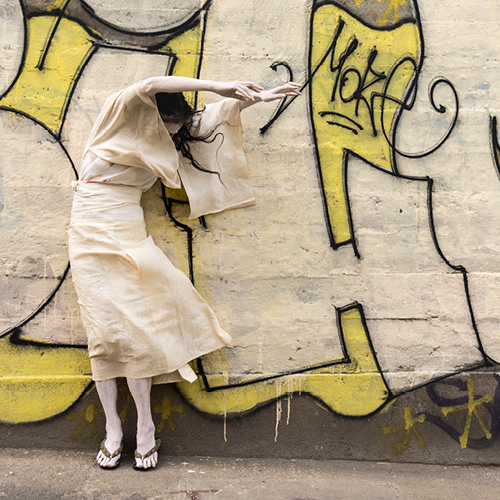 Eiko Otake: Public Talks and Conversations
In celebration of Otake's solo exhibition I Invited Myself, Vol. II, the Department of Theater and Dance at Colorado College will host a series of two-day events featuring film screenings, live performance by Otake, and conversations with faculty, scholars, and curators.
Schedule of Events:
Thursday, Feb. 9
How and Why I Invited Myself, 3 p.m.
Curator's Conversation: Katja Rivera (FAC), Ryan Platt (CC, Theatre/Dance), and Elise Butterfield (Independent Curator)
Preview Screening: No Rule is Our Rule, 6 p.m.
A preview screening of a film made by Eiko and Beijing-based choreographer Wen Hui, filmed in China in January 2020.
Screening Details
Friday, Feb. 10
Why Does a Performer's Body Matter? 1 p.m.
Scholars' Talk: Eiko Otake, Andre Lepecki (NYU, Performance), and Jonathan Lee (CC, Philosophy)
Talking with the Dead, 3 p.m.
Artist's Conversation: Eiko Otake, DonChristian Jones (Artist), Brandon Shimoda (CC), and Kevin Landis (UCCS, Theatre)
What to do with Eiko? 4 p.m.
Curator's Conversation: Eiko Otake, Josh Lubin-Levy (Wesleyan), Ashley Ferror-Murray (RPI), and Elise Butterfield (SAIC)
New Performance: Shedding, 5:30 p.m.
Cornerstone Black Box Theatre
A new performance work. Q&A will follow.
Collaborators: DonChristian Jones (Performance), Jinqui Guan (Video), Liz Sargent (Video), and Elise Butterfield (Dramaturg).
Performance Details
---
Panelists and special guests include, Eiko Otake; André Lepecki, Professor, Department of Performance Studies at NYU Tisch School of the Arts; DonChristian Jones, rapper, producer and visual artist; Jonathan Lee, Professor of Philosophy, Colorado College; Joshua Lubin-Levy, Director of the Center for the Arts at Wesleyan University; Ashley Ferro-Murray, Senior Curator for Theater and Dance at EMPAC, the Experimental Media and Performing Arts Center at RPI; Elise Butterfield, Independent Curator, and Brandon Shimoda, Assistant Professor of English at Colorado College. 
All events are free and open to the public.
Image: Eiko Otake, A Body in Chile Valparaiso, Photo by Wm Johnston